With the passing of every year comes the arrival and departure of an unfathomable number of films from theatres around the globe where they earned either a lot of or precious little screen time, depending on the circumstances. Notwithstanding smaller budgeted, independent-minded motion pictures that find unexpectedly impressive legs to remain in theatrical exhibition for longer than most would have foreseen (surely including the exhibitors themselves in many cases), it is safe to argue that for the most part, the movies that are awarded the most screenings rooms and screening times are the big budget blockbusters.
There exists a myriad of reasons why it often feels so terribly easy to aim criticisms at these so-called motion picture events. Some of them are related to the perceived quality, others have to do what certain cinephiles with attuned tastes expect from their movie going experiences as patrons. Movies for which so much money and effort are necessitated in order to produce demand, for perfectly legitimate reasons, important dividends in the form of paid tickets at the theatre and subsequently profits via home viewing platforms. They are, for all intents and purposes, investments, business endeavors. Unsurprisingly, therein lies one of the major criticisms targeted towards them: they are more 'product' than 'art'. The comment is, admittedly, a fair one, but the fact remains that they are nonetheless movies, a storytelling avenue that can capture the hearts and minds of a gargantuan number of said patrons. Most importantly, whether some are willing to admit it or not, some blockbusters do end up being pretty darn good. With so much talent involved, how could it not be the case?
2014, more so than in years past, turned out to be a terrific year for super productions. A remarkably large number of them garnered very favourable reviews from critics and struck a chord with a healthy portion of the general public. Every year offers a few standout Hollywood efforts, yet during the calendar year of 2014 it seemed as though one was being released nearly every other week, a rather unorthodox tendency considering the critical community's inclination to dismiss said efforts with a wave of the hand and few choice words. As with every year, audiences sometimes paid for their trust invested in the studios with some dire duds. Nobody wants a movie to be bad and there certainly is no one who coughs up anywhere from 10$ to 20$ to spend 90 to 180 minutes watching something they hope is terrible. Even so, there were a number of times when, as some might have predicted, the studios cashed in on the duplicity or downright laziness of patrons with paltry efforts. These are the easy targets for scorn and snark.
Was anyone expecting Transformers: Age of Extinction to be good? Some might have hoped it would be (good luck with that), but it was not. I Frankenstein was a film that indeed opened wide in 2014 but most have long forgotten it. Need for Speed hoped to cash in on the success of the widely popular Fast and Furious franchise, yet say what one will of the latter, the former quickly descended into ignominy. Dwayne Johnson can easily raise his muscles but few raised their eyebrows for Hercules. 300: Rise of an Empire sported many of the same aesthetic qualities of its fondly remembered predecessor but that was where the similarities ended. Maybe the most flabbergasting flop was the directorial debut of longtime Christopher Nolan collaborator Wally Pfister, Transcendence. An aggressive marketing campaign highlighting neat looking special effects and a game cast that promising a fresh, exciting science-fiction tale proved anything but, much to the chagrin of many an aggravated movie fan.
All that being said, the past year saw a number of major Hollywood projects winning over plenty of people. In fact, the warm feelings started quite early in the year when a lot of moviegoers were still bracing themselves for wintry chills when travelling to the theatre. Whilst January reasserted its own unenviable reputation as a dumping ground for hopeless projects the likes of Jack Ryan: Shadow Recruit and The Legend of Hercules, early February saw the release of The LEGO Movie, a project no one gave a chance when it was announced a few years prior. While it is unfortunately easy to sneer at silly looking projects when announced or when early trailers are released, The LEGO Movie trounced any ill will naysayers had reserved for it. Directors Phil Lord and Christopher Miller provided audiences with a widely entertaining, colourful, and visually creative piece of animation that took full advantage of its familiar plotline to produce some of the best jokes in any comedy this year. Few anticipated the movie would look as good as it did or be as funny as it was. What's more, the picture gave birth to some healthy discussion about its impressively mature theme: the eternal tug of war between individuality and towing the line with respect to societal norms. Several months removed from its run at the multiplex and release on home video, the film is still being discussed and may very well end up on a few end of the year lists. Its Rotten Tomatoes score alone, a whopping 96%, is a testament to how universally beloved it is. Even its theme song 'Everything is Awesome' was a bewildering beast: it was the most annoying piece of film music created in the past few years yet no one could stop singing it.
While February did not exactly end on an incredible high (people kept going to see The LEGO Movie when all else failed), movie buffs were treated to a slightly better than average Liam Neeson thriller with Non-Stop. Following up on the much maligned Taken 2, Neeson's latest was a step in the right direction. By no means a masterpiece, at least its amusing if ridiculous premise was sufficiently intriguing to encourage people to guess how the plot would resolve itself. Liam Neeson's career took a truly unexpected shift when the original Taken was released way back in 2008, and while some bemoan this second phase of his filmography (perhaps rightfully considering what the actor is actually capable of), the fact remains that many have really enjoyed what he has accomplished in recent years. Even BBC Radio 5's famous film critic Mark Kermode gave it a passable review despite much evidence based on the trailer that it would be like Taken but worse. No one will argue that its Rotten Tomatoes score of 60% is tremendous, but that's still mathematically more people who liked the film than those who did not.
Late March is always an exciting time of year with the advent of a new spring season. Washing away horrible memories of winter were two films that could not be more different as far as presentation and story go, but each earned the respect and admiration of fair number of critics and patrons. Muppets Most Wanted, the sequel to the runaway 2011 success, was not as highly praised as its predecessor, yet there was very little doubt as to whether or not the sequel would satisfy long standing fans of the franchise. There is something about the furry critters that populate the witty world of the Muppets that consistently delivers what the people want out of them, be it the pop-culture references, the irreverent humour, the inventive songs or just the wonderful look of its puppet cast. On the other end of the spectrum was Darren Aronofsky's latest endeavor, Noah, a film about doom and gloom, quite literally in the case of those God decides to wipe off the face of the Earth courtesy of a massive flooding problem. Unlike with many blockbusters, Noah was something of an unknown quantity upon its release. It didn't look at all like something Aronofsky would be attracted to. His track record sports mostly movies with much more limited budgets, focusing purely on character development and all the emotional and psychological depth that can be discovered from it. Here he arrived with a huge film reintepratingone of the greatest stories ever told, or certainly the most terrifying in many respects. With an impressive cast and some truly lavish special effects (some of them far more clever than anything hinted at in the trailers), Noah did exactly what it set out to do and earned some rather high praise in the process.
April, as with most months, had four weekends and thus four Fridays during which films were released to the general public, but in truth the month was all about what came out on its first Friday, Captain America: The Winter Soldier. What started out in 2008's Iron Man, a film that set a cool superhero adventure in a story about the ever-controversial military-industrial complex, has ballooned into what is a gargantuan undertaking by Marvel Studios to tell a series of perfectly individualistic stories about fantastical heroes and villains that also tie in together in some shape or form. The second Captain America motion picture, in additional to being a comic book film with all the appropriate bells and whistles, was set within the genre of political conspiracy thrillers. Where do the allegiances lie? Who can the protagonists trust? Can they even trust one another? While it can be argued by anyone that has seen a few thrillers of the same ilk that The Winter Soldier didn't exactly hide flabbergasting surprises up its sleeves, the attempt is admirable, so said an incredible 89% of film critics.
May is the unofficial debut of the new 'summer' movie season. Granted, it got off to a shaky, discombobulated start with The Amazing Spider-Man 2, but quickly impressed with the Gareth Edwards directed Godzilla, a second attempt creating an American version of the famed kaiju franchise. The criticisms aimed at the film were identical regardless of which publishing or podcasting critic one turned to, yet the endeavor still impressed with its confident, very stylish direction and visual effects that caused jaws to drop regardless of whether they were appreciated in 2D or 3D. While some were distracted by the fact that the titular mutant lizard's screen presence was limited, the technique was handled with tact and even a dose of humour at times, let alone the fact that the older Japanese Godzilla adventures did much of the same. Best of all, it left audiences with a wet appetite for after the movie's anti-hero did battle with not one but two antagonistic kaiju beasts the film's marketing campaign did very well to hide from the public.
A mere week later saw the arrival of one of the season's most anticipated motion picture events, X-Men Days of Future, and the goodwill from the public and critics kept trickling in. Believe it or not, Bryan Singer's latest foray into the X-Men franchise sits with a rock solid 92% on Rotten Tomatoes. Bridging the gap between the recent and also extremely well received First Class and the original trilogy from the early 2000s, Days of Future Past featured a stacked cast venturing through the always-loopy nebula that is time travel. Singer even included one of the property's most feared and beloved antagonistic robots, the Sentinels. The result was a lavish production that melded action, comedy, rousing special effects as well as the unique twist of a story that featured both a post-apocalyptic and pre-apocalyptic perspective.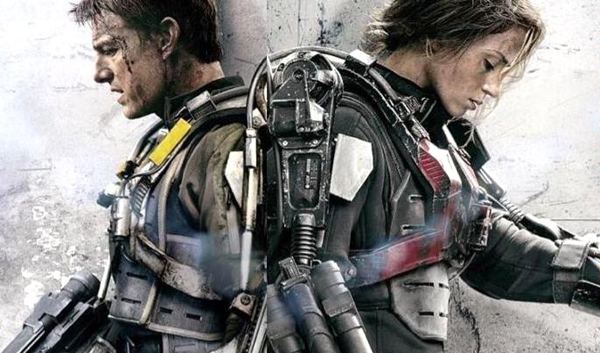 If May proved strong, June was utterly spectacular. Not one, not two but three major films were released that scored high with the public and those snotty critics. While its box office earnings probably did not earn it much respect from Warner Brothers, Edge of Tomorrow, directed by Doug Liman, was a one of the best blockbusters in recent memory, or so thought the few people who chose to pay and see it. Adapted from a little known sci-fiction novel titled All You Need is Kill, Liman's effort was nothing like what the trailers promised. Far from being what many expected to be a dark and dreary affair, the film is surprisingly funny, even mocking its own strange (if familiar) concept in certain scenes. More unexpected still was the fact that its star Tom Cruise, unlike in many of his recent roles, was not playing a know-it-all, highly trained super agent, but rather a slimy PR tool with no backbone.
Keeping in with the fantastical side of storytelling, the long awaited sequel to How to Train Your Dragon finally arrived in theatres, sparking a debate as to which one of the two is the superior film. If the 92% Rotten Tomatoes score wasn't proof enough, suffice to say that the debate is still raging. That's how well received the highly anticipated sequel was. If an edge is given to the original, it's a very, very slight one. Thank goodness for it, too. It is a comforting thought to know that every once in a while time, thought and care are put into the creation of a sequel to a beloved film. True enough, that might mean the second chapter won't come out only a year or two later, but at least it will be a worthy follow-up.
If science-fiction or fantasy are not one's cup of tea, but rather raunchy, irreverent comedy, then audiences were in luck in June as well, what with 22 Jump Street, amazingly enough the second film of 2014 directed by Phil Lord and Christopher Miller that found the ingenious way of making a genuinely funny movie out of the meta-concept that the movie knows it's swaying on the ridiculous side of the tonal spectrum. More to the point, 22 Jump Street frequently poked fun at its stature as a sequel that rehashed several plot points of the first film, the very criticism many a sequel finds itself guilty of. If Cloudy With a Chance of Meatballs and 21 Jump Street were not enough proof, their output in 2014 was clearly indicative of the fact that Lord and Miller are working on a completely different level from other creative minds in Hollywood when it comes to comedy.
July, while not as scintillating as its predecessor, nonetheless invited the public and critics alike to discover some better than average blockbusters, most notably Dawn of the Planet of the Apes, the sequel to the unexpectedly solid 2011 predecessor, Rise of the Planet of the Apes. While one would be hard pressed to argue that this second installment of the rebooted franchise scores top marks for originality, it most certainly stakes a claim that sometimes the journey is worth more than the destination, and what a journey Dawn offered audiences. Whereas the first adventure strongly hinted at impending doom for humanity, the second hits the nail on the head again, and again, and again. A bleak, dreary expose on how warring cultures often reinforce the very problems that keep that at arms length rather bridge the gaps between them, the film also featured mesmerizing effects courtesy of the now popular motion-capture technique. It may not have represented the typical definition of having 'fun' at the movies, but few were not won over by its spectacle and intelligent characterizations.
A few weeks later Luc Besson returned to the genre that helped him make a name for himself with another high-octane, sexy action film starring a lovely leading lady. This time it was Scarlet Johansson in Lucy, one of the zanier major releases of 2014, in which the titular character falls prey to the effects of a new drug that release the brain's full potential. Not only did Lucy herself bite off more than she can chew, but so do anyone who tried to get in her way…or tried to comprehend the incomprehensible. Obviously no one can truly what would happen if a human were gifted with the ability to utilize 100% of their brain capacity, but witnessing Luc Besson's hypothesis realized on screen in a very nutty sci-fi actioner was more than satisfying, if perhaps not terribly plausible…or was it?
August saw the release of a few blockbuster wannabes, from another Expendables entry to the return of the Teenage Mutant Ninja Turtles, yet no other film made stronger a case for fluffy summer fun than Marvel Studio's second effort of the year, Guardians of the Galaxy. A lesser known property than the behemoths that had already been translated from the comic book pages to the silver screen, what made this particular project all the more odd was its unique casting and choice of director. James Gunn had earned himself the highest of praise from fans of off-kilter horror films and comedies, which left many to wonder what exactly would happen if he embarked on a large scale, studio mandated project. The results blew audiences away as well as had them laughing in hysterics. If films the likes of Iron Man 3, The Avengers and Captain America: The Winter Soldier had not already done so, Guardians of the Galaxy solidified the idea that Marvel Studios had attained 'Pixar' status: they can do want they want because audiences and critics will eat it up like cupcakes. Many bemoan the corporate studio system, but it's hard to blame a studio for feeling good about itself when one of its pictures is the best money maker of the year and one of the best received.
Things did cool off a bit over the next two months. How could they not after such a stunning series of high quality, high budget productions? In September, The Maze Runner earned slightly better reviews than anticipated, primary due to its adherence to the dark and gritty tone its premise would suggest, but it wasn't a phenomenon. In October, Fury opened to reasonably favourable reviews and did rather well at the box office to boot, but it always felt as if October was but a practice run for what was to come in November.
A new Christopher Nolan film is always an event. A new Christopher Nolan film based on original material is even more reason for excitement. Interstellar, the English directors ode to space travel films with brains, will end up being one of the more challenging film of 2014 to appreciate. Not because it wasn't any good but because of the chances it took in how it went about telling its story. There is no question that Interstellar was one of Nolan's least well received films, which is saying something considering that it was still well received on the whole (73% on Rotten Tomatoes). Nolan has often been described is a storyteller very much interested in the psychology of his characters and the themes of his stories, putting less emphasis than other would on the potential emotionality of said characters. Interstellar, glorious set design, special effects and IMAX cinematography aside, was an attempt to tackle a more sentimental tale. Whatever nagging directorial choices brought the picture's quality down a notch compared to his previous output, a new Nolan movie always peeks the interest of critics and the general public alike.
Following up on Frozen was never going to be an easy task for Disney. The 2013 late-year family adventure was one of the more highly regarded Disney animated motion pictures in recent memory. Enter Big Hero 6, the studio's first attempt at properly integrating the Marvel Comics brand directly into its filmography (as opposed to just making money via Marvel Studios simply because they own the brand). The response was nearly unanimous: bright, colourful, inventive, humorous, and most importantly, displaying a great understanding of good storytelling. It would seem, therefore, that after an aughts decade with some iffy productions the likes of Atlantis and Home on the Range, Disney cinematic foray into the 21st is on the right track.
For a specific set of film fans, the arrival of another Christmas season really means only one thing, that being the release of another grand scale fantasy epic set in the realm of J.R.R. Tolkien's Middle Earth universe. After three Lord of the Rings films from 2001 to 2003, director Peter Jackson concluded his profitable, albeit bloated, Hobbit trilogy with The Battle of the Five Armies. In fairness, the Rotten Tomatoes score stands at only 61%, demonstrating that while a fair number of critics enjoyed it, it obviously isn't the type of reception most would hope for a Peter Jackson Middle Earth themed film. Even so, compared to the tepid reception earned by its two predecessors, The Battle of the Five Armies still managed to cap off what most deemed an unnecessary trilogy in decent style.
Time will only tell what the blockbusters of 2015 hold in store for audiences and critics. Some are already chomping at the bit to see the next adaptation, remake, reboot, sequel or prequel of their favourite property. If 2014 was any indication, while it nice to see properties handled with care and taste, sometimes a little bit of the unexpected (Edge of Tomorrow, The LEGO Movie, Lucy) is an opportunity to discover something fresh and new. Despite the looming presence of an Avengers film, a new Jurassic Park chapter, the 24th Bond adventure, and finally the seventh Star Wars movie, 2015 will have a lot to live up to, not merely with respect to fans' expectations but because 2014 was such a swell campaign for the big money makers. It has become all too easy to lambast Hollywood for what does wrong, and even though in many instances the criticism is earned, it should not be forgotten that they do get it right sometimes.
-Edgar Chaput
[wpchatai]