360
Written by Peter Morgan
Directed by Fernando Meirelles
UK/Austria/France/Brazil, 2011
360's writer Peter Morgan has declared that the film is directly inspired by Reigen, an 1897 play notably adapted to film by Max Ophüls as La ronde in 1950. The title of Morgan's work, directed by Fernando Meirelles, derives from the 360 degrees of a circle, and the film notably begins and ends with the exact same scenario; things are destined to repeat themselves. La ronde and 360 are both portmanteau films, which have become especially popular in the last decade thanks to directors like Alejandro González Iñárritu with Babel and Amores perros, and the commercial and awards success of Paul Haggis' Crash. While these films – that either examine a particular city or country, or take place at various locations around the planet – at least attempted to reflect on specific social anxieties that acted as recurring themes, 360 seem to draw entirely from these types of inter-connected films themselves.
The thematic explorations are essentially just that people are connected, and that there are various paths one can take to change a situation for either better or worse. Loose attempts at the metaphorical with the script mean the film feels entirely shallow, especially in the frustrating tenuousness of some of the links between its sketchily-drawn characters. Meirelles' directorial quirks prove particularly ill-fitting here. There's some admittedly nice use of pans, but also jarring, overly showy use of split screens and flaccid attempts to liven the soulless colour scheme. It doesn't convey the restlessness of its characters, so much as it does eagerness on the filmmakers' part to constantly link everything: see Jamel Debbouze's lonely Parisian dentist stretching out his hand to stroke the small image of an airborne plane, only for the now CGI tiny plane to follow him into the next shot as he attends a therapist meeting.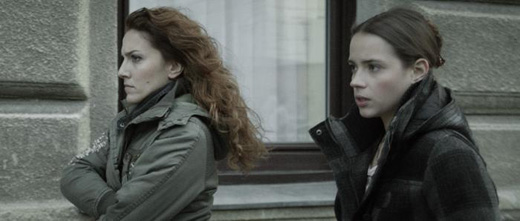 There are a few moments that have a little charm and don't feel contrived, and a late foray into thriller territory is, at least, somewhat entertaining. A few of the performances, like those of Ben Foster, Maria Flor and Lucia Siposová and Gabriela Marcinkova as Vienna-based sisters, also provide some traction. With less encompassing attempts at narrative mileage and greater focus on fewer people, the film might have been a lot better. Instead, it's a slog to watch, especially since it offers so little to absorb outside of the over-familiar concern of global connectivity; the film's very last shot also feels vulgarly opportunistic thanks to the superficiality throughout.
Josh Slater-Williams