For a performer whose career was so short-lived, Janis Joplin has been hugely influential and such a largely contentious figure in the world of music. We've recently gotten a Jimi Hendrix biopic, along with music stories about everyone from the short lived (Ian Curtis, Jim Morrison, John Lennon) to the long-living legends (Johnny Cash, Ray Charles), so it makes sense that a Joplin biopic is long past due.
Late last week, Deadline was breaking news that Jean-Marc Vallee had signed on to direct Get it While You Can, the working title for a Janis Joplin film with Amy Adams attached to star and sing in the film. This would be Vallee's fourth film following Dallas Buyers Club, the upcoming Wild, and the just-wrapped Demolition.
Adams is terrific casting, and Vallee is promising, but we've been down this road before, and a new director attached is no closer than 30 Rock's Jenna Maroney is to playing the real Janis Joplin instead of just Jackie Jormp-Jomp.
Here's a brief history of how for over a decade people been trying (just a little bit harder) to actually get this movie made.
April 2004 – MTV reports that The Gospel According to Janis is scheduled to go into production "this summer" from director Penelope Spheeris (Wayne's World) starring the pop star Pink. Then 24, Pink had already cited Joplin as a major influence on her career, singing "I've only been here for 27 years/but already my life is over" on her 2003 album Try This in reference to the late blues singer. MTV even mentions rumblings of another Joplin biopic called Piece of My Heart rumored to star Renee Zellweger.
August 2006 – The Gospel According to Janis is still on, but with the new girl of the day taking the part. Spin Magazine reports its none other than Elf and Almost Famous star Zooey Deschanel, reportedly beating out Lindsay Lohan, Britney Spears and even Scarlett Johansson. "While Pink was the initial first choice of director Spheeris," Spin writes, "The singer pulled out, claiming the film's producers made the casting process 'some circus pop contest — who's the 'it' girl who wants to play Janis.'"
September 2006 – Finding a star for The Gospel According to Janis is presumably the least of the film's problems, as the latest draft of the film, written by Spheeris and Rolling Stone journalist David Dalton, is looking for an actor to portray Dalton, who accompanied Joplin on tour and used his reporting as the basis for the screenplay. Empire states shooting is still scheduled for November, and Empire also has another sighting of the still-not-dead Renee Zellweger Joplin pic.
March 2007 – Just months after her initial casting, Deschanel confesses to MTV that the Joplin biopic is on hold. "It's one of these things [that] seems like it's been hard to get all the money and the rights in place," Deschanel said in the piece. "There are all kinds of different rights. You need the rights to the song, and life rights. There's a lot of legal stuff that goes into playing a real person."
And yet in that time, The Gospel According to Janis has evolved into a truly ambitious and dark project. The film no longer aims for the traditional narrative, but takes place almost entirely on October 4, 1970, the last day of Joplin's life when she died from heroin. Yet in flashbacks, the part still demands Deschanel sing and learn how to adapt her vocal range to Joplin's "gravely", "rough" and "extremely volatile" voice.
September 2009 – Deschanel's Joplin biopic has gone from "on hold" to "kind of dead", telling the blog TwentyFourBit, "It's such a fantastic story and a dream role, but it doesn't seem to want to be made, and you can't force these things," Deschanel said. "I don't think any of the work I did was lost. I enjoyed doing the research, so I don't regret any of it." The blog even links to an old piece that claims Vanessa Hudgens was likewise competing for the part.
July 2010 – Nikki Finke is quick to confirm that Amy Adams, then the star of such films as Enchanted, Julie & Julia, and Doubt, will play the lead of Janis Joplin in a new biopic directed by City of God's Fernando Meirelles. Rolling Stone mentions that the film will now be called Get it While You Can, and that although no studio has been attached as a distributor, the film is set to go into production in 2011.
Fox Searchlight apparently has been sitting on a script by Ron Terry, and the film will be a "high-end production." But there's a wrinkle. The producer of the "kind of dead" The Gospel According to Janis Peter Newman explains that he bought "the entire Joplin estate 10 years ago" with intent to make the real Joplin movie. But don't worry; Newman thinks their movie will be just fine. "That's not to say other people couldn't make a movie about Janis using some of her lesser material or ignoring a lot of major characters in her life."
What's more, Newman explains to Entertainment Weekly that the rights to the movie aren't even the problem. "It's that I'm trying to make a really good movie and it's very hard to get all the elements together at one time: the right director, the right star, the right script, and the right amount of money."
October 2010 – A New York Times article on the 40th Anniversary of Joplin's death highlights the deeper complexity and contention involved with anything regarding Joplin's estate and legacy, while also pointing out that a lack of archival music to draw from has left Joplin's reputation in the 21st Century diminishing. The article goes on to mention that, now several months removed from prior news, neither The Gospel According to Janis nor Get it While You Can has secured funding.
October 2011 – Deschanel, now with her newly minted TV show New Girl, is the first to sound the death knell on The Gospel According to Janis, expressing her disappointment to The Hollywood Reporter that the film would simply not come together despite her dedication to the part over several years.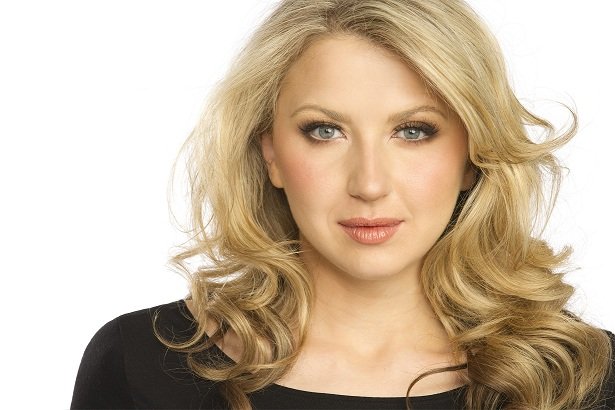 July 2012 – Get It While You Can went almost an entire year as the only Janis Joplin biopic that seemed unlikely to ever get made, but a new contender has entered the ring with an unlikely star. Deadline first reported that Sean Durkin (Martha Marcy May Marlene) would direct Joplin starring the Tony winning actress of Venus in Fur Nina Arianda.
Arianda's screen presence until that time had been relatively unknown, limited to small parts in Midnight in Paris, Win Win, and Tower Heist. Yet her Broadway persona and singing capability was more than convincing.
But perhaps the real twist is not Joplin's casting but its producer, none other than Peter Newman. After scrapping The Gospel According to Janis, Newman's goal in teaming with Durkin was to make an indie film for the smaller budget of $20 million. Still in complete control of Joplin's songs, Dalton's book, and the remainder of her estate, Newman's plan was still to have Joplin follow the last six months of the singer's life, not unlike later drafts of The Gospel According to Janis.
Yet Deadline points out that a lack of musical rights did not stop Andre 3000's Jimi: All is By My Side from getting made, promising a chance for Amy Adams's version yet.
August 2013 – After first starting conversations in October of 2012, Lee Daniels (Precious, The Butler) has signed on as the new director for Get it While You Can. And in a talk with The Hollywood Reporter, he's very enthusiastic. "This is my next project for sure," Daniels said.
On working with Adams, Daniels added, "Guess what? She can sing her ass off!"
November 2014 – Get it While You Can has moved from attracting the It Girl stars to attaching the It Guy directors, now moving on to the Academy's new favorite Jean-Marc Vallee (Wild, Dallas Buyers Club). This final update is still breaking with no new word from Vallee or Adams, but production of Get it While You Can is now scheduled for 2015. Meanwhile, Sean Durkin's film, which IMDb now lists as Janis rather than Joplin, is still stuck in development.
Keep in mind however that Joplin/Janis's producer Peter Newman still holds the music rights to Durkin's film, while Vallee's is only drawing from a script by Ron Terry.
So which is truly the real project? The one with the actual star and director attached, or the indie film that happens to have all the songs? And will either of them actually get made?
Sadly this song and dance has gone on longer than Joplin's musical career, and all it has given us are a bunch of Cheap Thrills.
[wpchatai]