Indeed it is sad news to acknowledge the passing of Emmy-winning and Oscar-nominated actor James Garner (1928-2014). The Hollywood icon Garner has endured a remarkable show business career during a five-plus decade stretch as he has entertained generations of TV and film audiences throughout the ages. Upon the death of this immensely likable leading man on both the small and big screen many are probably wondering about their mortality at this point. After all, you either grew up with James Garner as a peer or spent your childhood watching him in your living rooms on the boob tube or at the local movie theater.
Although the majority of folks associate Garner with television from his first western series Maverick in the 1950's to his landmark role as ex-con PI Jim Rockford in the 1970's The Rockford Files (some teens and young adults may recall his brief stint as grandfather Jim Egan in the 2002-2005 family sitcom 8 Simple Rules) many also realize Garner's established cinema work ranging from supporting work in 1957's Sayonara to his Oscar-nominated turn as a local senior pharmacist who falls head over heels for a divorced younger woman in 1985's romantic dramedy Murphy's Romance.
In A True Maverick: Top 10 Films of James Garner (1928-2014) let us recall some of the late great James Garner movies that he left behind for past, current and future film fans to revel in as we recall the affable actor and the memorable entertainment he leaves as a legacy.
1.) The Americanization of Emily (1964)
Garner excelled in the black period piece romancer The Americanization of Emily and has often cited how the Arthur Hiller-directed, Paddy Chayefsky-written film was perhaps a personal favorite of his to star in alongside Julie Andrews (they would reunite eighteen years later for Blake Edwards's Victor Victoria).
Garner portrays Lt. Commander Charles Edward Madison, an American officer stationed on a British isle in the wake of 1944's D-Day wartime event. Madison, as with his other fellow American soldiers, are living it up without any worries in the world. Womanizing and spending money as if it is going out of style is a nice way in which to serve military duty without the dangerous aspect. Madison even falls for British gal Emily Barham (Andrews) in his quest to live loose and liberated. However, Madison's Good Time Charlie routine comes to a halt when he is assigned to partake in a perilous mission thus cutting off the lovely Emily and lighthearted shenanigans. Garner delivers an underrated impish performance in The Americanization of Emily.
2.) The Great Escape (1963)
Garner is surrounded by an all-star cast in the off-kilter war dramedy The Great Escape. Garner's Hendley ("The Scrounger") is one of the countless of POWs (prisoners of war) trying the escape the clutches of an escape-proof German camp.
Director John Sturges's The Great Escape is stacked with a who's who of familiar faces that joins the giddy Garner in this mischievous military caper starring Steve McQueen, Richard Attenborough, Charles Bronson, James Coburn, Donald Pleasence, James Donald and David McCallum. Even with a bunch of showstoppers on board for the elaborate tunnel digging and other high-flying antics the charismatic Garner still stands and lends his considerable roguish contribution to this wartime wonder.
3.) How Sweet It Is (1968)
The racy high jinks ensue when photographer and family man Grif Henderson (Garner) is sent on a photo shoot assignment in France as his loved ones tag along. Grif wife Jenny (Debbie Reynolds) and beatnik son Davey (Donald Losby) only add to the mayhem as the Henderson family unit arrives at the premises of French lawyer Phillipe (Maurice Ronet).
The frisky Frenchman litigator is interested in showing his briefs to the pretty scatterbrained Jenny (who was responsible for the mistake of renting out Phillipe's house in the first place). In the meanwhile, Grif must try to avoid the temptations of becoming affectionate prey to the beauties that face his camera lens. How Sweet It Is was under the direction of Jerry Paris (Petrie friend and neighbor Jerry Helper from The Dick Van Dyke Show) and co-written by sitcom vet producer and future film director Garry Marshall (Happy Days, Laverne and Shirley, Pretty Woman, etc.)
4.) Maverick (1994)
It may appear like such a gimmicky and nostalgic-gestured stunt but movie audiences did not mind Garner revisiting his humble television beginnings when he co-starred in the movie update version of his 1950's western television show Maverick. As everyone may recall Garner was the charming gambler Bret Maverick, a lovable card shark that would rather dupe his opponents than tussle with them physically.
In the big screen version, Mel Gibson assumes the role as the slick deck-dealing Bret Maverick as his curvaceous partner-in-crime is handy huckster Annabelle Bransford (Jodi Foster). Garner, although not in the skin of his signature TV character Maverick he created four decades earlier, appears as Marshal Zane Cooper whose monitoring of both Bret and Annabelle prove to be a tedious task at hand.
5.) Move Over Darling (1963)
It might appear that dashing Los Angeles-based husband and father Nicholas Arden (Garner) got some tender loving from two different beautiful wives in Ellen Wagstaff Arden (Doris Day) and Bianca Steele Arden (Polly Bergen). Of course the wacky circumstances in which he found himself with two wives (at the same time) sets up the offbeat Michael Gordon-directed vehicle Move Over Darling.
While taking an airline flight that ultimately ends up crashing into the South Pacific, Nick manages to survive but Ellen can not be located and is presumed dead as her body has not been found. Skip to five years after the plane tragedy when Nick decides to remarry and take on a new spouse in Bianca whose duty is to fill the emotional and affectionate void for Nick and his two young daughters left by Ellen's unknown demise. But guess what…the Navy drops an alive Ellen off in LA after her five-year ordeal trying to cope on a South Pacific Island. Now a shocked Nick is forced to re-examine his past commitment to Ellen while trying to honor the current marital connection with Bianca. So which darling of Nick's deserves to "move over"?
6.) Murphy's Romance (1985)
Garner scored an Oscar nomination for the Martin Ritt-directed romantic comedy Murphy's Romance about a small town mature druggist Murphy Jones striking up a friendship (and developing an intense attraction) with youngish thirty-something divorcee Emma Moriarty (Sally Field).
Emma arrives with her son Jake (Corey Haim) trying to start up a horse ranch as she rebounds from her philandering man-child ex-hubby Bobby Jack (Brian Kerwin). Murphy sees to it that Emma and Jake are settled in and enlists himself and others to try and assist her in getting acclimated to the deteriorating dust-ridden property. Murphy's niceness and valuable handyman work is much appreciated by Emma although she is clueless about how much the accommodating senior helper actually loves her from a genuine romantic angle.
When Bobby Jack arrives and tries to force himself back into the good graces of Emma and Jake the stakes are up for grabs as Emma is caught in the middle of a kissy-poo tug-of-war between the older "Uncle-type" of Murphy and the childish and irresponsible blonde-haired boy-toy Bobby Jack that has broken her heart previously during their uneventful marriage. Murphy's Romance is indeed one of Garner's best big screen performances rich with feisty feeling, down-home charm and a gentle swagger that women of all ages could not resist.
7.) Skin Game (1971)
The off-kilter slavery satire Skin Game teams Garner and future Oscar winner Louis Gossett, Jr. as a salt-and-pepper pair of con artists that travel the territory and scam unsuspecting suckers in the late 1850's. The white Quincy Drew (Garner) and black Jason O'Rourke (Gossett, Jr.) are blood brothers in petty cons but decide to take their stakes even higher when they play the "skin game".
The rules of the skin game is such that Quincy sells off Jason (in actuality a free black man from the North) to an unsuspecting slave owner for top dollar then disappears out of sight. Jason bides his time on the plantation until he can escape with Quincy and repeat the same process with another dim-witted mark willing to purchase the able-bodied slave hand Jason who in reality is making a mockery out of him. Skin Game poked fun of the absurdity of the slavery institution in 19th century America long before high-concept flippant showcases such as Quentin Tarantino's Django Unchained would emerge with its naughty commentary.
8.) Space Cowboys (2000)
Space Cowboys gather Garner who is joined by other maturing Hollywood heavyweights such as Clint Eastwood (the film's director and star), Tommy Lee Jones and Donald Sutherland as they play aging astronauts hired to repair a faulty satellite in deep, dark space.
Garner is Tank Sullivan, one of engineer Frank Corvin's (Eastwood) team members from the good old days some four decades earlier when the capsule-bound colleagues used to conduct space missions. Now Corvin and his wrinkling crew are no longer spring chickens but still has what it takes in experience and gumption to get the job done. NASA officials have no choice but to call on Corvin since he was the Air Force pilot that originally designed the now-defective satellite. Corvin is committed to his crafty cronies and Garner's Tank Sullivan is one of those "space cowboys" out for the galactic round-up in Eastwood's space-aged drama.
9.) Support Your Local Sheriff! (1969)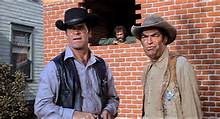 Director Burt Kennedy's western parody Support Your Local Sheriff! certainly is the right fit for likable rascal Garner. In Support Your Local Sheriff! Garner is Jason McCullough, a wanderer passing through the gold rush town as he attempts to bask in greener pastures. McCullough decides to accept the temporary position as the town's sheriff for quick profit until the mood strikes him to move on should the going get rough.
Gradually, McCullough warms up to the job and the townspeople as he tries to maintain peace and order as he outwits the baddies with his brain. When McCullough is not trying to outfox the unruly gunslingers he has to tangle with the notorious Danby clan headed up by the prosperous iron-fists of Pa (Walter Brennan). Garner provides the perfect spot as the crafty badge-wearing ringleader overseeing Kennedy's wacky three-ring lawless frontier circus.
10.) Victor Victoria (1982)
Writer-director Blake Edwards's gender-bender period piece Victor Victoria casts Garner as King Marchand, a shady Chicago-based club owner of several establishments in the area. Marchand is often accompanied by his moll in dizzy-minded Norma Cassidy (Lesley Ann Warren) and beefy bodyguard Bernstein (Alex Karras). Marchand is in attendance to witness and be smitten by one particular act that tickles his fancy and allows him the curiosity to pursue the "bizarre" stage performer.
TRIVIA: It should be noted that Garner reunites with Victor Victoria star Julie Andrews (as both Victoria Grant/Count Victor Grazinski) as they first appeared together eighteen years ago in Arthur Hiller's The Americanization of Emily from 1962). Garner is at his duplicitous best as the mob-affiliated businessman who swears that "Victor" in question is not a man but a woman that he infectiously craves.
Robert Preston received an Academy Award nomination for Victor Victoria in the best supporting actor category but Garner was equally as deserving to get that same Oscar nod for his wicked take as King Marchand.
Honorable Mention
Sayonara (1957)
James Garner as Captain Bailey
–Frank Ochieng
[wpchatai]