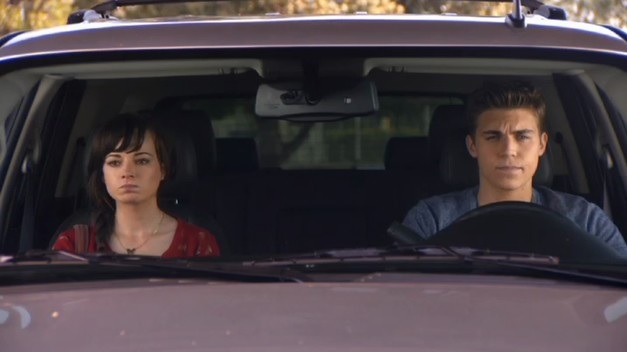 Awkward., Season 3, Episode 11: "Surprise!"
Written by Lauren Iungerich
Directed by Lauren Iungerich
Airs Tuesdays at 10:30 PM on MTV
One of the key storylines of the first half of the third season of Awkward. was Jenna's growing attraction to Collin, an attraction she felt despite now being in a public relationship with the object of her affections, Matty. Seemingly a reflection of her growing maturity, the reciprocation of her feelings by Collin put Jenna in a tight spot at the midseason finale, and it is this dilemma that forms the focus of this week's episode, in a well-paced return for the show.
How Ming deals with her newfound power in the Asian mafia is a promising storyline. While Becca was Ming's nemesis for the first half of this season, Fred's assertion that being the head of the Mafia made her that way is an intriguing harbinger for Ming's actions. Jenna and Tamara remain oblivious to the extent of Ming's power this week, but they are still possible support systems, alongside Fred, for her to lean on if she gets too corrupted, something Becca likely didn't have. Whether or not said support system is able to keep Ming grounded, or if she does succumb to the power of the Asian Mafia, and what the consequences of her decision are, has the potential to be compelling.
The rapid forward movement of the Jenna-Collin-Matty love triangle is also a pleasant surprise this week. While this triangle has managed to successfully differentiate itself from the Jenna-Matty-Jake triangle of season 2, the quick pace adds a further distinctiveness to the storyline. In addition, the events at the end of the episode put Jenna in completely uncharted waters, and how she handles the situation will have a huge impact on her move towards maturity.
Overall, this is a fine return to form for the show. Desi Lydic continues to be a hilarious presence on the show, and her interactions with Nikki Deloach's Lacey Hamilton are a highlight of any episode, with this week being no exception. While Tamara and Jake are relegated to the background this week, the end of their honeymoon place is also a promising storyline, and hopefully the show picks up on this in the coming weeks. It's good to see Mr. Hart make a return this week as well, as he leaves an impression despite his brief appearance this week. How everyone deals with the fallout of the reveal, particularly Sadie and Lacey, and how Matty and Collin regard each other moving forward, are worth looking out for during the remainder of the season.
– Deepayan Sengupta