Twelve years ago, HBO put to screen a miniseries that was one part Television event, one part historical drama, which had the considerable backing of executive producers Steven Spielberg and Tom Hanks and the hype of being something of a spiritual successor to their highly acclaimed war film Saving Private Ryan. Through ten one hour long episodes, essentially using TV as a medium to explore a vast and epic journey through the Second World War that would simply be impossible to map on the big screen, and with Stephen E Ambrose's critically acclaimed non-fiction book as source material and a huge cast representing a collective of real world heroes, one of the most ambitious storytelling exercises the small screen has ever mounted was brought to life. The result was much fanfare, both critically and among the masses, a recurring trope that continues to this day, and the fledgling start for a group of modern day superstars. This was the story of Easy Company, 506th Regiment of the 101st Airborne Division, a real life Band of Brothers.
Many, many elements came together to form the nucleus of grand success which has left BOB with a grand legacy and the never dwindling reputation as one of the finest miniseries ever, and perhaps the best treatment of history's most destructive conflict that the creative industries has to offer. You could point out the superb direction of a group of Directors, including Hanks himself for one episode, that balanced dramatic and at time horrifying action with emotional pathos, the strong writing that defined a cast of characters who would otherwise become a faceless batch of GIs as seen in the noble but underwhelming The Pacific, or the strong devotion to the real world counterparts which saw each episode open with testimony from the veterans themselves, tangents equally capable of drawing a smile or a tear. But perhaps the most vital cog was the ensemble of actors, a mixed range of Americans and Brits often cast due to physical resemblance, who brought these souls to life and made their respective marks in style. Few were stars or even recognizable names before the series opened, and many of those most notable in the eyes of viewers have since faded into obscurity, while the bit part players have sprung up as the new big names of Hollywood.
So, much in the style of Episode 10's beautiful closing epilogue detailing through narration the later lives and fates of Easy's plethora of legends, this is an opportunity to revisit Band of Brothers and find out who were the stars, who burned out and to trace a curious recurring theme of cluster casting stretching from British and American serial TV to indie movies and even Hollywood blockbusters. Twelve years on, where are the men who portrayed the screen versions of these heroes?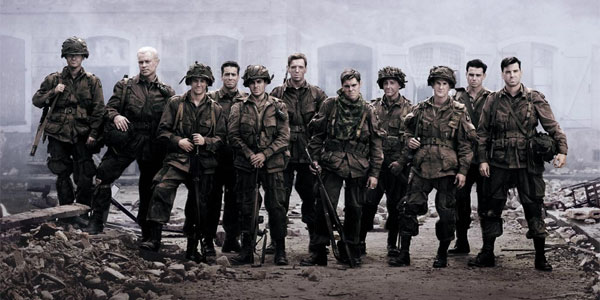 Big Heroes, Small Fortunes
Although BOB had at its disposal a large and easily identifiable troupe of protagonists, it is still clear to see who the big players were in the unfolding drama, those playing the Company's key figures as they fought from Normandy to Holland to the Battle of the Bulge, Germany and all the way to the Eagle's Nest in Austrian mountains over a year of hell and shared blood. The real main character was the spiritual father who rose from conflicted first lieutenant to fully fledged Major and acted as inspiration to his men, the iconic Dick Winters. He was portrayed in the series by Eton graduate and Brit television actor Damian Lewis, a man who Steven Spielberg vowed to turn into the first ginger Hollywood star. While that ambition never quite to fruition, Lewis undoubtedly benefited from the exposure of BOB and was rewarded for his subtle and thoughtful performance as the mild-mannered and tee-total Winters (a true legend who sadly passed away a little over two years ago). Lewis's initial crack at the mainstream proved disappointing, his Hollywood bow being the disastrous blockbuster Dreamcatcher. This lack of punch led to smaller scale efforts, a return to Blighty small screen for a remake of The Forsyte Saga and another WWII project, Colditz. He did, however, bag the main role in Lodge Kerrigan's Keane, delivering a sensational performance. Supporting roles in The Escapist, Alex Rider: Stormbreaker and An Unfinished Life preceded his revival on this side of the Atlantic with first the series Life, and now the huge hit that is Homeland. Once again in the role of military man, Lewis's performance as Brody has bagged him an Emmy and made him a hot property once more.
Playing Winters' borderline alcoholic and laconic best friend Lewis Nixon was Ron Livingston, a distinctive face best known before the show's advent through his leading role in the cult favorite comedy Office Space. Despite impressing with a complex and amiable performance as the troubled Nixon, Livingston's star since the series has faded considerably. Small roles in The Cooler and Adaptation became bigger roles in much less grand efforts such as 44 Minutes, a pulpy retelling of the North Hollywood shootout, and brief guest spots in House and Sex and the City. Livingston grabbed the key role briefly on his own series, hostage negotiator drama Standoff, a show that sadly only lasted a year, and his recent CV is obscure and nebulous at best. The same description applies to Scott Grimes, the Canadian actor whose later episodes performance as the bright and eager mortar man Donald Malarkey packed a significant punch after the Oregon boy lost his best friends during the Battle of the Bulge. The highly recognizable Grimes enjoyed a spell on ER as Archie Morris which lasted six years and, his surprise casting as Will Scarlet in Ridley Scott's Robin Hood aside, has proved to be his most notable job post-Brothers. Surprisingly, Grimes heightens his pitch as he provides the voice for Steve Smith on Seth MacFarlane's American Dad.
Following up a series of impressive bit roles in the late nineties (most notably an astonishing scene stealing turn in The Sixth Sense) as he developed from music star to actor, Donnie 'a better actor than his brother' Wahlberg was a fan favorite in BoB and displayed his depth as the mothering first Sergeant, Carwood Lipton. Wahlberg lead the line and narrated with panache in perhaps the series' finest hour, The Breaking Point, showing leading man chops and undoubted charisma. A shame, then, that this didn't mark his big break. He impressed yet again in NBC's sadly curtailed cop show Boomtown (alongside fellow Brother Neal McDonough), but has found his exposure limited to less creditable films (Saw II & IV, Righteous Kill, with Lewis in Dreamcatcher) and ultimately forgettable TV work (The Kill Point and Blue Bloods).
The unmistakable Neal McDonough, who like Grimes got to play searing emotional trauma as the popular and latterly broken 'Buck' Compton (the man who would later become a lawyer and convict Bobby Kennedy's killer Sirhan Sirhan), worked with Wahlberg on Boomtown and provided perhaps its most enduring memory as sharp shooting DDA David McNorris, before taking another lead role in the silly but fun series Medical Investigation. He also has graced the silver screen more than most of his fellow alumnus, with roles in Minority Report, Traitor, Flags of Our Fathers and as the antagonist to Al Pacino in 88 Minutes. One of the bigger names going in to the show, cockney Dexter Fletcher continued to appear in big films from time to time (including Layer Cake and Kick-Ass) before making an impressive directorial bow last year with Wild Bill (no relation to 'gonorrhea' Guarnere).
Brothers Reunited
Already touched upon and noticeable in that breakdown is the recurring habit that has seen members of the on-screen company show up in pairs, trios and even quartets, reinforcing the allusion that they became a real life band during their intensive pre-shooting boot camp. Considering that Boomtown was created by BOB writing staffer Graham Yost it's perhaps not a surprise that both Donnie Wahlberg and Neal McDonough carried over as main characters, but both Frank John Hughes ('Wild Bill' Guarnere) and Rick Gomez (company joker George Luz) showed up in guest roles, with all four featuring in the dynamite episode 'Storm Watch'. Wahlberg and Hughes also shared the screen in both Righteous Kill and the TV movie Road to 9/11, making this perhaps the most potent 'team'. It has shown up elsewhere, however. Wahlberg and Lewis both starred as main cast members in Dreamcatcher, though the former only shows up towards the end and the duo share the screen for one climactic scene (interestingly and un-brotherly as the opposing forces of the final showdown).
Scott Grimes and Eion Bailey (David Webster) both featured in ER during the same timeframe, and both were preceded by Matthew Settle (Ronald Speirs), while Ron Livingston would do guest work on Grimes' series American Dad. Matthew Leitch (Floyd Talbert) scored the lead role in 2002's AKA and promptly hooked up with fellow Brother Peter Youngblood Hills (the South African actor who portrayed 'Shifty' Powers, West Virginia sharp shooter) in more ways than one, costarred with Dexter Fletcher in the same year's submariner horror Below and his surprising use as an extra in The Dark Knight saw him team up with Craig Heaney (Roy Cobb), who managed to get a line of dialogue. Interestingly, this pair up saw them pitted on rival boats during the ferry bomb sequence, a trauma that like in BOB they manage to survive. There is further irony in the fact that Cobb departs the series under arrest, while in TDK it is Leitch who is a jumpsuit wearing convict. We also have Marc Warren (Albert Blythe) and Ross McCall (Joe Liebgott) appearing in Green Street Hooligans alongside Elijah Wood. Either there was a mass contractual clause signed up in 2001, or these guys feel acute homesickness without each other's presence.
The Big Winners
You'd be forgiven for watching through the ten episodes of the series and failing to spot 'before they were famous' turns from four of cinema's biggest current stars. None of the quartet have significant roles (one appears for a single episode, one shows up frequently but with barely any dialogue) after all, and are fresh faced and hidden under helmets and unglamorous wartime grimaces. Despite an aforementioned cast making an impression with plenty of face time in front of the camera, the little cogs went on to become part and parcel of the Hollywood machine, by much varying means. Interestingly, none of the four are American.
If somebody told you that Michael Fassbender was in Band of Brothers, you'd doubtlessly call bull (not Randleman) and look for a vindictive victory with the help of IMDb. Such a trip would lay bare the astonishing fact that the current toast of Tinseltown not only did star in BoB, he featured in eight of the ten episodes. Irishman Fassbender, who plays the peripheral machine gunner Pat Christensen, made his way through television work in Britain and made time for supporting parts in motion pictures such as 300, as well as the leads in the less known Hunger and Eden Lake before enjoying the year from heaven in 2009. This featured the double bill of superb Fish Tank and a day in the sun during his relatively brief but meaty role as Archie Hicox in Quentin Tarantino's Inglourious Basterds, even playing the pivot in the film's best scene. With this as his spring board, he made an assault on Hollywood with Jonah Hex and Jane Eyre before the fame really came in 2011. Big hits X-Men: First Class, A Dangerous Method, Haywire and most significantly Shame propelled him to the front of the casting cue in LA and this was reinforced with his film stealing portrayal of T.E Lawrence emulating android David in Prometheus. Currently IMDb's star-o-meter lists him at 63, a slip down the charts due to most of his projects being in the development stage. With commercial pull and critical respect, Fassbender can realistically do whatever he wants now, and will be continuing his work as Magneto and David as well as starring under Terrence Malick in the near future.
Again barely noticeable due to limited screen time, Simon Pegg was only known in the UK when he showed up in the first two episodes on Band of Brothers as lackey 1st Sergeant William Evans, a role which mainly comprised of playing sidekick to the infamous original Easy C.O Herbert Sobel (as played by David Schwimmer from Friends). Not so now, due to the surprising international success of Shaun of the Dead, a 'rom-zom-com' born out of the creative team who brought Pegg British TV notoriety with Spaced. It's all been plain sailing since then for Pegg, who has cracked Hollywood with his part in both the Mission Impossible series and JJ Abrams' Star Trek reboot, along with the likes of How to Lose Friends and Alienate People, Paul and Spielberg's Tintin adaptation. His real-life bromance with Nick Frost, as seen on screen with Shaun, Hot Fuzz, Paul and Tintin, will continue as the 'cornetto trilogy' closes this year with World's End, forming a three piece with Shaun and Fuzz. Oh, and of course he will return as Scotty in Star Trek Into Darkness. Just to milk yet more worth out of the Brothers Reunited trope, Pegg and Schwimmer later costarred in Big Nothing, and Schwimmer directed Pegg in 2007's Run Fatboy Run.
One episode, one death scene and more than the expected amount of screen time was granted to a young Scottish actor named James McAvoy, and with that gift the slim and small thespian has done wonders. Miniseries work continued with a vengeance, portraying Luto Atreides II in Children of Dune and really catching the eye as Jack the lad journalist Dan Foster in State of Play, before his part in the original Shameless gave him sufficient legroom to have a go at films, the first of which was The Chronicles of Narnia, quite an impressive way to start. More significant still was his first leading role, as another real life counterpart, Scot doc Nicholas Garrigan in the mammoth hit The Last King of Scotland. Firmly on the map, McAvoy confirmed himself as a fully fledged star with another fantastic leading man role in Atonement and even created an action hero niche in 2008's Wanted. This work earned him the role of young Charles Xavier in X-Men: First Class (…yes, alongside Fassbender…this never gets old) and this year he mounts a renewed charge with the three pronged Brit assault of Danny Boyle's Trance, crime thriller Welcome to the Punch (both winners) and an adaptation of Irvine Welsh's Filth, in which he grimes it up as loathsome copper Bruce Robertson. That's when he made time between raising a young family and playing Macbeth on stage. Not bad going for a wet behind the ears replacement.
And finally, the big lipped kid who showed up for the last two episodes, didn't do any fighting and then got killed in a needless car accident. During this time, the English actor playing young John Janovec got the series' only sex scene, made a distinct impression and ultimately delivered a sad death scene. I've already written at length about this actor's helter-skelter rise and fall career, but its worth noting that the star of one Edward Thomas 'Tom' Hardy just keeps getting bigger and bigger (now 6th on the IMDb star-o-meter, down from 5th last week). Yet another monstrous success in The Dark Knight Rises has been followed up by Hardy bagging the reincarnation of screen legend Mad Max (in next year's Fury Road), real life legend George Mallory in the same year's Everest, and the status of probably Hollywood's brightest. What more can you say
Carrying on the Legacy
As of the turn of 2013, only twenty three members of E Company, 506th Regiment, 101st Airborne Division are still with us, the oldest of whom is Frank Perconte, who will turn 96 a week on Sunday. Due to the success of the late Stephen E Ambrose's book and the sensational miniseries which brought it to the screen, the sacrifices and heroism of these men will never be forgotten, and have become legend in the eyes of a new legion of fans and devotees reminded of their heritage by an inspirational TV show. More important than launching the stars of today and forming an unforgettable ten hour long saga of loyalty and loss, Band of Brothers is a glowing testament to the men of Easy Company, citizen soldiers who were the ever celebrated sums of a part that fought the greatest of fights and won the most crucial of victories. We've heard the travails of Messrs Lewis, Wahlberg, Fassbender, Hardy & co, but to those they played, an eternal salute. For the memory that made one of TV's finest exports, and so much more besides.
Roderick Bain
Edward Bernat
Donald Bond
James Coombs
Bradford Freeman
William 'Wild Bill' Guarnere
Edward 'Babe' Heffron
Dewitt Lowrey
Donald Malarkey
Albert Mampre
Leo Matz
Earl McClung
Edwin Pepping
Frank Perconte
Phillip Perugini
Paul Rogers
Edward Shames
Frank Soboleski
Roderick Strohl
Herbert Suerth Jr.
Edward Tipper
William Wingett
Elijah Whytsell
"From this day to the ending of the world, but we in it shall be remembered. We few, we happy few, we band of brothers, for he to-day that sheds his blood with me shall be my brother"
William Shakespeare, King Henry V (Act 4, Scene III)
Scott Patterson