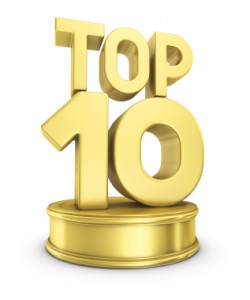 It can be such a beautiful happening when the natural forces of humanity and the wild kingdom can get together and establish a sense of harmony in motion pictures. Also, it can be a compelling yet regrettable conflict as well when man and beast decide to collide in the interest of big screen entertainment. Whatever the case may be certainly does not matter because the concept of beasts of all species (rather it be of the four-legged or two-legged variety) collectively clashing or cooperating sends a special message about triumph, tragedy and just plain tenderness.
In Beast of Burden: Top 10 Human-Animal Combinations in the Movies we will look at some of the best selections where man and animal co-exist whether it be in calmness or chaos. There is no doubt that one can come up with numerous top ten lists detailing their ideal man-animal themes in cinema. The struggle for all species on this planet to survive one another is as old as time itself.
So let us take a gander at some of the top instances where these "beasts of burden" make their marks for box office consideration. Maybe you are a Snakes on the Plane enthusiast? Perhaps Babe was a sentimental favorite for you? Could we imagine a good following for the likes of Every Which Way But Loose featuring Clint Eastwood and his trusty orangutan co-star Clyde or how about this year's animated film Mr. Peabody and Sherman about a dog and his boy?
The Beast of Burden: Top 10 Human-Animal Combinations in the Movies are:
1.) Ben (1972) Featuring Danny and Ben the rat
Sorry, but embracing rodents of ANY kind is not an acceptable cup of tea for a lot of people–especially rats that are feared and contemptible for almost anyone to tolerate. However, rats do have their favorable following where some consider them crafty, intriguing, resilient and misunderstood. Some individuals will testify how much these whiskered weasels make for "great pets" or how they are essential to experimentation for the betterment of safeguarding against human disease.
Well, moviegoers in the early 1970's got a chance to snuggle up with one particular unpredictable long-tailed furry nuisance named Ben in the Phil Carlson's horror film of the same name. Ben starred Lee Montgomery as lonely and alienated youngster Danny, the bothered boy that took a shine to the mischievous rat. Soon, Ben would be the leader of a massive hoard of killer rats wreaking havoc on its human targets. Still, Danny has a friend in Ben and his creepy crawling cohorts.
Ben's memorable and poignant theme song would be performed by a then teen lead singer Michael Jackson of wildly popular Motown music group The Jackson Five. Ben is the cinematic spin-off from 1971's raucous rat horror flick Willard.
2.) Birdman of Alcatraz (1962) Featuring Robert Franklin Stroud and his "birds"
Burt Lancaster scored an Oscar nomination as best actor portraying real-life hardened killer and convict Robert Franklin Stroud who found tranquility and training in caring for birds in solitary confinement only to end up becoming one of the world's foremost experts on the flying feathered species.
Stroud, whose criminal resume included murdering a man in Alaska and showing defiance against a prison guard he also kills due to prison protocol of his beloved mother's denied visit, becomes fixated with birds when an injured sparrow grabs his attention during his isolation. Nicknamed "Birdman of Alcatraz", Stroud is an unlikable rabble-rousing inmate that seems to find his peace of mind when raising his birds that he has come to nurture and heal with uncanny instinctive remedies that are viable treatments for them. Most of Stroud's preoccupation with his bird obsession took place at Leavenworth Prison where it was flexible for him to practice his bird worshiping. However, a transfer to Alcatraz presents a problem as Stroud no longer has the leeway to care for his birds as trusted pets.
Birdman of Alcatraz serves as a reminder that sometimes being at ease with your fellow man can be remedies when an individual can find their humanity in another species as redemption and a modicum of personal self-worth.
3.) Born Free (1966) Featuring George and Joy Adamson and Elsa the lion cub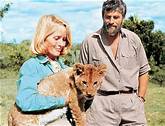 Nothing can be as inspirational or tear-jerking as a relentlessly cute critter in need of love and attention at the hands of compassionate human handlers. Well, the heartstrings tugged efficiently when enduring the captivating mid-60's wild kingdom melodrama Born Free.
Born Free tells of the tale behind Elsa the lion cub (have we mentioned how infectiously cute this critter is previously?) and how she was raised by Kenyan game warden George Adamson (Bill Travers) and his wife Joy (Virginia McKenna) amid the beautiful East African scenic landscape. But there is a tricky challenge ahead for the Adamsons regarding Elsa's upbringing…they need to prepare her for the survival skills in the wild. After all, Elsa is going to mature into a grand-sized lioness and she cannot stay with the Adamsons all her life. Elsa must be trained and prepared to face the wild and handle the unpredictability of a habitat meant for her ferocious species to run around free.
In addition to the adorable Elsa and her fellow lion cubs, Born Free should be regarded for its elegant and charged soundtrack highlighted by Matt Monro's bountiful bass-sounding tune named after the film's title.
4.) Gorillas in the Mist (1988) Featuring Dian Fossey and her "gorillas"
Filmmaker Michael Apted's Gorillas in the Mist is the solidly sentimental biopic about naturalist Dian Fossey's (Oscar-nominated Sigourney Weaver) crusade to save and protect the welfare of African mountain gorillas perishing at an alarming rate.
Although gorillas are regarded as menacing beasts within the confines of the tropical jungle it was Fossey's humanistic mission to also show how these endangered Rwanda gorillas are a wonder as a species capable of demonstrating intelligence and affection. Her studies were meant to give urgency to the plight of the vanishing gorillas in their natural environment. Fossey was considered one of the most skillful experts in primatology and ethology. She bumped heads with any authority figure that wanted to harm and exploit her beloved beasts being wiped out for financial and other advantageous reasons.
Fossey's mysterious murder (perhaps in retaliation for the late scientist's radical and outspoken defense of her affection for the gorillas) and the continued negligence of the animals she tiredly fought for and loved deeply gives Gorillas of the Mist another courageous look at how a brilliant human free-spirit such as the controversial Dian Fossey can give a needed voice for wildlife that have every natural right to exist in a world shared by opportunistic poachers and other distractors with willing trigger fingers.
5.) Harry and Tonto (1974) Featuring Harry Coombes and Tonto the cat
The late great Art Carney beat out some impressive heavy hitters at the Academy Awards that year by copping an Oscar for best actor as retired school teacher Harry Coombes undergoing a colorful road trip with his equally aging pet cat Tonto in the thought-provoking drama Harry and Tonto.
As directed and written by Paul Mazursky, Harry and Tonto is a low-key charmer of a character study about one man's reflective dealings with growing older and finding a sense of stability and adventure in the encounters he has with various personalities en route to visiting his grown adult children (Ellen Burstyn and Larry Hagman). The relatable affection and reliance that Harry invests in his pawed companion Tonto is refreshingly sweet and telling for a man that demands independence but may no longer be able to foot it out on his own due to a changing youth-oriented world. Carney, always the treasured show business performer that has entertained the masses throughout the many years of his cherished career, earned further respect and confirmation for his quieted stirring performance in the criminally underrated Harry and Tonto.
6.) Jaws (1975) Featuring Jaws the great white shark and the surrounding waterfront dwellers, fisherman and local authorities
It would be a gross understatement to mention how the Steven Spielberg-directed and Peter Benchley-novel written Jaws was the ultimate chilly summertime blockbuster for the ages…or at least for the movie-going public in the mid-1970's. Heck, even nearly four decades later it still causes some to ditch their bathing suits and bikinis.
Good ole Jaws and his gigantic chompers certainly put the fear in the fictional surroundings of Amity Island where the man-eating great white shark caused some considerable havoc to ANY human that dared to invade his watery terrain unless they secretly had the death wish for becoming the latest "seafood appetizer" for the seaside massive muncher.
It did not matter who tangled with the mighty Jaws as he took on all those that bothered to interfere with his terrorizing existence. Whether it was star Roy Scheider's police chief Martin Brody, Robert Shaw's shark hunting expert Quint or Richard Dreyfuss's oceanographer Matt Hooper it did not make a goldfish's difference as Jaws was the menacing mascot and beachfront beast that reminded some of the clueless humans that they would be the celebrated bait on his hooked teeth.
7.) King Kong (1933) Featuring Ann Darrow and King Kong the colossal-sized gorilla
Okay, so the intrusive King Kong had gone completely ape…particularly for an actress in the name of Ann Darrow (Fay Wray). Perhaps the giant-sized gorilla was too much of a devoted movie critic for the pretty performer? In any case, who can blame the humongous hairball for getting rather touchy when bothersome film crews come barging into his neck of the woods and turns his peaceful tropical Skull Island into an exotic Hollywood backlot?
One would think that the big screen blonde-haired bombshell would be the sole property of two specific men in her life: the movie's director Carl Denham (Robert Armstrong) and romantic beau John Driscoll (Bruce Cabot). Sorry boys but as of the moment the mighty King Kong has claimed your screen queen Ann as his own! The question remains: How are you going to spring your precious Ann from the gregarious grasp of the combative Kong? (hint: an imaginary crystal ball featuring the Empire State Building and swirling airplanes spells future danger for the beastly love-struck admirer).
Geez, what a male of another species will not sacrifice for a female of another species in the name of affection!
8.) Lassie Come Home (1943) Featuring Joe Carraclough and Lassie the collie dog
Lassie is perhaps one the best and beloved animal actors to ever grace the big and small screen. Of course we know Lassie for her bravery and the consistency in coming to the aid of troubled humans and even her own species as well as other imperiled animals. Indeed this cuddly and courageous creature has earned her well-deserved stripes and notable reputation throughout the generations of pop cultural fans growing up with her heartwarming adventures.
In Lassie Come Home we are treated to the sad reality involving America's favorite collie having to leave his cherished Carraclough family because they just could not financially afford to keep their pet around in struggling times. Particularly close to Lassie is his boyish owner in young Joe (Roddy McDowell). So when Lassie is sold and banished off to stay with a wealthy Duke in another fancy county our four-legged friend is not thrilled with the newer privileged scenery. Hence, Lassie attempts to return to the Carracloughs for a needed reunion. The crafty Lassie has more tricks up her hairy sleeve than a "Houdini for Dummies" magic handbook.
9.) Moby Dick (1956) Featuring Captain Ahab and Moby Dick the great white whale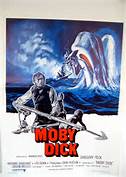 It is that age old adage about man verses beast in Herman Melville's classic story about survival, human pride and emotional recklessness. Of course Melville's account of a tormented seaman looking to have the last laugh by striking back at the mountainous mammal that crippled him physically, psychologically and emotionally is played effectively in John Huston's 1956 feature film Moby Dick.
Gregory Peck portrays Melville's novel's protagonist Captain Ahab, the seasoned aquatic adventurer that was the sole survivor of a whaling ship that his devilish and destructive beastly nemesis Moby Dick destroyed to smithereens. The result left Ahab permanently injured (losing his leg and now having to reply on a wodden peg leg courtesy of Moby Dick's deadly wrath). Now Captain Ahab will stop it nothing at his lingering obsession to hunt down the gigantic wayward whale and eradicate him indefinitely.
The price, however, is rather high for Captain Ahab's quest to kill the monstrous whale as he thinks nothing of exposing the vulnerable livelihood of his crew or his targeted ship to pursue and punish the mischievous Moby Dick in the name of revenge and redemption.
10.) National Velvet (1944) Featuring Velvet Brown, Mi Taylor and Pie the steed
Clarence Brown's National Velvet brings forth the three-way affection and admiration concerning a former jockey Mi Taylor (Mickey Rooney), a young English girl Velvet Brown (Elizabeth Taylor) and their horse Pie.
When the privileged and pint-sized Mi decides to approach the doorstep of the Browns' English countryside cottage he connects with the family's youngest daughter Velvet whose recent prized steed Pie was given to her via a town lottery win. Now Velvet, easily devoted and bonded to her treasured horse, wants to live out her ambition of racing a talented but raw Pie in the Grand National event. But Velvet needs Mi's former expertise and guidance to prepare her and Pie for the highly touted race. Does Mi have what it takes to discipline Pie for such a demanding contest where the enthusiastic Velvet is willing to show off her abilities as a skilled horse racer? Again, the mutual connection among the threesome is far from…er, meaningless horseplay.
HONORABLE MENTION
Bart the Bear
The amazing and powerful Bart the Bear (1977-2000) was the resourceful animal actor that appeared in countless Hollywood pictures dealing with nature-oriented premises in films. The 9-foot Alaskan-born Kodiak brown bear was a ubiquitous performer throughout his showbiz career amassing various movie roles (both credited and non-credited) that made him among the most decorated and in-demand animal thespians to grace the big screen.
Among Bart's celluloid achievements in working with his human co-stars included such fare as The Great Outdoors, The Bear, The Edge, Legends of the Fall, White Fang, Meet the Deedles …the list goes on and on. It would not be too outrageous to label Bart the bear as the animal kingdom's version of Jack Nicholson or Dustin Hoffman as a reliable performer giving the movie audience everything he has in performance and personality.
Bart has been gone since the start of the millennium age but the trademark "bear hug" that he has left his mark on the movies of yesteryear will truly live on. Just ask a bunch of Bart's human co-stars and handlers and they too can vouch for his film-making professionalism.
–Frank Ochieng
[wpchatai]