We here at Sound On Sight believe horror transcends explicit gore, jump scares or supernatural content, which is why you'll soon notice our list ranges from independent art films to psychological thrillers to parodies, satire and more. Surprisingly, vampires lead the pack this year, along with found footage flicks, but there are a few comedies, one remake and even some strange love stories as well.
Every other year, I've published the list of best horror films based solely on my picks, but this year, Sound On Sight editor Justine Smith and SOS contributor Felix Vasquez Jr. also participated. Since we couldn't agree with what is the best horror film of 2014, we decided to publish the list in alphabetical order. That said, here are our individual picks:
Ricky D- Under the Skin
Justine Smith – Cybernatural
Felix Vasquez Jr. – The Babadook
****
This list is in alphabetical order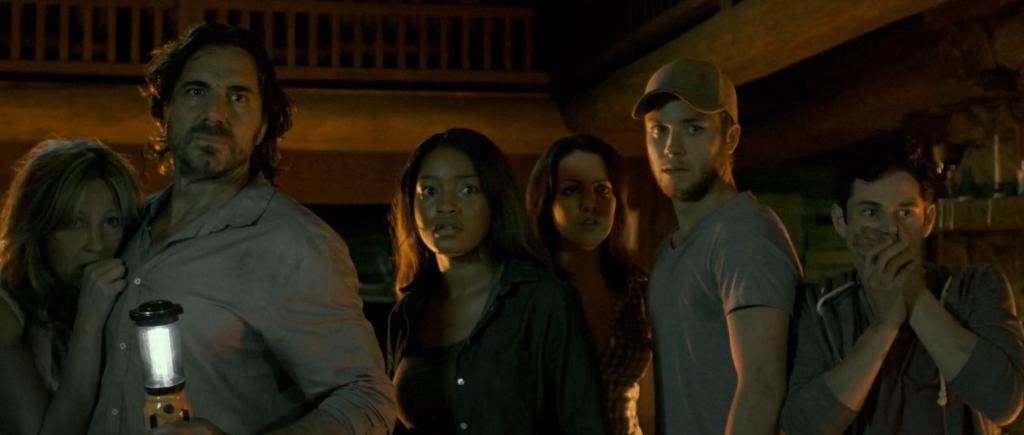 Animal (voted by Felix)
Simple yet effective, Director Brett Simmons sicks a massive and hungry monster on a group of hikers, all of whom accidentally wander in to its feeding habitat. Intent on getting away before college, four high school pals trek in to the woods and walk right in to a fast, and hungry clawed beast with a thirst for human blood. After finding a cabin filled with three other stranded survivors, the group must fend off the beast and outwit it before it feeds on them. With wonderful use of traditional effects, and great performances, Animal is a good old fashioned monster movie.
– Felix Vasquez Jr.
The Babadook (voted by Rick and Felix)
Director Jennifer Kent's small scale horror film is a brilliant deconstruction of the mother and son relationship where Kent analyzes the old saying "I didn't ask to be born." Essie Davis gives a remarkable performance as widowed mother Amelia, who lives in isolation with her hyperactive over imaginative son. When a mysterious story book makes an appearance, telling the story of a horrific monster named the Babadook, the pair soon finds themselves being terrorized by an unseen force. What's more, Amelia begins to wonder if the book has unlocked something sinister or if she's just going insane. Complex, thoughtful, and filled with psychological undertones about death, director Kent's horror movie is an stunning accomplishment.
– Felix Vasquez Jr.
Bag Boy Love Boy (Voted by Justine)
Made in the tradition of the New York underground, Bag Boy Lover Boy is a portrait of contemporary frustration. Albert is a pitiful hot dog vendor who soon finds himself intertwined in the bizarre world of fetish photography. Albert's aspirations are centered on his desire to win the affections of a frequent customer at his stall, and her apparent love for art. Raw, funny and twisted, the film rips through the perceived comfort of modern living by putting focus on one of society's outcasts. Albert is not just a sad sack, he's more than a little slow and more than a little different. Bag Boy Lover Boy is a film teeming with youthful energy. It is almost exploding off the screen with neon lights and colourful gels, embodying a refreshingly vibrant metropolitan world. The film has an incredible energy of chaos, a feeling of helplessness, and a desire to be heard. Stifled and exploited, the protagonist finds his voice through violence only because he has no other means of expression. The sound design is enveloping and the editing sharp and clever. Bag Boy Lover Boy is not necessarily easy for all audiences, but it is also a film that does not permit passive engagement.
– Justine Smith
Big Bad Wolves (Voted by Rick)
This unrelenting Israeli thriller from the filmmaking team behind 2010′s Rabies walks a fine line between nail-biting tension and the blackest of comedy. When a religious studies teacher is suspected of molesting and murdering young girls, he finds himself kidnapped by a victim's father and a hard-nosed detective armed with a torturous array of household weapons. Its premise echoes the recent Prisoners, as Big Bad Wolves is basically three genres of film – noir, mystery thriller, and torture-laced horror. But despite the level of violence and bloodshed, the filmmakers are more concerned with illustrating the relationship between father and son, specifically in an Israeli context. The men here have all served in the military and thought to use torture as a way to extrapolate information. Underpinning the (at-times) extreme violence is a dark metaphor for vengeance – but Keshales and Papushado skillfully embed a sick sense of humour and steer clear of glorifying torture. We are never sure of the final outcome until the very end, but we're confident, nobody will come out a winner.
– Ricky D
Borgman (voted by Rick)
The Dutch import Borgman, is easily described as the latest entry in the increasingly popular sub-genre of the home-invasion thrillers – a cautionary tale that serves as a reminder of the often deeply rooted hatred that has grown between rich and poor. The film stars Jan Bijvoet as the titular character, a hermit who lives underground in the woods. The opening of the film hints that he may be the devil, but his cryptic motives tell us otherwise. Aided by a quartet of crooked companions, the drifter invites himself into a picture-perfect upperclass home, where he begins to slowly cast a spell on a family of five. Alex van Warmerdam, an actor and director with almost no international profile, was put into the spotlight at Cannes last summer with the premiere of this hypnotic little thriller and its easy to see why. Borgman certainly has the makings of a cult film – its disturbing twists make it such a singular –and unique experience. This is a fairytale, as old as the Brothers Grimm, but it also belongs to the recent tradition of strange, allegorical European horror films such as the Greek art-house hit Dogtooth. Some have even compared it to Pier Paulo Pasolini's 1968 classic Teorema, about a beautiful Christlike figure who is welcomed into the house of a wealthy family only to destroy it from within by seducing everybody, male and female alike. Van Warmerdam doesn't spell out an agenda in Borgman, preferring to keep things mysterious and ambiguous. The film constantly hovers on the edge of the fantastic and van Warmerdam deliberately gives us no answers. As things unfold, he slowly terrorizes the family using surgically etched tattoos, poison and buckets of concrete. Clearly allegorical, but what it all means is left up to viewers to decide.
– Ricky D
Coherence (voted by Rick)
Coherence is a testament to the power of a strong ensemble cast who help carry a simple but smart premise to new heights. Shooting in chronological sequence, director James Ward Byrkit gave his cast limited information about the narrative twists and turns ahead, encouraging them to instead semi-improvise the majority of the script. The result is a tightly focused, intimately shot film that feels authentic every step of the way. Byrkit cites The Twilight Zone as a key influence but Shane Carruth's cerebral mind-bender Primer and Mike Cahill's lo-fi astrological tale Another Earth make better comparisons. Despite its title, and its wild premise about parallel universes co-existing simultaneously, this isn't a film about coming together so much as it is about falling apart and what would happen if the borders between those alternate realities began to blur? The director makes the most of the claustrophobic one-house setting, ratcheting up the dread and paranoia right up until the credits role. Coherence is an impressive feature debut from James Ward Byrkit, a longtime storyboard artist for director Gore Verbinski who also wrote the story for the animated Western Rango. If you have any interest in high-concept / low-cost thrillers that keep you guessing, do yourself a favour and check it out.
Cybernatural (voted by Justine)
While I remain undecided as to which title for the film is worse Cybernatural or Unfriended, the film is not only one of the year's best but presents an interesting direction for the future of our understanding of cinema. Set in real time and taking place exclusively on a computer screen, Cybernatural challenges our understanding of "real" images and the power of the cinematic frame. Recontextualizing the computer screen under the terms of narrative and art, it builds on sociological fields of study that equate our process of engaging with computers as meta-textual narratives about our own experiences. Furthermore, the film builds on horror trends that favour wide-shots and encourage the audience's eyes to wander. We are no longer guided under the same terms as more traditional image composition and the screens that surround us seem to be in a constant state of metamorphosis. Beyond the theoretical implications though, Cybernatural is a tight, inventive and scary slasher film. Founded on a strong script, great performances and credible reconstruction of the computer experience the movie hits all the right beats to engage and enthrall audiences.
– Justine Smith
Exists (voted by Felix)
For folks that found Willow Creek too slow, director Eduardo Sanchez delivers a raucous and terrifying big foot film. After four campers accidentally run over an animal while driving to a secluded cabin, they find themselves terrorized by a relentless hulking monster that will stop at nothing to end their lives. Bending the conventions of found footage, Sanchez shows what fury his beast can do as it inflicts horrific revenge. With excellent direction, vicious violence, and a gut wrenching final scene Exists injects surprising humanity in to a mythical beast.
– Felix Vasquez Jr.
A Girl Walks Home Alone At Night (voted by Rick)
This accomplished debut feature shot in gorgeous black-and-white, and from U.S.-based writer-director Ana Lily Amirpour, is the first feminist Iranian Vampire Western ever made. A Girl Walks Home Alone At Night blends elements of Lynchian neo-noir, Jim Jarmusch cool, graphic novels and even spaghetti Westerns; yet, even as Amirpour draws heavily from various films from the past, she breathes new life by channeling them through Iranian culture. You'll fall in love with the monochrome visuals and exquisite use of the widescreen canvas by cinematographer Lyle Vincent; as well as the soundtrack which consists of Middle Eastern fusion beats to the underground Iranian rock, to 60's inspired guitar Ennio Morricone western music from Portland-based Federale.
– Ricky D
Special Mention:
The Guest (voted by Rick and Felix)
From the director of You're Next comes The Guest: a pretty crafty genre pastiche of '70s and '80s sci-fi/thrillers. There has been a bit of a debate here at Sound On Sight as to wether or not we should classify The Guest as a horror film or not. For my money, The Guest is a pulpy home-invasion thriller that transposes clichés from old movies about deranged Vietnam veterans to the post-traumatic fallout of the Iraq and Afghanistan conflicts. Like all the great thrillers before it, The Guest features a memorable movie villain, played to perfection by Dan Stevens who turns a soldier with PTSD into a compelling movie monster. Director Adam Wingard's previous genre entry, You're Next, was a traditional yet innovative home-invasion slasher film. The Guest has bigger, broader ambitions and works hard to keep audiences guessing. The Guest delivers on everything — sharp dialogue, black humour, visual flair, a superb cast, a great 80's soundtrack, the eerie synthesizer sounds of Steve Moore – and so much more.
-Ricky D
The Harvest (voted by Rick and Justine)
The Harvest is a modern gothic horror set in small-town America. On one hand embracing the mythology and horror of gothic sensibilities, the film also utilizes naturalism to create a sense of comfort and to help root emotions in reality. Katherine (Samantha Morton) and Richard (Michael Shannon) are a married couple caring for an ailing son, Andy (Charlie Tahan). Their apparent familial bliss is disrupted by the arrival of a pre-adolescent neighbor, Maryann (Natasha Calis). While Maryann's intentions are nothing but cordial, the couple is wary of her curiosity, and tensions rise as she continually subverts their desires to stay away from their home. Maryann's quest for truth and Andy's friendship unravels a dark stain on the American family. From the director of cult classics like Henry: Portrait of a Serial Killer and Wild Things, The Harvest is John McNaughton's first film in over a decade. Though it is doubtful it will achieve the same kind of notoriety as some of his best known work, it is nonetheless a unique and compelling entry in the contemporary horror genre.
– Justine Smith
Let Us Prey (voted by Rick)
Taking place entirely across a night of horror, this atmospheric and ultra-violent Irish thriller takes a fresh spin on an oft-told tale: A mysterious stranger roams into town and upsets the balance of power, turning everything upside down and pitting everyone against their deepest and darkest secrets. The stranger is played with appropriate aplomb by Liam Cunningham who we quickly discover is there to bring judgement to a group of morally corrupt individuals. He meets his match in Pollyanna Macintosh, who absolutely shines as a no-nonsense rookie cop, newly assigned to the town and working her first day on the job. With only eight characters, and a few sets, director Brian O'Malley's feature debut strikes a perfect balance of suspense, violence, humour, plotting and action. Prey feels at once classic and modern; the film wears its influences on its sleeve but manages to feel fresh all the same. O'Malley is clearly a fan of early John Carpenter, and Let Us Prey features a glorious electronic score alongside several nods to Assault On Precinct 13. Cinematographer Piers McGrail keeps the shots, tight, closed and claustrophobic, using mostly slow, creeping camera movements and as the film progresses, O'Malley ramps up the tension and the chaos, culminating in a superb, quasi-religious, climax with ample amounts of brutal violence and bloody carnage.
Let Us Prey took home the esteemed Melies D'argent award when it made its world premiere at the Brussels Fantastic Film Festival this past March. O'Malley has marked himself as a talent to watch, and this is just the beginning of what looks to be a very promising career.
– Ricky D
Oculus (voted by Rick)
This ambitious project from director/editor Mike Flanagan (expanding from his award-winning short) doesn't reach its full potential, but we can appreciate his effort in making a movie that features some truly original ideas. Oculus tries not to be a generic horror film – and I guess it succeeds by featuring a killer mirror. Yes it sounds silly, and at times it is, but for the most part, Oculus is a smart, character driven, old fashioned ghost story. The specifics are never revealed but apparently the mirror can warp reality and provide a doorway by which evil spirits can enter our world. The plan to destroy the mirror involves rigging multiple surveillance cameras, tons of booby traps, battery-run backup lighting, regular phone calls, houseplants, and even a dog. Oculus is surprisingly low on jump scares but it does a superb job in playing tricks with the mind and distorting reality. Much like the characters within the film, viewers are never sure what's real, or not. The audience therefor becomes complicit. But what's most memorable about Oculus however, is its structure, which cuts back and forth between present day and 10 years earlier. Because both timelines take place in the same small space, director Mike Flanagan is able to create a number of clever visual cues that mirror both past and present. If anything, Oculus might just be the best edited film of 2014.
– Ricky D
[wpchatai]