Bloodline, Season 1, Episodes 1-6
Created by Todd A. Kessler, Glenn Kessler, and Daniel Zelman
Premiered on Friday March 20th on Netflix Instant
This review contains spoilers for the first six episodes of Bloodline
"Sometimes you know something's coming, in the air, in your gut. You don't sleep at night and the voice inside your head is telling you something is going to go wrong and there is nothing you can do to stop it. That's how I felt when my brother came back."
Bloodline is all about deception. What's beneath the surface, what we hide from the world and the lies we tell to protect ourselves and our families. The problem is, and the one that is explored in Bloodline, that it's usually our families who know our deepest secrets anyways. And if you have a family like the Rayburns' they are likely to use them against you at some point. What becomes clear in these first six episodes is that these are people who don't let things go.
The first episode, "Part 1", begins as the Rayburn family prepares to celebrate the 45th anniversary of their Islamorada resort with their family and friends. "I'll feel a lot better when all my children are in one place," mother Sally (Sissy Spacek) tells her daughter Meg (Linda Cardellini), yet you get the sense that none of the siblings, including brothers Kevin (Norbert Leo Butz) and John (Kyle Chandler), are exceptionally thrilled about their older brother Danny (Ben Mendelsohn) returning. He's the black sheep, the screw up who can't hold down a job, who brings a drunken girl to his family's reunion. Even father Robert (Sam Shepard) barely contains his anger at his oldest son and his return sets off the events of the series. Most families have secrets and barely masked bitterness and the Rayburns are no different. The problem is they don't really hide it, screaming at each other over place settings.
"Part 1" sets up a powerful, perfectly cast series with a compelling central question: How exactly does Danny end up dead in a boat and why is John, Danny's protector, the one lighting it on fire? Set in the Florida Keys, Bloodline has a twisting narrative that bounces from the past to the present. "I couldn't have known then where all this was going to end up," John says in a voiceover.
Credit really needs to go to the casting people who worked on this show. Each member of the family, especially the siblings, fit perfectly together, each serving their own purpose. Chandler, as John, is his usual quiet, reserved, square-jawed all-American, but it's in the show's darker moments that he is allowed to show something we don't usually get from him, a mystery and anger. John is the fixer in the family, he's there to make things right and as the series progresses, the physical toll it takes on him becomes apparent. There is something in John that is hard to pinpoint in the first few episodes. It's almost like he's trying too hard to be the town's golden boy.
Cardellini is reliable as usual and mysterious, trying to balance an affair with a handsome business associate (Steven Pasquale) and an engagement to Marco (Enrique Murciano), John's partner. Butz is the middle brother and the instigator in many fights. Mendelsohn (so wonderful in films like Killing them Softly) is a real stand out here. Danny veers from popping pills to disinterest to bitter anger and sadness. For as much as his family hates him, he hates himself even more. At the end of "Part 2", it becomes apparent that he's a victim of his surroundings more than anything else. "I can't keep up with you people," he tells John in episode three.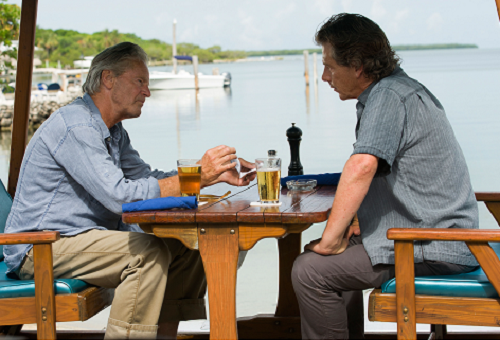 Shepard is rather scary as Richard, a father who starts off the series paddling in the ocean and playing the ukulele and through flashbacks, is shown to have possibly beat his children (or at least Danny). And then there's Spacek, who as Sally is clearly a woman trying hard to right the wrongs of the past by keeping her children close. As the series progresses it appears, at least on the surface, that Sally is someone who her children and husband feel like they need to protect.
The Florida Keys setting is beautifully photographed and suits the story well. At one moment it's serene and colorful and you can see why John cares so much about protecting it. But the scenes shot at night are evocative of the show's twisty, dark narrative. "I'm going to tell you everything. It's not very pleasant, but it's the truth. What we did to our brother we had to do. Please don't judge us. We're not bad people, but we did bad things," pleads John at the end of the first episode. One of the unique aspects of Bloodline, and one of the things that makes it work so well, is the fact that each episode gives the audience a chance to explore each character, catching glimpses of who they are and more importantly, what they are hiding.
The first six episodes are full of compelling mystery and deep family drama, highlighted by wonderful acting and great pacing. It's that pacing that sets Bloodline apart from other Netflix series. Unlike the soapy shockers found in House of Cards or the bloody gore of Hemlock Grove, Bloodline is a slow burn full of stunning family drama. The first half of Bloodline sets the pace and tone for a chilling mystery and terrifying family thriller.
Tressa Eckermann
[wpchatai]