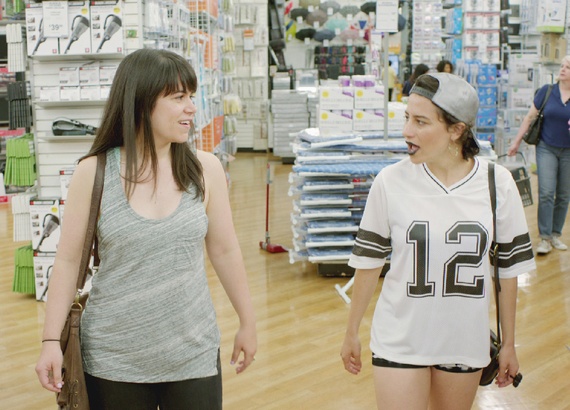 Broad City, Season 2, Episode 1, "In Heat"
Written by Abbi Jacobson and Ilana Glazer
Directed by Lucia Aniello
Airs Wednesdays at 10:30pm on Comedy Central
Seconds into the second season premiere of Broad City, it's unbelievably exciting to be back in the company of Abbi Jacobson and Ilana Glazer, two of the most wonderful and delightful people on our little planet. In the first season, this simple comedy seemed initially to not be much more than a funny hangout show. Quickly though, the intense friendship between these two characters developed into something truly beautiful, one of the very few female friendships on television of such strength, honesty, and mutual adoration. The exploration and celebration of that relationship is what makes Broad City so special outside of its consistent hilarity, and judging on the premiere, nothing's changed.
It's really hot in New York City, and Abbi doesn't have air conditioning. The pair's quest for most of the episode is finding a cheap, preferably free way of attaining AC. They do a bunch of labour for Kumail Nanjiani, who is filming his testimonial to get onto The Amazing Race with a GoPro camera, only to have the air conditioner at the end of the sweaty rainbow be broken. Eventually they go back to get Ilana's from her NYU dorm room (currently inhabited by Phil of the Future) and end up getting high with the boys there using weed Ilana'd left in the wall in case of emergency, and Abbi makes out with a 16-year-old. Welcome back, Abbi and Ilana.
One of the show's targets in the premiere is rape culture, and naturally, the rape jokes are excellently done. Ilana starts out by talking with Lincoln (Hannibal Buress, who I wish I was) and his friends at a restaurant about rape culture. "All Hollywood is porn, and all porn is kiddie porn. We live in a rape culture, you know, we just do." They all nod, impressed. "I'm going to go to the ladies' room…that's rape culture, right there!" Abbi is worried that she is a rapist, because while having sex with Male Stacy (Seth Rogen, who fits in seamlessly with this cast), he passes out from the heat and she continues for a couple moments, finishing. Ilana's not convinced. "Listen, it's reverse rapism. You are raping rape culture!" Then, she makes out with the 16-year-old. Of course, she didn't know he was a minor, but she seems stricken nonetheless having joined the sex offender club ("It's not hard to get into.").
These rape jokes are hilarious, and also rather biting. Ilana's restaurant musings showcase the confusion that still exists about the term, with it being thrown around like a buzzword and being trivialized in the process. This storyline also shows how much Abbi has "grown" since the pilot, taking cues from Ilana by letting herself be a little more spontaneous and a little more wild. If you can recall, Abbi started out far more reserved and her progression of opening up has been invigorating to watch (sex offenses aside). It will be interesting to see how the rest of the season plays with this back-and-forth between the pair, and whether a breaking point is ever reached (not that one is necessarily inevitable).
It's impossible not to fall back in love with Broad City after the very first scene. Putting on their own version of Snowpiercer, Abbi and Ilana (whose style this episode is on point–that black lipstick!) make their way through increasingly strange subway cars. One is full of average gross subway-goers consistently deal with, from the leery crotch-grabber to the young couple aggressively making out. There's a car full of Hasidic Jews and one almost entirely empty thanks to a steaming shit. This is such an incredible sequence because it is so particular in its humour (and it all lands) while also being remarkably real, if exaggerated. This is partly why the show has become such a phenomenon among millennials–everyone is represented, it's all here, and it's all welcome because this is just a depiction of what they, as in Abbi and Ilana, know the world to be.
Bed, Bath, and Beyonds
Ilana: "I'm telling you, fat dudes' dicks get sucked back into their bodies." Then, some math: "Every 10 pounds a guy loses, he gains a visual inch."
I somehow managed to avoid the news that Seth Rogen would be in the premiere and he fits so well into the vibe of the show that I spent about a minute trying to remember what happened with him last season.
Lincoln's friend asks him where he met Ilana. "At Foot Locker in Times Square. She wasn't buying anything, she was just chilling."
"I love WATCHing it."
"Val? VAL?"
Nanjiani's mom has just pulled out of being his Amazing Race partner. Abbi: "Well maybe your dad should've pulled out!"
"Are you sure that's even a cat?!"