Chew/Revival
Written by John Layman & Tim Seely
Art by Rob Guillory and Mike Norton
Colors by Rob Guillory and Mike Englert
Covers by Rob Guillory and Jenny Frison
Published by Image Comics
Some things just go together well. Peanut butter and chocolate. Fries and ketchup. Salt n Pepa. John Layman's Chew, the hit comic about an FDA detective with food-related superpowers, and Revival, Tom Seely's gothic noir comic set in a town where the recently dead "revived", seems like a great match. Both are about cops working in topsy-turvy worlds, both either flirt with black humor or let black humor take them to the back seat of its Dodge. But tonally, style-wise, the two comics can seem at odds. So how do you do a crossover twixt the two that doesn't come out like a strange melange of two opposing styles? Well…you cheat. Or at least get creative with it. Rather than a traditional crossover, Chew/Revival (and Revival/Chew) is actually two takes at the crossover in one book, with the original artist teams doing what they do best, focusing on their characters, and giving their own spin on how a collision of the Chew and Revival universes would play out.
Chew/Revival sees Tony and Colby, our heroes from Chew, head to snowy Wasau to help the protagonists of Revival put the kibosh on a ring of smugglers sneaking bodyparts from Revivers out of the quarantine zone around their town. The issue feels like pure Layman, quirky, full of callbacks to earlier gags, and just high on its own weirdness. The story moves at an incredibly tight pace, managing to cover a lot of ground in terms of exposition and character, without feeling rushed. It does feel just a tad too eager to return to well-worn tropes and gags, though. The prologue, the "post-coital" ending panel, the "cleaver to the face kitchen confrontation", scenes that Chew readers know by heart all seem to make appearances. But then, everything Chew readers know and love about Layman's signature sensibilities is present as well.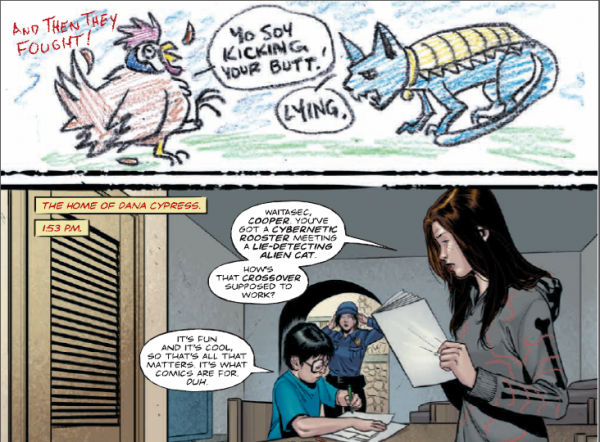 Revival/Chew, on the flipside, similarly bears all the signature earmarks of Tim Seeley's series. It's mysterious, incredibly morbid, and full of the kind of small, quiet character moments that Chew isn't as big on. In this version, Tony Chu visits Wasau to help the Revival cast get to the bottom of a rash of grave-robbery. Revival/Chew lacks the manic energy of its counterpart, which affords the issue more time for character, mood and a few more clever jabs at the whole crossover idea itself. If Revival/Chew has any one real problem, it's that Mark Englert's attempt at capturing an Asiatic skin-tone to better distinguish Tony from Dana and co has resulted in him looking jaundiced for the entire issue. One slightly unfortunate "yellow" joke doesn't help this problem any.
The big concern going in to a crossover like this is that the style of one creator or another will get diluted, leading to a bad blend of tones and styles, constantly at war with itself. The Chew/Revival crossover has neatly sidestepped this problem, and while it would have been great to see a true collaboration between two of the better writers working in comics today, we're still treated to two excellent stories that bridge the gap between two of today's must-read comics.