Magic Magic
Written and directed by Sebastián Silva
Chile/USA, 2013
It has become something of a cliché to draw links between any claustrophobic discomfort piece and the work of Roman Polanski. Magic Magic not only has the chamber piece qualities of the man's apartment films and Carnage, but also the island locale and proximity to paralyzing waters of films like Knife in the Water, Cul-de-sac and The Ghost Writer; furthermore, it also shares a blonde protagonist losing her grip on reality à la Repulsion. It's an easy film to play 'Spot the Roman' with, but the comparison is valid and not just superficial checklist-ticking in this case. If, as a whole, it never reaches the same heights of quality as the best of Polanski's more horror-inclined films, Sebastián Silva's unnerving and enigmatic thriller has scenes that certainly stand up to worthy association.
Alicia (Juno Temple) arrives in Chile to visit her cousin Sarah (Emily Browning) who studies there. This is Alice's first time outside of US soil, and the plan is to spend some time in a relatively isolated cabin on a small island. Exhausted from her flight and nervous from the outset, it is to Alicia's chagrin that Sarah reveals she must venture back, supposedly for an exam, and instead meet them at the cabin in a few days time. Panicky Alicia must now travel and stay with strangers in this land also strange to her: Sarah's boyfriend Agustín (Agustín Silva), the temperamental Barbara (Catalina Sandino Moreno), and Brink (Michael Cera), a sinisterly grotesque creep prone to both picking on Alicia and attempting to woo her. The group's attempts to accommodate her are imbued with an alienating edge, and her isolation is enhanced by the physical environment and a lack of phone reception. After difficulties sleeping over several nights, she begins to exhibit particularly strange behaviour, even when Sarah, her presumed source of comfort, finally makes her way to the island.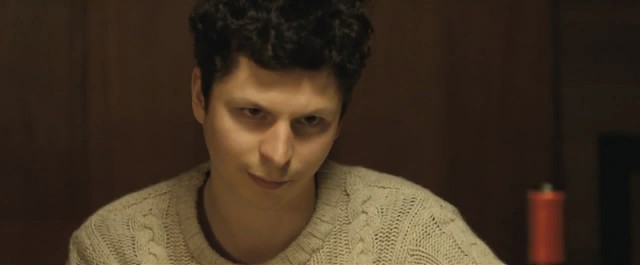 For all its strange turns and moods, Silva grounds his horror of mental unravelling in the real world, or at least a hallucinatory, ethereal version of it. Christopher Doyle and Glenn Kaplan's cinematography makes particularly effective use of stark yellows and blues, and the sound design is impressively oppressive. The work is very well served by its two central performances: Temple brings some of her less kooky but still haunting qualities over from Killer Joe, while Cera suberts tics of his cinematic persona to date to brilliantly pathetic and often scary effect.
Magic Magic mixes absurdist leanings and nasty rapports to create a dynamic sense of dread throughout. Its final stretches refrain from much elaboration of its vaguer elements, perhaps a disappointing prospect for anyone hoping for a big, final thrill, but it's certainly fitting with recurrent themes one can observe throughout the film: those of abandonment and survival of the fittest.
Josh Slater-Williams
Visit the official website of the Edinburgh International Film Festival