Every year fans from all over the world flock to Toronto to celebrate Fan Expo Canada. Held inside of the Metro Toronto Convention Centre, Fan Expo Canada is Canada's largest (North America's third largest) annual celebration of comics, sci-fi, fantasy, horror and video games. Fan Expo is renowned for the legions of cosplayers (passionate fans that attend the convention dressed in costumes based on their favorite cinematic and literary characters) as well as for its celebrity guest appearances. Popoptiq.com sent me out to cover this year's Fan Expo and I'll be keeping a journal as I speak with organizers, vendors and the fans.
The scope of Fan Expo can be intimidating, even with four days to enjoy the event. I decided to kick off my afternoon by taking a quick scan of this year's lay out. I say this every year and I may just say it again next year, but I can't get over how much bigger Fan Expo feels every time I return. This year's event features over 1000 exhibitors and it would be easy for overzealous fans to bankrupt themselves within an hour of their arrival.
Chat Box - Go ahead, make my day and ask me questions about movies and TV shows...
The first thing that stood out to me were several racks of high-quality Doctor Who replica coats (ranging from Tenant, to Capaldi). Next to the Doctor Who clothing was a kiosk that wasn't nearly as niche. I had to take a step back in order to take in the two-story high wall of t-shirts, hoodies, and backpacks that sported everything from Batman logos to Nintendo characters. If you are looking for a pair of steampunk goggles or a replica Borderlands 2 pistol, Fan Expo Canada has you covered. So much swag. So, so, so much sweet swag.
For those looking to decorate their homes, there are numerous kiosks featuring life-sized busts and replicas of every hero and villain under the sun. The quality of the 1990 era Ninja Turtle's Movie masks took my breath away. They looked like spitting images of the costumes worn in the films. The level of craftsmanship on display is impeccable. It was also amusing to see a Tim Burton era Batman movie mask so detailed that the sculpture beneath it included Michael Keaton's trademark pursed lips Batman face.
Anyone at Fan Expo that loves sci-fi and has an Instagram addiction will surely feel as though they have died and gone to heaven. Photo ops are as bountiful as Marvel movie spin-offs. I managed to snap pics while sitting in Emperor Palpatine's throne (from the original Star Wars Trilogy), posed while jumping up to smash a block a la Super Mario Bros and downed a snow cone at a Hateful Eight saloon. Best of all, most of these photo opportunities are free (with a few of booths having suggested donation boxes). When one Star Trek fan didn't have anything in his wallet for the donation box but a debit card, a sympathetic Storm Trooper manning the booth waved him over, patted him on the shoulder and said, "We don't turn anyone away here." That right there my friends, would even warm Draco Malfoy's cowardly black heart.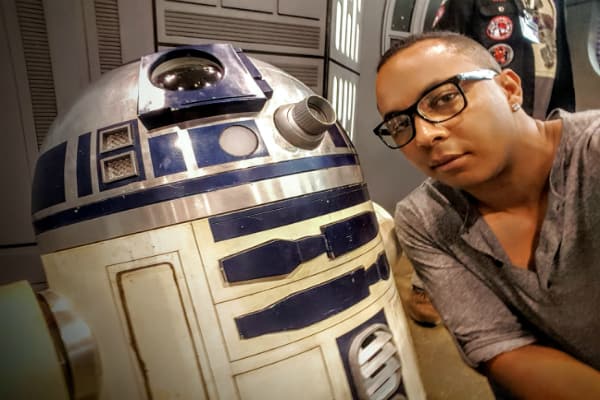 Any tech-junkies attending this year's show won't be disappointed. Both Microsoft and Sony are repping their hardware and software, giving fans the chance to play classic titles like Halo in all its high definition glory. Video games are a huge draw at Fan Expo, and long line-ups kept me from making my way deeper into Sony and Microsoft booths. I'll take a closer look tomorrow
Those looking for a cutting-edge thrill could opt for a virtual reality experience. There were multiple booths sporting VR technology and the folks hosting The Strain booth were kind enough to give me a few minutes to try out their Samsung Oculus VR technology. The booth attendants strapped me in for a hyper realistic trailer that was a virtual tour led by the shows very own Vasiliy Fet (Kevin Durand). Vasiliy escorted virtual me through a vampire infested warehouse and the entire time I was able to look left, right up, and down in search of any potential creeper that may have been haunting me from the shadows. Even though I was seated, the VR tech literally tricked my mind into believing that I was moving through The Strain's virtual set. I don't understand why the line up for virtual The Strain wasn't wrapped around the Convention Centre three times over. It was seven levels of DOPE! We've come so far since The Lawnmower Man.
As I made my way through Fan Expo's multiple sections, I noticed several Sci-fi Speed Dating posters. Being into sci-fi and also being single (no correlation), I signed up on the spot. I'm slated in for a 5pm session tomorrow and I'll report back on how it goes.
Fan Expo's first day wrapped up with an official after party at the nightclub EFS. DJ DLUX kept the crowd dancing with a variety of up-tempo tracks, showing off his masterful range with a series of classics and slick remixes from Justin Timberlake to Stevie Nicks. By just after 9:30pm EFS was well on its way to packed. Shout out to B.D. for keeping everything running smooth as all the chaos and excitement from Fan Expo spilled over into EFS. The highlight of the night may have been watching a Deadpool cosplayer (sporting his trademark dual katanas) pop'N and lock'N on the dance floor. Despite not attending the convention, one of EFS's bartenders, Paige showed the true Fan Expo spirit. Paige had this to say, "It was a lot of fun for us girls at EFS to cosplay for Fan Expo. I love being Black Canary. I killed it!" She certainly did.
Tomorrow's day at Fan Expo will bring on a host of new adventures. I'm looking forward to sitting down for some face to face with my fellow Sci-fi Speed Daters as well as attending a meet and greet with none other than my favorite new show's titular character, Mr. Robot himself, Christian Slater.
Chat Box - Go ahead, make my day and ask me questions about movies and TV shows...