As Fantasia rings in its 15th anniversary, they are celebrating the founding fathers of Quebec's genre cinema heritage — the legendary producing team of John Dunning and André Link a.k.a. the Roger Cormans of Canada. The duo regularly took risks supporting exciting new talent, kickstarting the careers of some of Canada's greatest filmmakers such as David Cronenberg, Denys Arcand, Ivan Reitman, Denis Héroux, George Mihalka, Claude Jutra, Jean-Claude Lord, Don Cormody and Larry Kent, to name a few. Fantasia will be screening a ton of old Canuxploitation films for free throughout the fest, but there are also a number of promising Canadian features set to premiere. Below is a list of the three Canadian films I feel are most promising.
–
1- Beyond The Black Rainbow
Panos Cosmatos' debut, Beyond the Black Rainbow, is one of the must see films at this year's Fantasia Film Festival. The sci-fi period piece which also acts as something of a horror film is pretty much destined to have a cult following. John Marrone of Bloody Disgusting describes the film the opening paragraph of his review as, "Its 1983. You are about to hypnotized by a film of the likes you have never seen before. A dystopian vision of a cutting edge sci-fi/substance horror dream so cinematically beautiful and vivid that it feels like you've traveled back in time to the early '80s to witness the birth of a new film by a legendary director who had otherwise been long gone – Stanley Kubrick".
Simon Abrams of Slant warns us that, "when you see this film in theaters, sit as close to the screen as you can. You'll get a migraine and your nerves will be frayed by the end, and only then will you be able to decide whether Cosmatos is the next Gaspar Noé or just an over-weaning movie brat that thinks he's a head".
Don't miss this odd coalesce of cerebral science fiction and experimentation. Something to see on the big screen. Our review to come shortly!
–
[vsw id="nKdWj9-VMzs" source="youtube" width="500″ height="425″ autoplay="no"]
–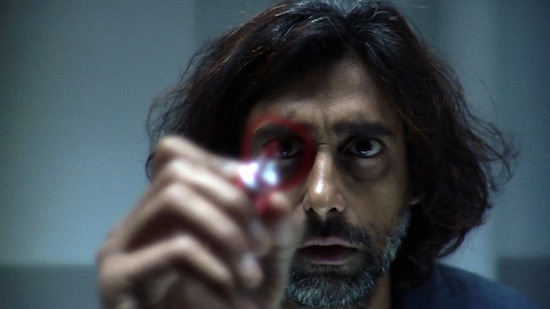 2- You Are Here
The feature by internationally successful video artist Daniel Cockburn, You Are Here marks a number of firsts for the talented filmmaker. Though Cockburn has made over 20 short films and videos which have played to international acclaim, You Are Here is not only his first feature, it's his first time working with actors and a full production crew. What's it all about? "that's the question, isn't it?", says first-time feature director Daniel Cockburn, "and it's a big one. i've always liked watching movies that feel too big to hold in your brain all at the same time. it's a thrilling experience – from 2001 to Mulholland Dr. to I Heart Huckabee's – because for days after, you're making connections between all these things you've seen and heard. and while many of the ideas keep getting clearer, there's always the feeling that the big picture is dancing just out of reach. that experience is what this movie's about: all these people who are trying to understand the world they're in, and where they fit into the big picture."
Watch the trailer and decide for yourself if this is worth your time, but if you say no, you are missing out.
–
[vsw id="8afyOe0bCQg" source="youtube" width="500″ height="425″ autoplay="no"]
–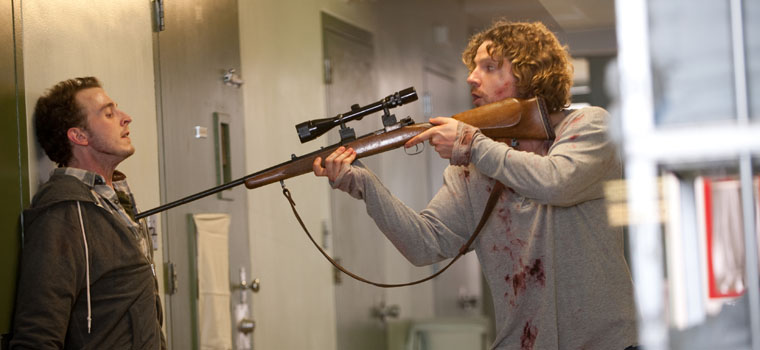 #3 The Corridor
Written by Josh MacDonald and directed by Evan Kelly, The Corridor is a psychological sci-fi/horror and a whodunit. It's a basic "cabin in the woods" set-up, with some great twists along the way. The Corridor is Kelly's directorial debut and along with another 2011 film out of Halifax, Hobo with a Shotgun, the future of Canadian genre filmmaking is very promising,
–
[vsw id="7pD_7pZm5Cg" source="youtube" width="500″ height="425″ autoplay="no"]