One of the best things about a new Pixar film being released is that they are always accompanied by a new Pixar short! As a lover of short films and a lover of animation, there is nothing better.
Here is the first still from The Blue Umbrella the new Pixar short: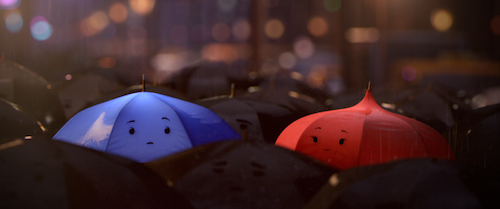 From the film's publicist:
It is just another evening commute until the rain starts to fall, and the city comes alive to the sound of dripping rain pipes, whistling awnings and gurgling gutters. And in the midst, two umbrellas—one blue, one not—fall eternally in love.
From Pixar Animation Studios, director Saschka Unseld and producer Marc Greenberg, The Blue Umbrella opens in theatres on June 21, 2013, in front of Monsters University.
*****
There is also an additional image and a preview on the Wall Street Journal, but you need to be a subscriber to see it.
*****
Thanks to Pixar Post for finding the video clip above. They have a lot more The Blue Umbrella details on their blog, but I am stealing reposting my favourites here…
This is a teaser close-up still from the film that was released a few months back:
The following is a teaser drawing by the short's director Saschka Unseld:
This is the extra still featured on the Wall Street Journal site: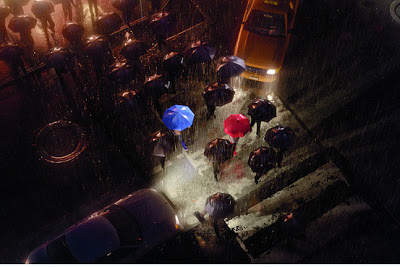 And this is a picture of the Wall Street Journal's physical article:
This is what the director Saschka Unseld looks like:
And here is how you can cyber-stalk him:
Twitter – @saschkaunseld
Instagram – Saschka
Personal Website – saschkaunseld.com
And here is what he looks like when he isn't busy being a puppet:

All images ©2013 Disney•Pixar. All Rights Reserved.