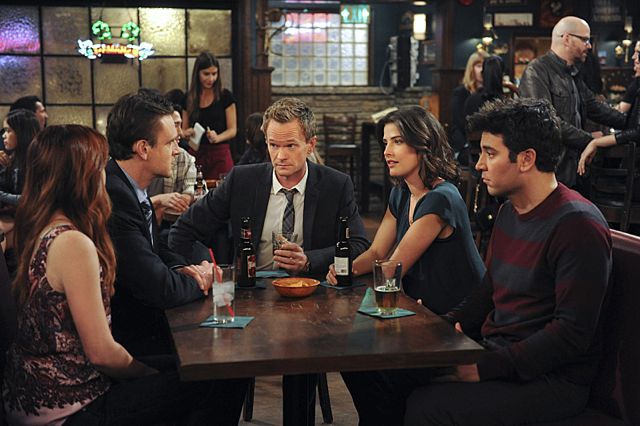 How I Met Your Mother Season 9, Episode 14 "Slapsgiving 3: Slappointment in Slapmarra"
Written by Carter Bays & Craig Thomas
Directed by Pamela Fryman
Airs Monday nights at 8pm ET on CBS
The last few seasons, How I Met Your Mother's given new definition to "diminishing returns", playing out bits like Ted's calligraphy, Barney's playbook, and Robin Sparkles way beyond their comedic (or character) usefulness. The Slap Bet stands near the top of this frustrating list, a long slog through eight seasons of puns and smacking sounds that refuses to end – even after "Slapsgiving 3: Slappointment in Slapmarra", a painfully unfunny, broad "homage" to kung-fu films. And not only is the episode void of anything funny, but it serves absolutely no purpose in the show's overall narrative, the timeline of Farhampton moving forward all of five minutes. Knowing this would be another Slap Bet-focused episode, I wasn't expecting much from "Slapsgiving 3"; but like the rest of HIMYM this season, this episode was all too willing to disappoint.
In a way, it's impressive how vapid and unconcerned with serving a narrative purpose "Slapsgiving 3" is: it's content to shove about 20 slap puns into the script, throw its characters in some stereotypical Chinese clothing, and top it off with a nice, healthy wallop of Effeminate Ted in a fu-manchu mustache (I couldn't make this up). Unlike a show like Community (or even Cougar Town), How I Met Your Mother doesn't try to put any real effort into its parodies of classic kung-fu movies – or any effort into anything except attaching the prefix 'slap' to every word and Slap Master names. There's no narrative device to frame the events of the episode, 95% of which don't even happen: just a lots of HIMYM patting (slapping?) itself on the back every time someone says 'slapprentice' or 'Slappalachian Mountains'.
That's all there is to this episode: some awful CGI, a lot of scenes set in the same restaurant, and a lot of jokes about slapping (SO MANY… it makes the Canadian humor onslaught earlier this season look subtle by comparison). After a month off, How I Met Your Mother rewarded its fans by delivering one of the most unfunny, utterly empty of its 197 episodes to date. I'm at a loss to find anything else to discuss about this episode: the references are easy, the characters invisible, and the jokes a repetitive mix of Eastern cliches and formulaic gags.
Other thoughts/observations:
– the closest thing to "clever" this episode had were the names of the Slap Masters: Redbird (Robin), White Flower (Lily), and The Calligrapher (Ted).
– this episode is the equivalent to Breaking Bad's "Ozymandias", in that they're both painful representations of a crumbling empire. Unfortunately, "Slapsgiving 3" is unintentionally describing its own downfall as a comedy.
– ok, I liked the Boyz II Men performance – but we're talking to someone who wore out Cooleyhighharmony on cassette at age four.
What did you think of the episode? Feel free to discuss in the comments below.
— Randy
[wpchatai]