Artist/writer Jill Thompson has one of the most idiosyncratic bodies of work in contemporary comics ranging from important arcs on legendary comics series The Sandman and The Invisibles to more traditional superhero work like a run on Wonder Woman as well her own creator owned comic/children's book/film series Scary Godmother. She has drawn everything from dying stripper gods to Romantic poets, Batman to Bart Simpson and even an all animal cast in her Eisner winning Dark Horse series Beasts of Burden with writer Evan Dorkin. She is also one of the few creators not named Neil Gaiman allowed to write The Endless in her Li'l Endless and Death stories.
But before she was winning awards and one of DC/Vertigo's rising stars, Jill Thompson was a graduate of American Academy of Art in Chicago and doing art for several of the (now defunct) indie publishers of the late 1980s. She drew Elementals for Comico, which was a superhero team with four characters with powers based on the four elements: fire, air,water, and earth. This series was created by Fables' Bill Willingham and was a showcase for her vibrant, thin-lined art.
Her first Big Two gig was drawing Wonder Woman with co-writer George Perez, who had revamped the character after Crisis on Infinite Earths. She continued the series focus on Greek mythology and interpersonal relationships while drawing a Diana with a costume based on her classic 1940s outfit, but with a bolder symbol on her armor.
However, my favorite work by Jill Thompson came immediately after Wonder Woman when she switched from superheroes to Vertigo and drew the "Brief Lives " and "Arcadia" arcs. "Brief Lives" shows Thompson's skill at showing personality through character design as Delirium keeps shifting form depending on her mood while she and Dream look for their lost sibling Destruction. This arc reveals her skill at comedy (Matthew the Raven teaches Delirium how to drive) and even sensual tragedy (Ishtar's last dance. She also drew one of my favorite splash pages of all time in part painting, part illustrated style of Dream and Destruction stargazing that helps readers consider their own mortality.
Jill Thompson conveys more transcendent moments in the "Arcadia" and "She-Man" arcs of Grant Morrison's The Invisibles. Thompson extended her storytelling range to a form of historical science
fiction as the Invisibles travel back in time and run into famous poets Lord Byron and Percy Bysshe Shelley connecting revolutions past and present. She also makes the Invisibles the fashionable freedom fighters Grant Morrison envision giving Brazilian transwoman sorcerer Lord Fanny, the mysterious Ragged Robin ,and even team leader King Mob some fabulous outfits balancing style and substance nicely. (She also got to draw the infamous Marquis de Sade.)
Jill Thompson has continued to write and draw comics for DC/Vertigo, including the adorable Li'l Endless storybook and the manga styled Death: At Death's Door. She was also one of the "bullpen" of artists on Peter Milligan's New 52 reboot of Shade, The Changing Man. However, mainstream (aka non-comics reading) audiences are most familiar with her Scary Godmother storybooks and films, which began as comics for Sirius Entertainment.
The Scary Godmother (modeled after Thompson' own appearance) is basically your "cool ant" growing up, who happens to be a broomstick riding witch. She helps the kind, young girl Hannah Marie not be afraid of the various monsters that show up throughout the series. Thompson subtly (or not so subtly depending on your interpretation) introduced a gay monster to the series: Skully Petibone, who is always coming out of closets. In Scary Godmother, Jill Thompson continued to use her loose pencilling style, but also indulged her spookier side while still writing and drawing all-ages stories.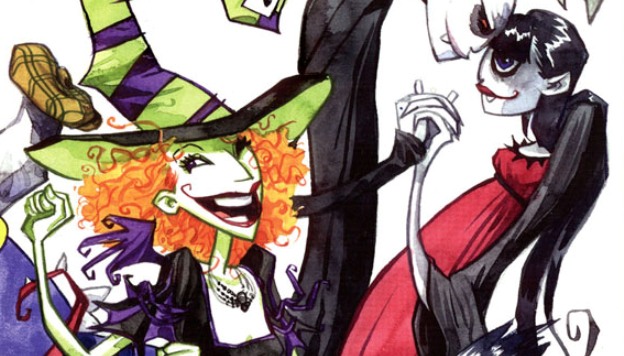 Jill Thompson actually won her first Eisner for Bongo Comics' Bart Simpson's Treehouse of Horror, but she also won two for Scary Godmother and the remaining three for her work on Dark Horse titles. One of these, Beasts of Burden, showed that she is a talented painter as well as penciller, illustrator, and writer. She also drew upon one of her more "underrated" talents: drawing animals as seen previously in her "Parliament of Rooks" story in The Sandman and Destruction's dog Barnabas in "Brief Lives".
Beasts of Burden is a series of short stories and minis about dogs (and a cat) doing paranormal
investigations around a haunted doghouse. Thompson's art for this comic is simultaneously lush and spooky. It's drawn in a dark watercolor style as she and writer Evan Dorkin combine horror tropes, like zombie, with the happy lives of house pets, who happen to talk. Thompson also drew the Hellbo/Beast of Burdens crossover, and the series had a new one-shot in 2014.
Jill Thompson's most recent work shows her continued interest in superheroes and the supernatural with covers for books ranging from the Vertigo's werewolf series Wolf Moon to Marvel's superhero comedy Unbeatable Squirrel Girl.This weekend, Thompson announced she would be returning to Wonder Woman with Wonder Woman: The Very Selfish Princess, a twelve part DC Digital comic that will be done in the storybook style of Scary Godmother albeit brighter and more heroic. This upcoming series shows that Jill Thompson continues to switch genres, art styles, and character types at the drop of the hat while producing sometimes funny, sometimes sad, and occasionally spook work that is gorgeously drawn and cleverly written.