When people think of a film festival's must see flicks, most are geared towards the films with the largest following and the biggest marketing campaign. But then again this is Fantastic Fest. The final frontier of rebel festivals that goes against the grain of all that mainstream hoopla.
A great example of the Fantastic spirit, festival badge photos. Everyone is encouraged to submit a "shakey face" picture instead of a pristine pulled together look. Don't know what shakey face is? Here's my badge photo for future reference: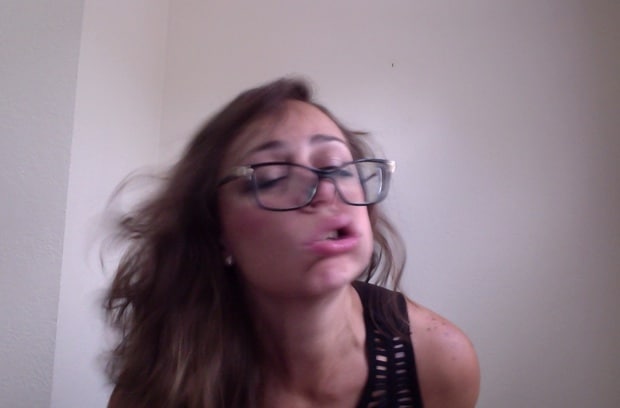 So in the true Fantastic spirit of adventure (and the number 3 rule from The Beginners Guide to Fantastic Fest article), I randomly chose the top 5 films I plan on seeing this year.
#1 –  The Lobster
At first I thought this might be a film that follows a cartoon lobster as he tries to escape a restaurant and finally return to the sea. Not even close.
The Lobster is the story as old as time, the search for true love. Only in this dystopian science fiction, single human beings have 45 days to find true love. If they are successful, they get to go back living life as they had before. If they fail, they are transformed into an animal of their choosing. Will Colin Ferrall find his mate or join a rouge sect of society?
You know that rumor that octopi are really alien lifeforms? This film may be the reason that rumor started.
Assassination Classroom follows a giant yellow octopus alien who has destroyed the moon and made earth his next target. The hitch? He's decided to give earth a fighting chance, but on one condition. The Ministry of Defense must allow him to train a classroom of failing college students in the ancient art of assassination. After the school year if one of these flunk outs can master the discipline, Earth will be saved.
#3 – April and the Extraordinary World
An animated film set in an alternate universe where Napoleon never died at the Battle of Waterloo, he dies on the toilet just like Elvis.
Kidding.
But several generations after Napoleon I, Napoleon V prepares to ascend to power. The other odd thing about this alternate universe, scientists and scholars have been disappearing for years, leaving the world void of their innovations and progression. When April's scientist parents go missing, she decides enough is enough. With the aid of her furry, cat comrade, April decides to continue her parents' research and embark on a quest to discover what exactly is happening in France.
#4 – Zinzana (Rattle the Cage)
Straight outta The Untied Arab Emirates, this feature considers itself a continuation of the neo-noir thriller movement of the 90's.
This throw back thriller begins when Talal awakens inside a jail cell, alone and without any memory of how he arrived in his current predicament. Soon he is joined by a brilliant psychopath named Dabaan who takes Talal on a violent and vicious journey of mind games. If Talal is going to figure out Dabaan's motives, he'll need to figure out a way to survive the games first.
#5 – Tarkan VS The Viking
A film with the same vintage feel as any classic Conan the Barbarian flick, Tarkan VS The Viking promises to be a fun adaptation of the popular Turkish comic strips that share the same name.
Tarkan, a Hun warrior, and his trusty wolf companion Kurt (that's Turkish for 'wolf') set off to take down an invading band of vikings after they leave him for dead during an ambush. Along the way Tarkan must also defeat a giant octopus threatening the safety of his people. A film with a less than desirable budget for an action film, it somehow vows to pull off that classic B-grade hero quest we all grew up watching.
****
That concludes my top five picks! Surprisingly, all of these sound great. Several different genes all with their own flavor to tantalize any theatre goers taste buds. What are you waiting for? Go randomly pick your own top five list, and while you're at it, don't forget to practice your shaky face.