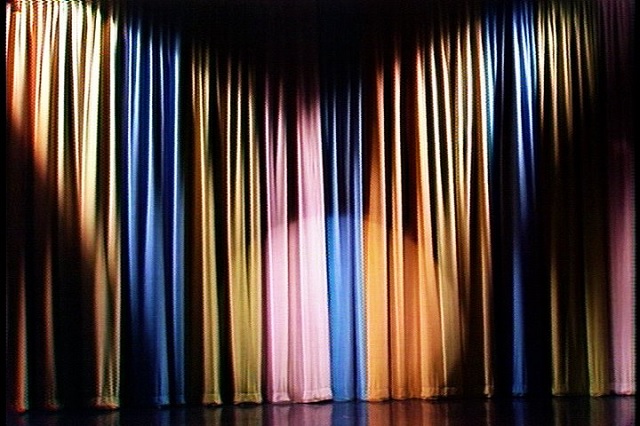 Real comedy still happens on late night, we can prove it. If you like Conan comedy gold, Fallon friendliness, cutesy Corden, list-making Letterman, kneedy Kimmel, and all the rest, I hope you'll enjoy this column too.
Last night on late night, Letterman talked about retirement with President Obama, Conan sat down with Avengers' Jeremy Renner and Silicon Valley's T.J Miller, Fallon made an 80s music video with Jack Black, James Corden did a 5 minute "best scene" green screen of Arnold Schwarzenegger's movies with him, Kimmel talked about being Manny Pacquiao's very own "Justin Bieber", and at The Daily Show, producer Brian Grazer shared his thoughts on his book and career.
Late Show with Dave Letterman
"Hoping for a pardon", "Down to the bitter end"
With his time at CBS almost up, Dave is doing some pretty fun things, like sitting down with Obama and joking about playing dominos in retirement.
Will Ferrell also stops by as Harry Caray, just to say hi and talk about the old Cubbies.
The President and Letterman talk about current events, like policing and the protests in Baltimore and elsewhere. Although the President notes that we have made great progress in race relations and rights, citing that fifty five years ago his parents' marriage would've been illegal in certain states, there is still obvious room for improvement. We only pay attention to the "pockets" of poverty, bad education, and lack of opportunities, when something bad happens. Instead of blaming policing, the President says, we need to address that there's not enough jobs, not enough opportunity, and an approach to drugs that leads to mass incarceration of lower income people. Early education is key to overcome decades of institutionalized racism that results in people not being able to get certain jobs, live in certain places, or buy a house or car. In these communities, kids are born without a chance, and are taught they aren't valuable. We don't have to accuse everyone of racism today to admit that racism happens, and that we need to do something to address it.
"Successful democracy is like tending a garden", Obama says to Dave. It works because people try to make it better each day. The Tao of government.
President-as-CEO is more clearly on display than almost ever before. When Letterman broaches the topic of the new trade deals, the President goes all Wall Street board room. We need to "get the right kind of deal", Obama says. "When China gets into agreements with other countries, we [US] get the short end of the stick". The President is talking about how the US has bad feelings with trade agreements, since people associate them with closing US factories. But, as the President rightly points out, there will always be other countries that can out "cheap" the US on low end assembly, but that the US still does lots of high end manufacturing, and should aim to do more. This is all true, but is told with a certain matter of fact nature that really makes it seem like a typical soft sell.
"We gotta sell out there, otherwise we're not going to be able to succeed", Obama says. The President hopes that new trade agreements with developing countries will prevent the use of child labor and unchecked pollution that enables manufacturing in those countries to sell their products so cheaply. Although, for obvious reasons, these are lofty and possibly un-achievable goals.
We must out compete the other company! — Er, I mean country!
Dave thought the 2016 election was 2+ years away. The President reminds him it's less than two years away, "not that I'm counting".
The final thing of note is that Obama stood up at the end of the interview (clip below). Whether that's some sort of security protocol, out of respect—you don't introduce some band over the President?, or the classic interviewee faux pas, it was pretty funny.
---
Conan
In his monologue, Conan jokes that African American Tea Party candidate for President Ben Carson is "the only African American who wants to go back to the way things were 200 years ago".
Also in the monologue, Conan reports on a study which claims "men who are funny are better in bed". "There's no punchline," Conan says, "I just wanted to get the word out".
Conan News: Conan will be at San Diego Comic-Con this year, from July 8-11, and will thus broadcast a few new shows on the weekend.
Guest Jeremy Renner recalls doing violent mime around the President, defends/apologizes? for his Black Widow "slut" comments, and doesn't understand computers.
Renner got Mission: Impossible- Ghost Protocol by meeting J.J Abrams for a different movie that Renner planned to turn down (Super 8), and Abrams asked him if he wanted to meet Tom Cruise. It's just that easy, folks.
T.J Miller, of Silicon Valley and Yogi Bear, is hosting the Golden Trailer Awards, which are for movies that have good trailers and maybe are not so good as feature length films. He also brought along a trailer to show.
T.J is very hush on Deadpool. Although we now know that Ryan Reynolds "does things in the film, sometimes though, he doesn't do anything at all".
Conan also introduces a solution to all those with wrist tattoos that want an Apple Watch
---
The Tonight Show Starring Jimmy Fallon
Jimmy Fallon's iteration of The Tonight Show is definitely notable for its success online, on YouTube in particular. They achieve this by consistently coming up with shareable content. See: this 80s music video with Jack Black. (They also did a internet-friendly "screen grabs" segment)
Jack Black is there to promote The D Train, a movie about a high school loser trying to organize a 20-year reunion.
Notably, The Roots were awesome. Jack Black says they intro-ed him to a song he performed as a 16-year-old, so good job on the research department too.
Melissa Rivers is also a guest tonight and she gives Jimmy one of Joan's joke cards, which apparently comes from a sea of file cabinets just full of old jokes. Jimmy wanted a joke about Tony Danza, and the card Melissa gives to Jimmy was the only one there was! "Wouldn't it be a major let down to find out Tony Danza was Irish?".
Jeff Garlin does some pretty odd standup about meeting an African American man in an airport security line who was trying to bring lots of lotion and cream onto a plane. Curiously, that clip is not yet up.
---
Jimmy Kimmel Live!
Justin Bieber was noted for playing a minor role in boxer Floyd Mayweather's entrance to the ring. Jimmy Kimmel wondered aloud one broadcast if he could be in Manny Pacquiao's ringside posse. Pac-Man said yes.
Kimmel notes how weird it was to be sitting alone with Manny moments before the huge fight. Everyone else was cleared out of the room and then, when the trainers left, it was just Manny and Jimmy, before the biggest fight of Manny's career. Very surreal.
Kimmel likes prank type videos, and last night's is veritable expanded cinema, a la Valie Export. Although I don't think Valie Export had a "pervert" alarm rigged up.
Check out this camera angle on Pitch Perfect's Brittany Snow. Try to find her face.
---
The Late Late Show with James Corden
Corden did all of Arnold Schwarzenegger's movies in a green screen "best scene" reshoot.
A pizza delivery remote where Prime Pizza customers could choose a mystery pizza or keep their original. Hijinks ensue. $200 in cash on top of a pizza? Gross!
Arnold's favorite movie from his career is Kindergarten Cop.
Corden and Whitney Cummings felt small at the Vanity Fair Oscars dinner party. Cummings was snubbed by Jane Fonda and someone asked Corden to get them a Diet Coke.
Arnold got picked for the Terminator role because James Cameron didn't think OJ Simpson looked menacing enough.
Arnold's new zombie drama, Maggie, looks intense.
Arnold has a charity that donates to after school programs and has fundraisers where people blow stuff up with Arnie!
Pretty much the entire interview/show is about Arnold.
---
The Daily Show with Jon Stewart
Brian Grazer stops by to talk about his new book and his old career.
Grazer talks about meeting Fidel Castro, getting asked about his hair, and bringing up torture with a dictator.
[wpchatai]