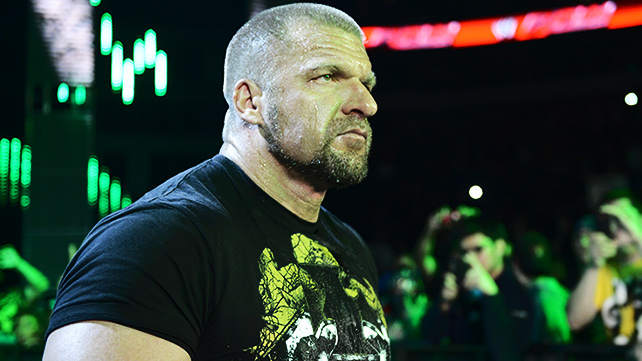 Monday Night Raw this week featured a few rare sights in modern WWE television: a brawl involving blood, a 27-minute main event match, and trailers for WWE Studios films that people actually will want to see. Donald Trump was announced for the Hall of Fame, the Undertaker was nowhere to be found, and the rest of the matches were pretty short. Despite the absences of the Rock and Chris Jericho from the broadcast, it scored a 3.5 rating to close the night out in second place behind Pawn Stars.
The show opened with Vince McMahon and Paul Heyman's "match," which amounted to little more than a scuffle between the two legendary promoters until Brock Lesnar came out to save his portly manager's hide. This was all set-up for the return of Triple H, who saved Vince from another F-5 (and managed to sneak in his whole entrance as well). Brock and Trips had a good brawl highlighted by Brock cutting himself open hardway taking a corner post shot a little too hard. (According to Dave Meltzer of the Wrestling Observer, the wound needed to be closed with fourteen staples backstage. Ouch.) Triple H clotheslined Brock over the ring barricade and smacked him in the back with a chair to end the segment. Their match at Wrestlemania is all but set.
The other big story of the show was the reignited feud between CM Punk and John Cena over who gets the rightful shot at the Rock's WWE Championship at Mania. In what many are calling the best Raw main event in ages, John Cena hit a hurricanrana (for real) and the Attitude Adjustment to beat Punk and confirm his rematch with the Rock. Lightning never strikes twice. The same can't be said for John Cena and the Rock at Wrestlemania.
Throughout the night we were "treated" to segments and trailers promoting the upcoming WWE Studios films Dead Man Down and The Call. Colin Farrel and Halle Berry respectfully star in each film, which were co-productions with other, more legitimate films studios. Ever since the failure of WWE's original films, the company has decided to scour film festivals and get in bed with companies that actually know what they're doing. It's a positive move and appears to be paying off. They may need all the help they can get before The Miz makes his film debut in The Marine 3. Really.
There was no returning Undertaker despite his company return at a house show in Waco, Texas, last Saturday. They did air fan footage of that return on the show. He'll most likely return next week to challenge CM Punk to a Mania match, rounding out that show's trio of main events.
Raw had little in the way of great wrestling. Dolph Ziggler bumped well for Ryback but Mr. Money in the Bank's stock continued to plummet with another clean television loss. After a strange Miz TV segment involving the World Heavyweight Champion Alberto Del Rio and his number one contender, Jack Swagger beat the Miz with the Patriot Lock. Antonio Cesaro was beaten quickly by Randy Orton. R-Truth made quick work of Cody Rhodes and even thwarted a sneak attack by Damien Sandow afterwards. Mark Henry demolished Great Khali in a minute. Even Kane and Daniel Bryan made haste with the Prime Time Players: the former with his hand tied behind his back, the latter blindfolded, after an edict from the new GM team of Vickie Guerrero and Brad Maddox ("Team Brickie," as Maddox pointed out).
Overall the show was an enjoyable stop on the Road to Wrestlemania, which should be picking up speed week by week until that fateful first weekend in April. Hopefully next week we get to hear that ominous bell.
Isaac Andrew