NCIS, Season 10, Episode 11: "Shabbat Shalom"
Written by Christopher J. Waild
Directed by Dennis Smith
Airs Tuesdays at 8pm (ET) on CBS
NCIS returns from its holiday hiatus with "Shabbat Shalom", an episode that rises above seasonal standards, delivering memorable emotional performances by Cote de Pablo and Michael Nouri, who guest stars in a final appearance as Mossad Director Eli David.
The cold open is the first in a string of scenes which closely resemble any given episode of NCIS. A father and son discover a body in the stream where they are fishing and trying to endure the outing despite a strained relationship. The body found is that of Tyler Wilkes, a reporter who made his way dishing dirt on government agencies and military operations. Impersonating a petty officer, Wilkes was investigating the presence of illegal substances on Navy bases, presumably murdered for getting too close to the truth. While he was killed for his investigative curiosity, it wasn't for military drug distribution. The intrepid reporter stumbled upon something promising to be the definitive story of his career: the director of Mossad's low-key arrival in Washington.
Evading all American and Israeli surveillance for the time being, Eli David makes his visit known only to his daughter, Ziva. While she is not pleased to see him at first, she warms up to his sudden visit but takes precautions by warning Gibbs in case anything suspicious is to be made of her father's unprecedented arrival.
Another unexpected familiar visit is that of NCIS Director Vance's wife Jackie (Paula Newsome). Having stood stood by her husband despite his frequent extended absences, she drops in to personally give him the message that they are overdue for some time together.  In a cruel instant of foreshadowing, their moment alone is loving and welcome but grievously brief.
When Vance is informed about Eli David's presence in Washington, he and Gibbs confront the man, afraid that he is there with ulterior motives. They end up meeting with an Iranian official who also happens to be in town. The two foreign officials have planned the meeting, hoping to figure a way to resolve issues between their conflicting countries. Eli assures them that his intentions are only to restore his reputation and regain favor with his daughter. Ziva doubts her father's sincerity, but the promise of his redemption softens her heart and she becomes enlightened by the hope of healing within her family.
Ziva's life is heavily highlighted in the squadroom scenes where the MCRT sifts through bins of old disguises from cases both in previous episodes and ones unseen by viewers. Tony dons his reggae beanie and soul patch from the season 4 episode "Driven" while Ziva admires a maternity shirt from an unaired pregnancy pact case. Tony analyzes a picture of Ziva in full undercover garb, prosthetic belly and all, and notes how happy Ziva looks with the thought of a family on her mind at the time. Their romantic potential continues to be teased but their bond relies on the subtle strength of their relationship as professional partners to keep the unspoken feelings guarded by respect.
Abby manages to find Wilkes' personal belongings and salvage pictures from a camera used around the time of his death. The images reveal that he was tracking a person since the figure appears in most of the recent shots. Telling by the style of hat and coat, the mystery person is obviously Eli David, but the team must wait for confirmation as Ziva recognizes her father's ensemble from behind but leaves without sharing her knowledge.
The two directors meet at Vance's home for a Shabbat dinner, an inconvenience for Jackie who has to prepare the meal according to custom and miss the chance to dine with her husband in peace. Ziva tells her father beforehand that she knows he killed Wilkes when he found out Eli was in town, a threat to the director's security. Much like DiNozzo's father, Eli cannot see the full picture of how his actions affect those closest to him, and Ziva realizes that her father can never make up for his murderous past.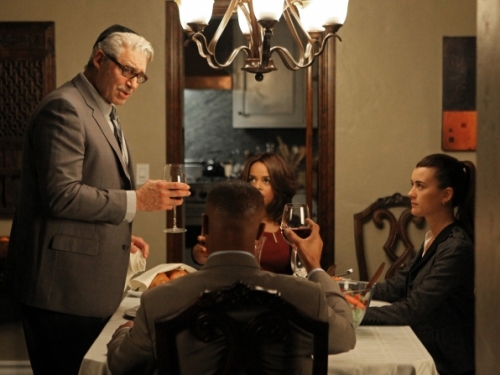 As Ziva calls to inform Gibbs about the truth, a drive-by shooting tears the Vance home apart. After Ziva runs after the shooter and meets up with Gibbs, the gunman commits suicide before they can find out anything from the man. Back at the house, McGee and Tony discover Vance covered in blood, working to save someone injured by the attack. Viewers must wait for Ziva's return to learn the fate of her father and Jackie. McGee's silence and Tony's rare solemnity build upon Ziva's fear as she enters the house to find her father deceased.
The discovery of her father's body completes the shift of tone from the beginning of the episode to this point. The formulaic plodding and devices are left behind as the scene focuses on Cote de Pablo's disturbing and stirring emotional response. The dramatic affect of staying on the image of Ziva holding her father is most notable for its unconventional lingering as the show usually takes advantage of procedural style quick-paced editing.
The last moments reveal that Jackie Vance has passed away from her injuries sustained during the shooting. The abrupt ending leaves questions as to the reasons for the shooting, the people behind it, and the lengths Ziva will go to avenge her father, though dishonorable as he was in his last moments of life.
"Shabbat Shalom" is an above-average episode, though its placement in the overall season is baffling. While two-parters are commonly broadcast throughout the year, the events depicted in this episode are worthy of a finale. It is possible that the folks in the writers room has saved the best for last, which means that this only a intriguing taste of perhaps a spectacular season closing yet to come.
– Amanda Williams