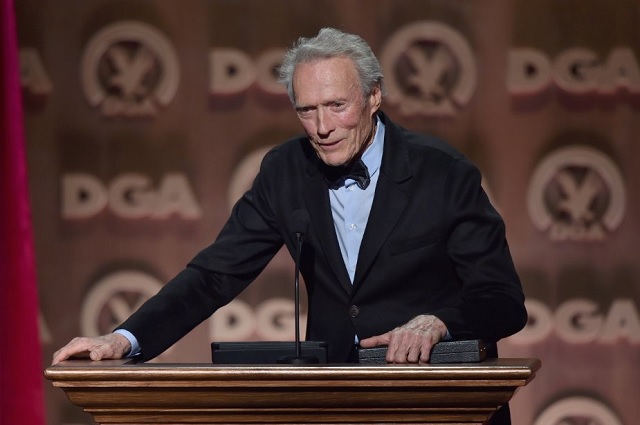 Following the success of American Sniper, Clint Eastwood has found his next project, which will once again be a biopic. Eastwood has signed on to direct a movie focusing on airline pilot Captain Chelsey "Sully" Sullenberger. Captain Sullenberger rose to prominence in 2009, when he managed to land a plane on the Hudson River following an engine accident, with no casualties as a result of his actions. The screenplay for the film will come from Perfect Stranger scribe Todd Komarnicki, who will adapt the book Highest Duty: My Search For What Really Matters, which was co-authored by Sullenberger himself.
In their announcement of the film, Warner Bros. had this to add.
it will go beyond Sullenberger's almost impossible and much-heralded achievement of safely landing a jumbo jet on the water, which was captured on video and viewed around the world. But behind the scenes, a drama was unfolding that could have cost him his reputation and his wings.
Captain Sullenberger spoke out about the film himself, saying he was "very glad" of Eastwood's involvement in his biopic. A title for the picture has yet to be announced, while the role of Sullenberger has yet to be cast.
Disney will be making a live-action adaptation of another one of its animated properties for its next film. The studio has announced that its next feature will be a live action full-length adaptation of the Night on Bald Mountain segment from its 1940 animated anthology. The studio has tapped the duo of Matt Sazama and Burk Sharpless to pen this adaptation, with the duo having previously co-written 2014's Dracula Untold, and been involved in the script for the upcoming The Last Witch Hunter. A director has yet to be announced for the film, which follows in the footsteps of other live action adaptation of Disney fare, such as Maleficent and the upcoming Beauty and the Beast. The original segment from Fantasia can be seen below.
Producers Lloyd Levin and Michael Bronner have closed a deal for a movie adaptation of Guantanamo Diary, a memoir of Mohamedou Ould Slahi. Slahi has been a prisoner at the US military's Guantanamo Bay since 2002, and his memoir focuses on his time there, focusing on the torture he has endured and the fact that he has not been formally charged with anything. Bronner will be taking on scriptwriting duties for the film, marking his first foray into feature film writing. The film will be adapted from the 466 page memoir that Slahi wrote after being incarcerated at Guantanamo.
Michael Bay has snagged his next project, as he has signed on to direct an adaptation of the upcoming novel Time Salvager. The novel, which is set to release on July 9th, is written by Wesley Chu, and the synopsis from the publisher is as follows.
In a future when Earth is a toxic, abandoned world and humanity has spread into the outer solar system to survive, the tightly controlled use of time travel holds the key maintaining a fragile existence among the other planets and their moons. James Griffin-Mars is a chronman–a convicted criminal recruited for his unique psychological makeup to undertake the most dangerous job there is: missions into Earth's past to recover resources and treasure without altering the timeline. Most chronmen never reach old age, and James is reaching his breaking point.

On a final mission that is to secure his retirement, James meets an intriguing woman from a previous century, scientist Elise Kim, who is fated to die during the destruction of an oceanic rig. Against his training and his common sense, James brings her back to the future with him, saving her life, but turning them both into fugitives. Remaining free means losing themselves in the wild and poisonous wastes of Earth, and discovering what hope may yet remain for humanity's home world.
Writers and stars for the film have yet to be announced, but Chu himself expressed enthusiasm for Bay's involvement in the adaptation of his work.
The writer-director team of Michael Lesslie and Justin Kurzel have begun a new project, this one an original story that the duo have been working on together for some time. Titled Haven, the movie will mark the third collaboration between the duo, who first worked together on the upcoming feature Hamlet before rejoining on the 2016 video game adaptation Assassin's Creed. Full details of the film have yet to be released, but it is classified as a psychological thriller that will be set in a mental facility. Kurzel will begin directing the film following the end of shooting for Assassin's Creed, and there's no word yet on if Michael Fassbender, who is playing the lead on both of the duo's previous collaborations, will be involved in this feature as well.
James Ellroy's life will be coming to the big screen as well. The September Issue and If I Stay documentarian and filmmaker RJ Cutler has signed on to co-write and direct an adaptation of Ellroy's memoir My Dark Places. Ellroy is no stranger to Hollywood, having seen novels of his such as L.A. Confidential and The Black Dahlia adapted into features, while also working on screenplays of films such as Street Kings and Rampart. Ellroy's memoir focuses on the 1958 murder of his mother, as well as his own investigation into the case in 1994. There is no word yet on whether Ellroy will be involved in the feature, which Cutler will write with Peter Himmelstein.
Other new projects announced this week include a remake of the Whoopi Goldberg comedy Sister Act, which will be penned by Legally Blonde co-writers Kirsten Smith and Karen McCullah, as well as an adaptation of Eliza Kennedy's recently released novel I Take You, which Kennedy will adapt for the screen herself.