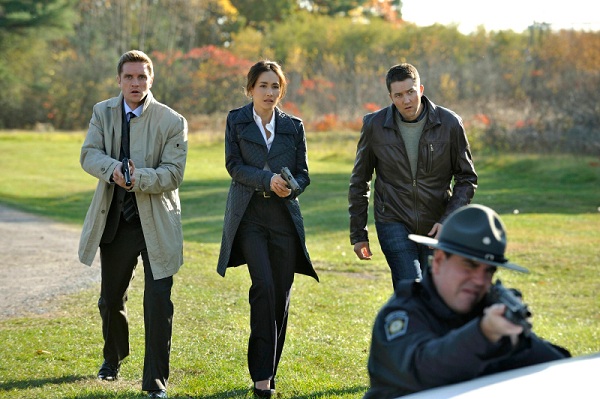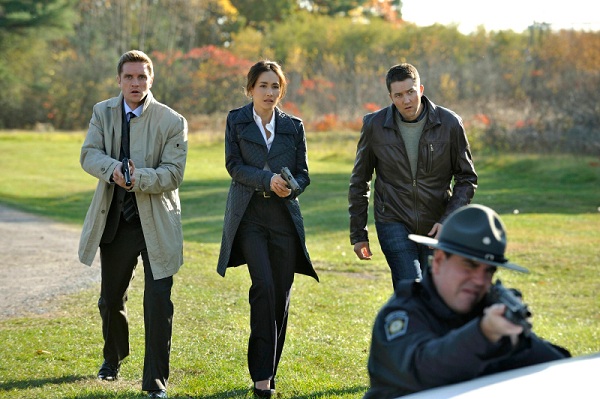 Nikita, Season 3, Episode 9: "Survival Instincts"
Written by Albert Kim
Directed by John F. Showalter
Airs Fridays at 8pm (ET) on the CW
One of the key aspects of Division has always been that agents get cut off from their old life, something even Nikita, Ryan, and co. have been forced to maintain due to the very nature of the program and the government's tenuous endorsement of it. While this hasn't weighed down many of the agents, who were juvenile delinquents from broken homes and thus had no real emotional ties to their old lives, it was only logical that some of the recruits would have a yearning to go back to their pre-Division lives in some form. With the iron rule of Percy and Amanda now effectively lifted, it was only a matter of time before an agent broke ranks and tried to make contact, and this episode tackles the potential ramifications of such an occurrence, moving the characters forward while continuing to effectively explore the various challenges Division faces in trying to clandestinely hunt down and neutralise the Dirty Thirty.
Michael's continued struggle with his sense of self-worth following the loss of his hand continues to be a highlight of the season. Owen and Michael haven't gotten along really well even when both have been completely healthy, but Michael's frustration coupled with Owen's sympathy regarding his situation adds an interesting dimension to their interactions. The former's decision to retire from being a field agent is one that makes sense, and in light of how well Michael was able to coordinate the takedown of the rogue cleaner last episode, it's clear that that is one skill of his that hasn't suffered. How the others, however, particularly Ryan, react to Michael's decision will be interesting to watch, as there are those who will no doubt feel threatened by his decision to stay in the office. Birkhoff's reveal to Nikita at the end of the episode also throws a shade of uncertainty over Michael's decision, and the possibility of getting his hand back may be what forces him to decide whether he is pulling out of active duty by choice or seemingly by necessity.
It was also nice to see Owen in an expanded role this week. Michael's decision to make Owen his replacement as Nikita's partner in the field is a sharp one, as both have fought alongside each other on multiple occasions, and have a rapport that only comes from trust. Owen is in an interesting position at this point; he considers Nikita a true friend, as she did save him from Percy helped him get clean from the Guardian drugs, so he would have a stake in seeing Michael get better from that perspective. However, Michael's absence and intended retirement from active duty also gives Owen the opportunity to see more action, and adds a sense of purpose to his life. Which direction Owen leans in going forward will be worth keeping an eye on, as it's very telling that neither Michael nor Owen asks his opinion on the issue at hand, and nor does he provide it voluntarily.
Sean's return was also an exciting development, particularly in the way it related to Alex. While Sean's return could have easily provided a deus ex machina solution to Alex's struggle with what drives her now, the writers smartly chose not to go that route, making Alex a more compelling character in the process, as she actively rejects the seemingly easy solution of riding off into the sunset with Sean this week. Having Alex decide to be with Sean would have been a betrayal to the strength the character has displayed throughout her time on Nikita, as well as sent the wrong message to those who admire Alex for being an independent female character with her own agency, and the show's refusal to go down that route is another testament to the commitment it has to its characters. How Sean fits into the groove of things in Division, as well as how he treats Alex following their final conversation this week, will be interesting to watch.
Overall, this was another solid episode for the show. Owen's inability to expertly pull off fieldwork was a nice illustration of the differences between agent training and cleaner training during Percy and Amanda's reign over Division, and whether he chooses to try to become a better agent or not will speak volumes about his true commitment to Nikita and Division. The rogue agent case this week also made for a compelling storyline, and whether or not more agents start popping up in the real world is something to keep an eye on, as Ray could not have been the only member of the rogue party who tries to re-establish contact, and how Division deals with the potential threat of discovery will be crucial to their fate. These factors, as well as watching what help Birkhoff uncovers for Michael's hand and what the ramifications of his actions are, are worth tuning in for next week.
– Deepayan Sengupta