Who says that movie-making talent cannot run within the same family? In the film industry when one reaches the pinnacle of success in achieving the ultimate reward in the motion picture business–winning an Academy Award–it is considered an individual milestone for any actor's big screen career. However, when one's gene pool produces the capacity to draw Oscar's attention their way in keeping the golden statuette "in the family" it is living proof that the thespian's apple does not fall from the street.
Whether through the relationship of blood relatives or marital unions "Relative"-ly Speaking: The Top 10 Oscar-winning Family Combinations looks at ten famous family member combos that won an Oscar through the methods of acting or directing.  Let's take a look at the top ten familial tandem that pulled off such an achievement in winning the coveted Oscar as it stands proudly on the family mantle.
"Relative"-ly Speaking: The Top 10 Oscar-winning Family Combinations are as follows (NOTE: the selections are in no particular preference or order):
1.) Henry Fonda and Jane Fonda (father-daughter)
Henry won for On Golden Pond (1981)
Jane won for Klute (1971) and Coming Home (1978)
Finally, iconic Hollywood veteran Henry Fonda scored his best actor Oscar after several nominations in a legendary career playing Norman Thayer, the cranky and distant estranged father of daughter Chelsea (Jane Fonda). Henry's Academy Award win would come in his final film role. Sadly, he would die shortly afterwards with an Oscar victory that would cap off a tremendous movie screen legacy.
As for Jane her best actress Oscars came for her complex role as prostitute Bree Daniels in 1971's suspense thriller Klute and as military wife Sally Hyde who falls for a wheelchair-bound Vietnam vet Luke Martin (Jon Voight) while her husband is still on combat duty in 1978's heartfelt war drama Coming Home.
No doubt that the Fondas are one of Hollywood's prominent acting dynasties as both Henry and Jane have proved in their brush with countless Academy Award nominations and eventual wins.
2.) Warren Beatty and Shirley MacLaine (brother-sister)
Warren won for Reds–director (1981)
Shirley won for Terms of Endearment (1983)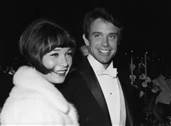 The impressive collection of Oscar nominations for these native Virginian siblings are quite astounding. It is rather shocking that Warren Beatty and Shirley MacLaine only have a single Oscar each given their prolonged duration in Hollywood.
After many Oscar nominations under his belt as as actor, director, producer and writer Beatty finally struck Oscar gold by winning a best director Oscar for the historical epic Reds. As for his older sister Shirley, she captured the best actress Oscar for her role as uptight mother Aurora Greenway in James L. Brooks's sharp comedy-drama Terms of Endearment in 1981. No brother-sister act has been so instrumental in the Hollywood scene that also has the golden guy to prove their staying power in Tinseltown.
3.) John Huston and Angelica Huston (father-daughter)
John won for The Treasure of the Sierra Madre–director and screenwriter (1948)
Angelica won for Prizzi's Honor (1985)
The Hustons have certainly put their stamp on the motion picture industry as the first family of Hollywood. For starters, they are the first family to win Oscars in representing three generations. John directed both his father Walter ("The Treasure of the Sierra Madre") and daughter Angelica ("Prizzi's Honor") to acting Oscars. And of course John also won his Oscar for directing and writing for The Treasure of the Sierra Madre.
Angelica, as just mentioned, was the proud recipient of her father John directing her to an acting Oscar for her performance as mob maiden Maerose Prizzi. Now that's how you keep it in the family, John!
4.) Jon Voight and Angelina Jolie (father-daughter)
Jon won for Coming Home (1978)
Angelina won for Girl, Interrupted (1999)
There are not too many father-daughter Oscar-winning combinations to consider. Sure, what comes to mind off the bat are daddy and daughter Oscar winners such as Henry/Jane Fonda and John/Angelica as highlighted earlier in this article. And one can probably conjure up a few more examples that might be overlooked. But certainly the father-daughter Oscar-winning twosome of Jon Voight and Angelina Jolie cannot be overlooked in this particular equation.
Of course Voight came to prominence with his Oscar-nominated turn as male escort hustler Joe Buck in Midnight Cowboy. However, in 1978's poignant war drama Coming Home would prove to be an Oscar victory for Voight's portrayal as a paralyzed Vietnam vet Luke Martin who falls in love with a married military wife Sally Hyde (Jane Fonda).
Twenty-one years after her father's Academy Award win in Coming Home Jolie would win her gold statuette for 1999's Girl, Interrupted as manipulative mental patient Lisa Rowe with sociopath tendencies.
5.) Walter Huston and John Huston (father-son)
Walter won for The Treasure of the Sierra Madre (1948)
John won for The Treasure of the Sierra Madre–director and screenwriter (1948)
Thirty-seven years before Oscar-winning director/screenwriter John Huston would direct his daughter Angelica to her first best supporting actress Oscar for Prizzi's Honor he had similarly did the same thing for her grandfather Walter. You see John's golden touch in directing his father Walter to his best supporting actor Oscar as animated old prospector Howard in The Treasure of the Sierra Madre was a first for the Academy Awards where a relative would direct another relative to claim Oscar gold. And John Huston has done this feat twice!
As a notable characterization, Walter Huston's Howard would be an enjoyable and intriguing guide for Fred Dobbs and  Bob Curtain (Humphrey Bogart and Tom Holt) as the old hoot that leads them on a gold hunt in the Sierra Madre Mountains in Mexico. Winning the Oscars for Madre certainly was a familial celebration for father and son team Walter and John.
6.) Olivia de Havilland and Joan Fontaine (sisters)
Olivia won for To Each His Own (1946) and The Heiress (1949)
Joan won for Suspicion (1941)
Both British actresses Olivia de Havilland and Joan Fontaine had accomplished this feat in Academy Award history–they were the first and only siblings to win Oscar in leading best acting categories. Indeed, the decade of the 40's were very kind to Joan and Olivia in the vintage days of Hollywood.
Joan was the first to win her Academy Award playing Lina in Alfred Hitchcock's film Suspicion. As for older sis Olivia she was blessed with winning two best actress Oscars playing Josephine "Jodie" Norris in 1941's To Each His Own and as Catherine Sloper in 1949's The Heiress.
Sadly, it was reported that Olivia and Joan took their sibling rivalry to a higher level of disdain beyond the cinema world. Nevertheless, their mark on Oscar's landscape cannot be denied as decorated Academy Award-winning sister-in-arms.
7.) Michael Douglas and Catherine Zeta-Jones (husband-wife)
Michael won for Wall Street (1987)
Catherine won for Chicago (2002)
Okay, so Oscar-winners Michael Douglas and Catherine Zeta-Jones were not married at the time they individually received their acting Academy Awards. Nevertheless, they are married now and still are Oscar winners so that does count for something, right?
As the unctuous "Greed is good" corporate raider Gordon Gekko Douglas was able to nab his Oscar for best actor back in 1987. Zeta-Jones was able to receive her Oscar for best supporting actress in the musical Chicago as Velma Kelly. There is nothing like a double Oscar effect in marital bliss, right?
8.) Laurence Olivier and Vivian Leigh (husband-wife)
Laurence won for Hamlet (1948)
Vivian won for Gone with the Wind (1939) and A Streetcar Named Desire (1951)
For twenty years two of Britain's greatest acting married couple in Sir Laurence Olivier and Vivian Leigh were hitched from 1940 until 1960. But both were able to get hitched to Oscar's hip as well. Olivier, who captured the Oscar for Hamlet in 1948, is regarded as perhaps the ultimate thespian that all actors aspire to emulate. Olivier was an actor's actor skilled on the Shakespearean stage and screen.
Leigh, who won her two Oscars before her marriage to Olivier and during their marital union, was victorious for her Academy Award triumph as Scarlett O'Hara in 1939's classic civil war epic Gone with the Wind and as Blanche DuBois in the moody 1951 drama A Streetcar Named Desire.
9.) Susan Sarandon and Tim Robbins (common law romantic partners)
Susan won for Dead Man Walking (1995)
Tim won for Mystic River (2003)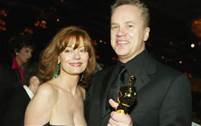 Unfortunately, Hollywood power couple Susan Sarandon and Tim Robbins are no longer an item although they do share children from their union together. They do, however, have Oscars to display as their "special" children as well.
The lovely Sarandon finally managed to grab Oscar's undivided attention when she won best actress honors playing Sister Helen Prejean trying to console and keep death row inmate Matthew Poncelet (Sean Penn) from the electric chair in the absorbing Dead Man Walking. Robbins received his Oscar for best supporting actor playing a traumatized and plagued Dave Boyle in the Clint Eastwood-directed Boston-based urban drama Mystic River. From their Bull Durham real-life romantic hook-up to championing political causes to becoming Oscar recipients. All in a day's work for one of Hollywood's former passionate performers in artistry and activism.
10.) Javier Bardem and Penelope Cruz (husband-wife)
Javier won for No Country for Old Men (2007)
Penelope won for Vicky Cristina Barcelona (2008)
The Spanish coupling of Javier Bardem and Penelope Cruz proved to not only have a sensual connection for one another in marriage but also on the big screen where they both ended up victorious in scoring best supporting Oscars wins.
Bardem's chilly and penetrating assassin Anton Chigurh in 2007's No Country for Old Men was indeed deserving of the golden statuette for his stoic and deranged portrayal of a methodical killing machine. Cruz, actress and model, proved to be worthy of her acting chops when winning her Academy Award for 2008's Vicky Cristina Barcelona playing the captivating Maria Elena. It was as co-stars on the Vicky Cristina Barcelona that Bardem and Cruz met, dated and fell in love until they tied the knot in 2010.
Oscar winners in a married couple as high-powered as the Bardem-Cruz connection certainly adds a foreign flavor to this movie-making couple and their association with Academy Award greatness.
–Frank Ochieng