Secret Identities #4
Story by Brian Joines, Jay Faerber
Art by Ilias Kyriazis, Ron Riley
Cover by Ilias Kyriazis
Published by Image Comics
Everyone has a plan in Secret Identities #4. Crosswind plans to use Gaijin's human family as leverage, Ciniza plans on using her "Uncle" Vesuvius to protect her from a super-powered "villain," and Rundown plans every nanosecond of his day. All those plans backfire.
Fans of the series might have noticed that several Front Line team members are absent in the list of misguided plans. This issue, half of Front Line takes a knee. Readers are then able to cozy up to Gaijin, Vesuvius, Punchline, and Rundown while secretly cheering for Crosswind's scheme to pay off.
There are two main storylines, and one flashback story inserted in the middle of all the action.
The first revolves around Crosswind and Gaijin. After learning of Kayoto's kidnapping, Gaijin is sits atop the Front Line base pondering her next move. Does she hand over sensitive information and betray Front Line? Or does she sacrifice her adopted brother to protect the team? Fortunately, Crosswind offers a friendly ear and the two begin discussing what they would do to protect their families. Crosswind proclaims that he would do whatever is necessary to save his family, with the expectation that Gaijin will fold and retrieve the files that contain Front Line's biggest secrets.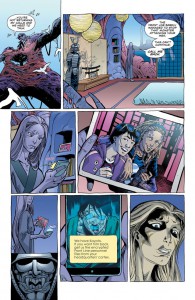 Meanwhile, Punchline and Vesuvius are enjoying a children's event in the park when Vesuvius' niece, Ciniza, appears out of nowhere. Assuming her great grandfather's role, Cinzia has become quite the archeologist. While on a dig in Mexico, Ciniza believes that she "accidently" woke up some sort of archaic magick that has stalked her around the world. Luckily, she just happened to hear that Vesuvius would be in the park, and came to him for assistance.
In the middle of all this action, readers find Rundown out of costume in the middle of a therapy session where he reveals that a scheduling mistake left him with a blissful ten-minute free period. Rundown's scheduling hiccup alludes to what is about to happen to our fellow plotters.
Ciniza finds herself on the wrong side of the law, and Crosswind is called on to find where Kayoto is being held.
Secret Identities #4 takes a break from the super heroics to focus on the interactions between team members, as well as the complexities of families, to emphasize the best-laid plans of mice and men and superheroes, can often go awry. Only time will tell if Vesuvius can move past Ciniza's betray, and, more importantly, if Crosswind can get out of his sticky situation.