Begin Again
Formerly known as Can a Song Save Your Life?, writer-director John Carney's latest film marks a return to the New York music scene in an uplifting tale of reinvention and rediscovery. Keira Knightley stars as Greta, an amateur singer-songwriter left heartbroken in the Big Apple after her douchebag musician boyfriend Dave (Adam Levine) gets his big break and trades their 5-year relationship for the rich rock-star lifestyle. A chance meeting between Greta and washed-up producer Dan (Mark Ruffalo) leads to an unforgettable summer of music-making and redemption. At times frustratingly twee, like when two characters wander through the city's nightscape listening to "As Time Goes By" via headphone splitter, Begin Again ultimately wins the audience over with its strong performances and rich visual homage to NYC.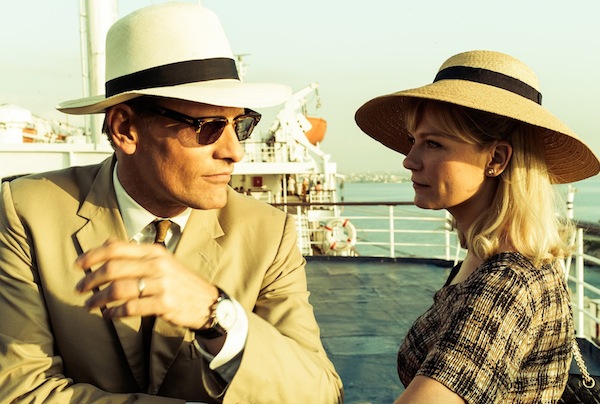 The Two Faces of January
From esteemed screenwriter Hossein Amini comes this stylish adaptation of Patricia Highsmith's novel, The Two Faces of January. Set in 1960s Europe, the film follows New York conman Chester MacFarland (Viggo Mortensen) and wife Colette (Kirsten Dunst) as their idyllic Greek vacation falls apart following an accident, leaving their fates intertwined with that of enigmatic student and tour guide Rydal (Oscar Isaac). Visually rich with the vintage elegance of the jet-setter era (think grand hotels and chic resort wear), The Two Faces of January amounts to an uneven film that its talented cast cannot quite save. "Understated" would be a generous way to describe it, but perhaps some of the novel's substance was lost in the adaptation.
Yves Saint Laurent
Given the sartorial services he did for women everywhere throughout his illustrious career, one would think Yves Saint Laurent deserves a decent biopic. Jalil Lespert's film, which tracks the designer's career from his early days under Christian Dior through the success of his own fashion house with partner Pierre Bergé into the '80s and descent into drug addiction and poor health, ultimately fails to live up to the challenge. The lanky Pierre Niney, practically a double of the real Saint Laurent, does well in capturing the designer's physical awkwardness and alternating timidity and petulance in social situations. Yet overall, the film is tainted with a cheesy, made-for-TV quality largely thanks to recurring voiceover of an older Bergé reminiscing and addressing his late lover. However, because Lespert's production had Bergé's approval, the cast and crew had access to the YSL archives, a privilege capitalized upon by endless montages of fashion shows and shoots. Those looking for something of stronger narrative substance will be disappointed, but haute couture enthusiasts may still find value in it.
— Misa Shikuma
[wpchatai]