2013 is only halfway done, but there's a fair chance that, in a television context, it might well be looked back upon as the year any and all accepted rules of "quality television" became utterly meaningless and the promise of great things arrived in all shapes and sizes, from all directions. Consider Netflix's House of Cards and the resurrected Arrested Development: existing properties, incredible casts, and a novel delivery method to boot. Consider HBO's increasingly epic and brutal Game of Thrones and the way it's managed to capture the zeitgeist despite firmly belonging to a long-derided genre. Consider the continued reign of FX's animated spy comedy Archer, complete with the best rapid-fire humor on TV. Consider Mad Men, still relevant as it heads into its final season. Consider the wildly popular The Walking Dead and the long-form horror that is sure to follow in its wake. Consider UK exports The Fall and The Hour, which blend a strong sense of visual storytelling with assured writing and genre-teasing thrills.
Now consider that when SOS TV Editor Kate Kulzick and I compiled our Top 10 Series of the last six months, none of these made the cut. That's how incredible 2013 has been so far.
The series that did make the cut are the ones that managed to sustain momentum over the course of their entire seasons/series, not just provide a notable episode or two. For those shows, we've compiled a separate list: the best of the rest. Chances are, your missing favorite ended up there. As for the best of the best, here they are, as Kate and I see it. They include an ABC Family series, a Starz series, a BBC America series, and an adaptation of a decades-old existing property already remade multiple times over. Needless to say, the year hasn't shaped up remotely the way we expected it to, and we couldn't be more pleased.
This list is in alphabetical order; we're saving the insane task of ranking these, and whatever other series come along, for the staff-wide vote at the end of the year.
(KK = Kate Kulzick, SH = Simon Howell)
The Americans
Season 1
Aired from January 30th-May 1st on FX
Created by writer-producer and former CIA officer Joe Weisberg, The Americans, a spy thriller set during the Cold War, intrigued with its premise and its casting of American TV sweetheart Keri Russell as one half of its central couple, a pair of Russian KGB agents operating undercover as a stereotypical suburban American family in 1980s Washington DC. The pilot kicked the series off in fine fashion and set the bar high for the episodes to come- a standard the show consistently met, week after week. Russell was riveting as Elizabeth, particularly in her clashes with Margo Martindale's Claudia, but Matthew Rhys often stole the show as Philip, Elizabeth's husband who'd rather their marriage was more than one of convenience. The relatively unknown Annet Mahendru quickly proved herself much more than a pretty face as double agent Nina, and Noah Emmerich's FBI Agent Stan provided a worthy adversary for our leads while mirroring their struggling relationship in his interactions with his wife, as well as Nina. It's rare for a show with so much buzz to live up to the hype, but even rarer for an action series to deliver so completely on both its interpersonal drama and thrills. The Americans had an extremely confident and focused first season with barely a misstep, showcasing characters and moments we'll likely be talking about for years. (KK)
Bob's Burgers
Season 3, Episodes 10-23
Aired from January 6th-May 12th on FOX
It's been a fantastic year for drama, but many of the most reliable comedies have fallen somewhat flat so far. Not so for Bob's Burgers, an animated series following restaurateur/fry cook Bob Belcher, his wife Linda, and their three children: Tina, Gene, and Louise. These past six months, the show delivered some of its very best episodes, including the Gene-centric "O.T.: The Outside Toilet" and Louise-centric "Boyz 4 Now." This is not a series to back away from silliness (what other show would have a boy become best friends with a talking toilet?), but it also embraces the realities of being a teen (or tween) and mines this for humor just as well. This year, we saw Tina enter the dating world and start shaving her legs, forced to go to her dad for help when her mom was out. We also saw Louise cope with her first crush and the seeming insanity that came with. Bob and Linda lead full lives both as parents and outside of those roles, and the show does a great job of balancing them with the kids, making sure everyone feels like rounded, recognizable people. Just about every episode this year has been strong and the show's dedication to character, as well as its commitment to ever-so-slowly aging the kids, makes Bob's Burgers the comedic stand-out of the year so far. (KK)
Bunheads
Season 1, Episodes 11-18
Aired January 7th-February 25th on ABC Family
The situation's not quite as dire as it is in the world of film, but television, as a medium, is still drastically underserving female characters. (Along, of course, with a whole lot of other groups that aren't straight white men.) So whenever a series with as female-driven a concept as Bunheads comes along, we TV critics tend to cross our fingers and hope it's actually good and not merely notable. Thank Amy Sherman-Palladino and company that Bunheads' first (and possibly only) season turned out to be one of the year's most unalloyed pleasures- a sweet, funny, patient, and frequently beautiful take on love, art, transformation, and loss. The entire cast is charming and believable (I suspect there will be plenty of Bailey Buntain in our collective televisual future in the years to come), but Sutton Foster in particular is a revelation, a singing, dancing ball of energy who works just as splendidly in the series' many quiet, reflective moments as she does belting showtunes or planning a routine. Mention must also be made of Alan Ruck, who helps to make Hubbell the season's most resonant non-living character. For the love of all that's holy, ABC Family, bring it back next year. (SH)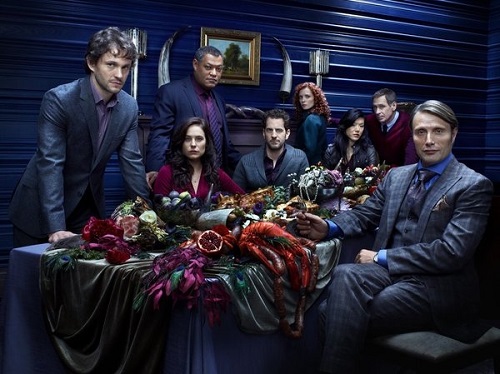 Hannibal
Season 1
Aired April 4th-June 20th on NBC
In a year beleaguered by an overreliance on serial killers as shock value, Bryan Fuller's Hannibal distinguished itself with its gorgeous cinematic style, thoughtful scripts, and nuanced performances. More than that though, it did what every other crime procedural on television seems reluctant to do- it examined the cost of violence on victims, bystanders, and perpetrators. It showed the creeping psychological damage of even the most just and necessary fatal action. Hugh Dancy stars as Will Graham, a highly empathic profiler who, in the pilot, shoots a serial killer to save the killer's daughter, who is being held at knife-point. Dancy is fantastic in the role and Will's desperate, season-long attempt to ward off insanity is completely engrossing. Unfortunately underserved, though still excellent in their smaller roles, are Caroline Dhavernas as Will's friend, colleague, and potential love interest Dr. Alana Bloom, and Laurence Fishburne as Will's FBI boss and head of Behavioral Sciences Jack Crawford. Gillian Anderson was also a pleasant surprise as psychiatrist Dr. Bedelia Du Maurier, but the titular Dr. Hannibal Lecter is who most viewers tuned in for and Mads Mikkelsen has given audiences a new and brilliantly subtle take on the decades-old villain. With its grotesque yet beautiful crime scenes and dark subject matter, some complained the series was too disturbing. This critic thinks it's about time a series about a serial killer actually was. (KK)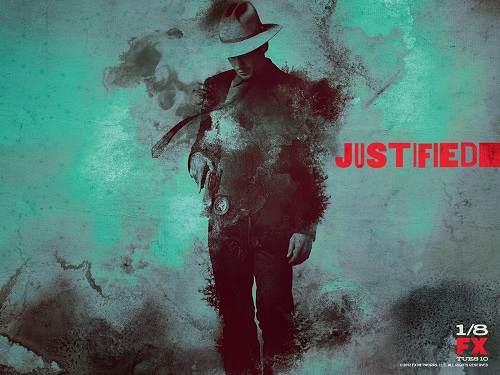 Justified
Season 4
Aired January 8th-April 2nd on FX
Anyone who follows a great series long enough, no matter how much trust they have in the creatives at work, nevertheless lives in fear of the moment when the latest season comes along and they find the usual magic somewhat diminished. With the news that Justified was going to ditch its Big Bad-driven structure in order to pursue a mystery-driven plot specked with mini-arcs, a collective gulp was audible. If Justified's fourth season proved anything, however, it's that the series can take any form it damned well pleases just so long as it honors its characters, which it consistently manages to do even as it introduces a whole lot of new ones. The nimblest hour on television right now, Justified manages to juggle comedy, action and drama just as ably as it services its huge rogue's gallery of lawmen, thugs, and criminal masterminds. At the center of it all is Timothy Olyphant, the least decorated of television's great leading men (as well as one of the series' chief creative voices), whose charisma and wry sense of wit never quite fully obscures the character's darker impulses. Add to that the remarkably stacked supporting and guest cast, and you have one of the most assured crime dramas in television history. Mention should specifically be made of "Decoy," an action-packed, incredibly tense and funny hour of television that ran laps around every Hollywood action flick in recent memory. (SH)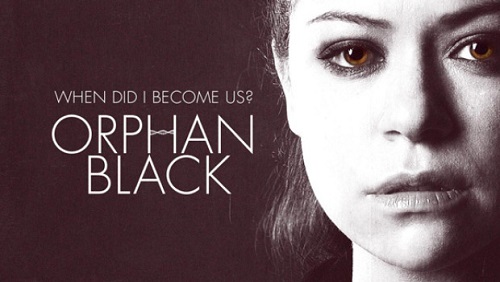 Orphan Black
Season 1
Aired from March 30th-June 1st on BBC America
A woman waiting on a subway platform, Sarah, looks over and sees the tear-stained face of another woman right before she steps in front of an oncoming train. A woman who looks, or looked, exactly like her. It's an intriguing premise, but a premise does not a series make, and genre TV is littered with series that never live up to the promise of their initial hook. Fortunately, Orphan Black creators Graeme Manson and John Fawcett not only had an answer to their initial mystery, they built a world to back it up. Ostensibly about cloning, identity, and that genre favorite, nature vs. nurture, this series succeeds so dramatically because it gives us characters and relationships we care about. It just happens that most of them are portrayed by one actress, Tatiana Maslany, perhaps the single biggest discovery of the year. The supporting cast on the whole gives strong performances, particularly Jordan Gavaris as Felix, Sarah's foster brother, but the first season of Orphan Black belongs to Maslany, who makes at least seven different characters, including the three leads (besides Felix), feel like singular entities. She acts against herself constantly and, after only a handful of episodes, it can be difficult to remember that you're watching one woman's work, rather than three different actresses collaborating on a scene. More than just a showcase for Maslany, though, this is a compelling, addicting series that shows just how much can be accomplished with a good idea and the right people to bring it to life. (KK)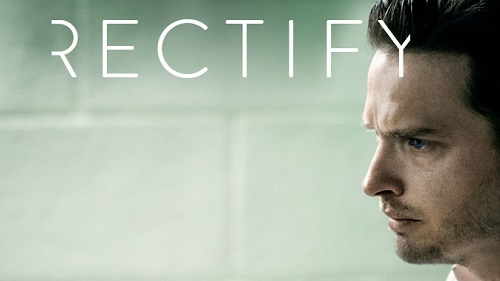 Rectify
Season 1
Aired from April 22nd-May 20th on Sundance Channel
And now for something completely different. Rectify defies all conventions of TV plotting and categorization; based on a plot synopsis, you'd expect it to be a murder mystery in the style of The Killing or even list-mate Top of the Lake. Rectify, unlike those series, doesn't make delivering "answers" a priority. Ray McKinnon's remarkable series instead argues via its languid pace and headlong dives into surreal subjectivity that for its characters, "answers" might never come, and even if they do, there's no reason to expect they'll solve anything in the lives of its many deeply troubled figures. While it's easy to imagine Walton Goggins in the role of Daniel (as originally intended), Aden Young has done remarkable work in a season that's featured a whole lot of great performances, communicating Daniel's restraint, compassion, torment, and nascent sense of discovery while never indicating whether or not he would ever have been capable of the horrendous acts for which he spent eighteen years in prison, and may or may not have committed. The genius of Rectify is that the series' effectiveness isn't dependent on whether Daniel is innocent, guilty or somewhere in between, and if it decides to never render a definitive verdict, that would be an equally legitimate choice. With its first originally produced series, the Sundance Channel proves it takes adult storytelling seriously. (SH)
Southland
Season 5
Aired from February 13th-April 17th on TNT
Most series get cancelled and then die. Not so for Southland, which found new life and new creative vitality on TNT after being cancelled in its first season by NBC. A rare example of a show that only improves further into its run, the fifth and final season of Southland focused on Officer John Cooper's (Michael Cudlitz, in a career-defining role) growing listlessness and isolation, Detective Lydia Adams' (Regina King, who also directed an episode this year) struggles at home, and Officers Sammy Bryant (Shawn Hatosy) and Ben Sherman's (Benjamin McKenzie) fracturing partnership. With grounded, character-based humor balancing out the often tense action beats, the series pulled no punches, putting most of its characters through the emotional wringer without exploiting their struggles for cheap drama or straying from the truth of their situations. Each of the main cast does excellent work and the season is remarkably consistent, but the penultimate episode, "Chaos," written by Zack Whedon and directed by Christopher Chulack, provides a showcase for Cudlitz, who delivers an astonishing performance that ensures the episode will go down as one of the most powerful, intense hours of drama of the year, if not the decade. (KK)
Spartacus: War of the Damned
Aired from January 25th-April 12th on Starz
Probably not the ultraviolent sword-clashing series most were expecting to make an appearance here, Steven S. DeKnight's epic series came to a conclusion this year with its most devastating and rousing season ever. The series itself faced a hero's journey to match its protagonist, weathering the death of its initial star Andy Whitfield as well as the general indifference of most critics and viewers who scoffed at its softcore-porn sex scenes, hyper-stylized violence, outrageous turns of phrase, and scenery-devouring performances. Where many saw crass excess, however, those who glommed onto DeKnight's vision recognized that the series' style was an ideal match for its characters' larger-than-life conflicts, and War of the Damned manages to fashion a conclusion every bit as devastating and, to be blunt, fucking awesome as it had to be to do its real-life inspiration justice. While doing so, it presented an inclusive and deceptively radical vision of revolutionary conflict to equal or dwarf the swords-and-sandals epic of your choice, as well as capping it all off with a truly spectacular series finale ("Victory") that managed to meet, if not outright exceed, expectations. Steven S. DeKnight's next project, should it be optioned, apparently aims to take a similarly outsized approach to the world of science fiction; we can't wait. (SH)
Top of the Lake
Aired from March 18th-April 22nd on Sundance Channel
The transition made by some filmmakers from film to television is rarely a smooth one, so it's with some relief that Jane Campion's Top of the Lake preserves Campion's elemental, intuitive storytelling style while marrying it to a story and setting more than worthy of the seven-hour running length. More conventional than Rectify but much more elegant than the likes of (insert the police/mystery procedural of your choice), Top of the Lake is much more the spiritual heir of Twin Peaks than many of the series that have made that claim since that seminal series went off the air two decades ago. Aided by a remarkable sense of place, stunning performances from Elizabeth Moss, David Wenham and Peter Mullan, and nuanced, never-laborious writing, Top of the Lake signals a "middle way" for the many filmmakers who've expressed admiration for television's ability to tell detailed, profound stories, but who aren't necessarily experienced in the rhythms of episodic storytelling. Should Campion and/or co-creator Gerard Lee decide to make the leap into full-bore series television, it should be one for the ages. (SH)
[wpchatai]