The UK's favourite horror fantasy festival returns to its second home at the Glasgow Film Festival for the 7th year with its biggest line-up ever.
From Friday Feb 24 to Saturday Feb 25, Film4 FrightFest will be screening eleven new must-see genre titles. ten of which are UK premieres. So expect to be taken of the roller-coaster ride from hell with this ghoulish global celluloid feast, featuring Argentinean demons, flesh-hungry Russian zombies, mutant cannibals, a Chinese-speaking alien, Asia's deadliest killers, a Croatian hit-man, Pinocchio obsessed psychos and Jack Nicholson like you've never seen him before.
With guest directors and filmmakers from all over world (to be announced shortly), surprises on screen and off, and our unique community feeling, FrightFest at the GFF has now become a must-attend occasion on the horror fantasy fan's calendar.
Here is the full line-up
FRI 24
13:30 CORMAN'S WORLD: EXPLOITS OF A HOLLYWOOD REBEL (Scottish Premiere)
Roger Corman was the true Godfather of independent filmmaking and this multi-era defining documentary tracks the triumphant rise of the legendary writer, director, producer and distributor, widely known for his high camp, low budget, rapid fire exploitation movies of the 1950s and 60s. Corman is also a well-respected maverick, rabble-rouser and producer. He created his own production and distribution company and discovered the next generation of film greats including Martin Scorsese, Francis Ford Coppola, Peter Bogdanovich, Joe Dante, James Cameron and even Ron Howard From Corman's first 1955 feature THE MONSTER FROM THE OCEAN FLOOR through the Edgar Allan Poe/Vincent Price horrors and Hell's Angels flicks to his latest production DINOSHARK, all the blood and guts of his lurid and fascinating brilliance on a budget career is here illustrated by great clips and with insights from his contemporaries, students, stars – and a Jack Nicholson like you've never seen him before.
101 mins Director: Alex Stapleton USA 2011
Jack Nicholson
Quentin Tarantino
Pam Grier
Traci Lords
William Shatner
16:00 TAPE 407: THE MESA RESERVE INCIDENT (UK Premiere)
Gore and confusion abound when a US passenger plane crashes in a mysteriously remote and unknown area. As the handful of disbelieving survivors emerge, scared, bloody and disoriented, they soon realise their nightmare has only just begun. Subtly slipping from disaster movie to eerie horror adventure and political conspiracy theory, the frantic documentary style camerawork places you at the heart of the unfolding horror. When the plot thickens further, monstrous mayhem continues into completely unexplored areas and becomes a whirlwind ride through the strangely uninhabited Mesa Reserve compound with a twist ending to leave you breathless.
90 mins Directors: Dale Fabrigar & Evette Wallin USA 2011
Abigail Schrader – Trish
Samantha Lester – Jessie
James Lyons – Jimmy
Brendan Patrick Connor – Charlie
Melanie Lyons – Laura
18:30 CRAWL (UK Premiere)
Claustrophobic heat and brooding tension seep from the screen in this character-driven hi-tone chiller set in an unknown rural town. Seedy bar owner Slim Walding hires a mysterious Croatian hit man to murder a local garage owner over a shady business deal gone bad. The crime is indeed carried out by the stone-faced stranger but a planned double-crossing backfires when an innocent waitress (Georgina Haig) becomes involved. Much of what makes this study in slow-burning terror so nail-bitingly effective is the silence that director China employs for long periods, coupled with the deep, shadowy corners of the picture frame – and minds of the captivating lead characters.
81 mins Director: Paul China Australia 2011
George Shevtsov – The Croatian
Georgina Haig – Marilyn Burns
Paul Holmes – Slim Walding
Andy Barclay – Travis
Lynda Stoner – Eileen
21:00 THE DAY (UK Premiere)
Apocalypse has arrived and the world is a brutally dangerous place in the impressive debut feature from writer Luke Passmore. Directed by Doug Aarniokoski this mutant hunt follows a group of five survivors who are heading to greener pastures to try and find a place to plant some rare vegetable seed. They're low on ammunition and food and one of the group is extremely sick. So they break from their usual protocol and hole up in an abandoned two-story farmhouse in the middle of nowhere. Soon, the cannibals, their mortal enemy, will come looking for prey…Visually stark as its environment, and delivering splatter kills, seat-edged suspense and visceral action, this blockade shocker is the middle instalment of a projected trilogy, THE DAY and marks the arrival of a host of new talent and an anticipated much larger holocaust hellhole vision.
90 mins Director: Doug Aarniokoski Canada 2011
Dominic Monaghan – Rick
Shawn Ashmore – Adam
Cory Hardrict – Henson
Ashley Bell – Mary
Shannyn Sossamon – Shannon
23:15 WAR OF THE DEAD (UK premiere)
In 1939 'anti-death' medical experiments were performed on captured Russian soldiers by Gestapo officers in the opening salvos of World War II. Two years later allied Finnish and American forces are on a mission to seize an underground enemy bunker on the Soviet border – but they must face attack by a far deadlier force – the flesh-hungry victims of those SS experiments. Thankfully this barrage of bullets, bombs and brains is all refreshingly free of the irony and winking that has become all too common in the modern zombie flick. With a stirring soundtrack by Joel Goldsmith (son of Jerry), WAR OF THE DEAD solely concentrates on delivering wave after wave of highly satisfying, action-packed, war punk cool living dead mayhem.
85 mins Director: Marko Makilaakso Lithuania/USA/Italy 2011
Andrew Tiernan – Martin Stone
Mikko Leppilampi – Lieutenant Laakso
Samuel Vauramo – Kolyo
Jouko Ahola – Captain Niemi
Mark Wingett – Selzman
SAT 25
11:00 EVIDENCE (UK Premiere)
Ryan decides to make a documentary on his friend Brett about camping in the Los Angeles canyons. Keeping them company are girlfriends Abi and Ashley and it all starts off well around the campfire with a few drinks. But then the noises start, weird carvings are glimpsed on trees, a naked person is seen running away and something seems to be following them… It's then the full horror is thrown at you relentlessly, until the very last frame of the incredible end credits sequence. Harrowing and uncompromising, forget everything you think that you know about the 'found footage' genre. None of it is applicable here. Just take the chill ride, let your mind be blown and try and catch your breath.
80 mins Director: Howie Askins USA 2011
Abigail Richie – Abi
Ashley Bracken – Ashley
Brett Rosenberg – Brett
Ryan McCoy – Ryan
Keith Lewis – Lone Wolf
13:15 PENUMBRA (UK premiere)
Film 4 FrightFest included Adrián García Bogliano's unique chiller COLD SWEAT in their 2011 All-Nighter programme. Now they are proud to present the director's latest bold experiment into creeping paranoia with a nasty twist. Marga, an arrogant businesswoman from Spain is on a business assignment in Buenos Aires – she must find a new tenant for her family's decrepit apartment. But what's behind the décor signals a startling fate worse than death. PENUMBRA (or GLOOM in direct translation) is a superbly realized horror entry from the Argentine talent rapidly becoming a genre powerhouse all to himself.
85 mins Director: Adrian Garcia Bogliano Argentina 2011
Cristina Brondo – Marga
Camila Bordonaba – Victoria
Berta Muniz – Jorge Kepler
Arnaldo Andre – Salva
Mirella Pascual – Ecarnacion
15:30 RITES OF SPRING (UK premiere)
In the spring of 1984 five teenagers went missing Then suddenly, the disappearances stopped. But the following spring it began again with the vanishing of a string of young girls, For the next 24 years the disappearances continued. No bodies were ever recovered. However in 2008 something happened to halt the catalogue of terror and this glossy, gruesome and gory urban legend tells that story. But as a murderous lunatic goes about the seasonal business of selecting victims for the monster housed in his cellar, four sleazy criminals are planning an audacious kidnap from a nearby estate. As one-to-watch first-time writer/director director Padraig Reynolds intercuts both stories, giving away more shocking details in each phase, it's only a matter of time before the two collide and all hell breaks loose.
80 mins Director: Padraig Reynolds USA 2011
Anessa Ramsey – Rachel Adams
AJ Bowen – Ben Geringer
Sonny Marinelli – Paul Nolan
Marco St. John – The Stranger
John Evenden – The Creature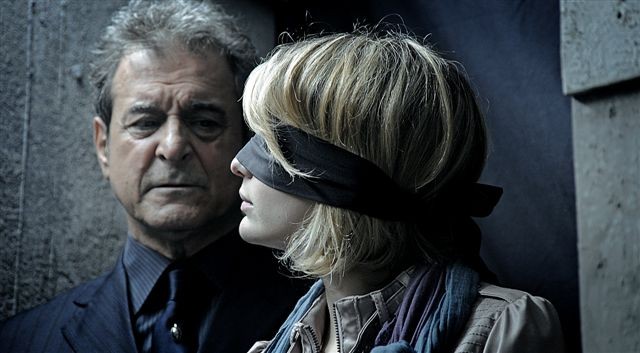 18:30 L'ARRIVO DI WANG/ WANG'S ARRIVAL (UK Premiere)
It's another dull film subtitling job day for Chinese-language interpreter Gaia when she's suddenly called up out of the blue by the Italian authorities to translate the interrogation of a mysterious captive alien from another world. called Mr Wang. What happens next will change Gaia's life forever and the entire destiny of planet Earth. A devious and sinister modern-day morality tale, this award-winning science-fiction chiller comes from latest potent creative force on the Mondo Italiano art scene, Marco and Antonio Manetti, collectively known as the Manetti bros.
82 mins Directors: Manetti bros. Italy 2011
Ennio Fantastichini – Curti
Francesca Cuttica – Gaia
Li Yong – Wang
Juliet Essy Jospeph – Amunike
Antonello Moroni – Max
21:00 CASSADAGA (UK Premiere)
From Anthony DiBlasi, the writer/producer/director of the 2009 Film4 Frightfest attraction CLIVE BARKER'S DREAD, comes a uniquely twisted disturbing nightmare. Devastated by the death of her younger sister, deaf art teacher Lily Morel seeks solace at the Florida based spiritualist community of Cassadaga. But instead of finding closure, she contacts something else – the vengeful ghost of a murdered young woman. Part Southern Gothic horror, part giallo, this shocker gains enormous atmosphere from being located in the real Cassadaga known as 'the Psychic Capital of the World'. Get ready for oppressive tension and terror in a slasher ghost story unlike any you've ever seen before.
90 mins Director: Anthony DiBlasi USA 2011
Kelen Coleman – Lily
Kevin Alejandro – Mike
Louise Fletcher – Claire
Lucius Baston – Officer Hall
J. LaRose – Heath
23:15 THE RAID (UK Premiere)
Director Gareth Evans reunites with his MERANTAU star Iko Uwais for this hi-octane skull-smashing adrenaline-pumping cult film of the year. Everyone in Djakarta knows that in the city's poorest neignbourhood there is a 15-storey building that is a refuge for the most dangerous criminals in Indonesia. Despite all the inherent problems involved, an elite SWAT force led by hard-ass cop Rama tries to bring down its defences and penetrate its core. But the operation doesn't go according to plan and the team, wind up trapped inside the labyrinth tenement block with no discernable way out – surrounded by Asia's deadliest martial artists, kingpin gangsters, major drug barons and hardened killers.
100 mins Director: Gareth Evans Indonesia 2011
Iko Uwais – Rama
Doni Alamsyah – Andi
Yayan Ruhain – Mad Dog
Ray Sahetapy – Tama
Joe Taslim – Jaka
Alan Jones, FrightFest's co-director said: "Film4 FrightFest is thrilled to be part of the Glasgow Film Festival for its seventh and biggest year. We'll be showing eleven fantastic premieres, previews and special events to shock, thrill and amaze over two days – plus those must-meet guests from all corners of the genre. So, be part of the best community spirit in the country while watching the best fright stuff currently on offer. There couldn't be a better way to delve into 2012 and ready yourselves for FrightFest the 13th in August"