The Affair, Season 1, Episode 1: "Pilot"
Teleplay by Sarah Treem, Story by Sarah Treem and Hagai Levi
Directed by Mark Mylod
Airs Sundays at 10 pm ET on Showtime
Over the past few years, shows such as In Treatment, The Wire, Fringe, and Luther have all garnered widespread critical acclaim. The newest series from Showtime brings together talents from all four shows, as Sarah Treem and Hagai Levi team up once again to create The Affair. Focusing on two couples and the toll an extramarital affair has on both, the new series stars Dominic West, Ruth Wilson, Joshua Jackson, and Maura Tierney, and uses multiple perspectives to look at the same event from different angles. The show's pilot episode indicates these talents have not been wasted, as it delivers an engrossing episode that uses its unique storytelling structure to great effect, while painting a compelling mystery populated by strong characters.
The dual narrative structure the show follows opens up some fascinating storytelling possibilities, and the pilot offers a promising glimpse at how the show might utilise them. The multiple perspectives the episode offers on the same event says a lot about each person involved, not only in terms of how they paint themselves, but also with regards to how they view the other person. This is perhaps best exemplified in how Noah paints Alison as a carefree, bold seductress during his interrogation, which stands in stark contrast to Alison's own portrayal of a woman struggling through a traumatic anniversary. Not only does this open up the possibility of both individuals being unreliable narrators to make themselves look better, it also brings into question everything the audience sees, since it's from both their perspectives, and is thus biased either way. It will be intriguing to see the show explore what this means for important events, and how they're portrayed. Situations such as Stacy's choking, and the offering of cigarettes, already hint at both Noah and Alison setting themselves up as the unwilling victim and noble individual in the situation, but as the story progresses, both are likely to find it more difficult to keep up the lies, meaning that the true account of events is bound to begin seeping through sooner or later. The retelling of situations from both sides is also intriguing in what's not said by a certain party. While Noah says Alison pointed out Peter Pan as her favourite book, Alison says she reads Peter Pan aloud to the grave of her son, and it will be fascinating to see these differences in subsequent episodes, and what it actually says about both individuals, and the people around them.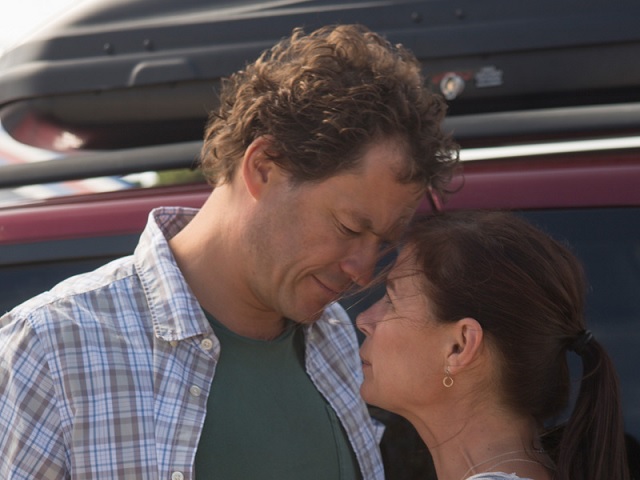 Another strong aspect of the show the pilot reveals is an unwillingness to sketch out the characters as simply victims and perpetrators. Given the nature of the story the show is trying to tell, it could have been easy for the writers to paint some individuals as good and others as bad, but the pilot veers away from such easy characterisation, instead drawing out positive and negative qualities for each character. Combined with the dual perspectives, this prevents the show from moving towards any easy conclusions about what happened and who was at fault. Combined with the apparent criminal nature of what eventually occurs, this indicates a potentially complex story that the show will tell, one that goes beyond the premise, and doesn't promise easy answers to the morally complex questions that are bound to be raised over the show's run.
The pilot also reveals a strong emphasis on showing, not telling, with regards to character development, revealing key aspects of the individuals through dialogue interactions and actions, rather than exposition. This is best illustrated in the beginning, as Noah's fitness regimen, his relationship with his wife and kids, and his profession are all revealed before his name comes up. Similarly, the relationship between Noah and his father-in-law, as well as Whitney and her grandmother, and the effect it has on Noah and Whitney, are similarly sketched out entirely through their interactions, and Alison's history at the restaurant, and the loss of her child, is also gradually revealed as she tells her story. While the very nature of the show makes these character sketches unreliable, they still serve to effectively paint a picture of the type of people Noah and Alison are, and how they choose to present themselves is, in and of itself, very telling. It will be interesting to see if this strength of the show's writing continues over the season. The unreliable storytelling will already necessitate an attention to detail for viewers, and using this method to deepen the characters and their relationships to each other is likely to make for a more rewarding viewing experience. The performances themselves are also excellent in the series premiere, with Ruth Wilson being particularly excellent, as she convincingly plays two versions of Alison that seem like nearly two different characters. Hopefully future episodes allow Helen and Cole to provide their sides of the story as well, as both Maura Tierney and Joshua Jackson have proven themselves in challenging roles as well in their prior work. This episode sets up a promising series, with strong character elements and a mystery at its centre to go with its central narrative device, and if it manages to retain the quality displayed in the pilot, The Affair will be a show well worth watching.
– Deepayan Sengupta