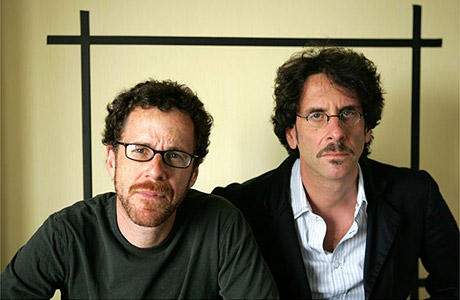 True Grit surprisingly stands as the Coen brother's biggest box-office success to date. The film opened wider than any Coen brothers film, across 3,047 venues, and yet earned a robust $8,402 per-theater average—a validation of the film's strength in the marketplace. The film's success could be attributed to several facts: The simple case of the right film released at the right time. Of course one can also argue that the Coen brother's fan base has grown since winning the Academy award for No Country For Old Me;, or perhaps audiences were desperately in need of a new "old style" western. Whatever the case, the film performed above expectations, which leaves everyone wondering what their next project might be?
There is still the possibility of adapting To the White Sea, a project they have had their eye on for quite some time but have not attempted to take a stab at it, due to the amount of money required to shoot it right. But now it seems now there are other movies in the pipeline including a pseudo-16mm documentary, and a "full-on horror movie."
Empire talked with Ethan Coen, who when asked about future plans, confirmed, "Gambit was just a writing job. It seems like the movie is going to get made but not by us; it never was to have been. Old Fink, the Barton Fink sequel, John Turturro is not old enough yet. And the whole thing may be more a thought experiment than a movie. We don't really know what we're doing yet; we're working on a couple of scripts."
When asked if he'd consider ever doing a full-on horror, as opposed to merely dabbling in the likes of Blood Simple, E. Coen replied, "Funny you should ask, yes, we're working on a couple of scripts now, one of which it would be fair to call a full-on horror movie. Frances McDormand is the monster."
Meanwhile the Coen brothers regular cinematographer Roger Deakins recently explained to CHUD about whether or not he would shoot the next film in digital as appose to film, and he replied:
"That's interesting, because they've got a project they want to look like a 16mm Ricky Leacock, D.A. Pennebaker type of documentary, so we're not sure. We talked about shooting it on film, but the other option is to shoot it digitally and make it look like old 16mm film afterwards. I don't know."
Pennebaker is one of the founding fathers of "direct cinema", the American filmmaker's adopted name of choice for "cinema verite", and perhaps its best known practitioner during the 1960s and early 70s, Pennebaker helped construct a style of storytelling and an attitude toward his subjects (often political figures or entertainers) that influenced a generation of nonfiction filmmakers. He is a proponent of a cinema which favors the filming reality in as unobtrusive a manner as possible, usually without narration. Some of his credits include Dont Look Back with Bob Dylan, Monterey Pop, Sweet Toronto with The Plastic Ono Band, Ziggy Stardust and the Spiders from Mars with David Bowie and his latest Kings of Pastry.
Whatever their choice, the Coen brothers rarely disappoint, but quite frankly I hope they make all the of the proposed ideas above.