Wonder Boys

Directed by Curtis Hanson
Written by Steven Kloves from a novel by Michael Chabon
USA, 2000

The written word is an art form that is almost as old as mankind itself. To form sentences which eventually comprise paragraphs and so on to create beauty and evoke powerful emotion in readers is a skill that not many possess. It is something that many people often overlook especially in a world that is growing more and more digital. Reading is slowly disappearing as a hobby and that unfortunate truth is explored in the very underrated 2000 dramedy Wonder Boys, a film about writers and the conflicts they experience, especially when in the process of piecing together a new book. It is a film with excellent performances, a sharp script and quirky humor.

Based on Michael Chabon's 1995 novel of the same name, Wonder Boys centers on Grady Tripp (Michael Douglas), a pot-smoking novelist and tenured creative writing professor at an unnamed Pittsburgh university. He is in the midst of writing his second novel but is having a hard time finishing it. Things get complicated when Tripp's editor Terry Crabtree (Robert Downey, Jr.) comes into town for Wordfest, the university's annual event for writers and wannabees. Crabtree is also in town to get a look at Tripp's new book. Things get even more complicated when one of Tripp's students, James Leer (Tobery Maguire), shoots and kills the chancellor of the university's dog in self defense. Not knowing what else to do, Tripp decides to protect Leer from authorities by keeping him at his house and driving him around the Pittburgh area and what ensues is a wacky adventure for both Tripp and Leer that is both hilarious and heartwarming.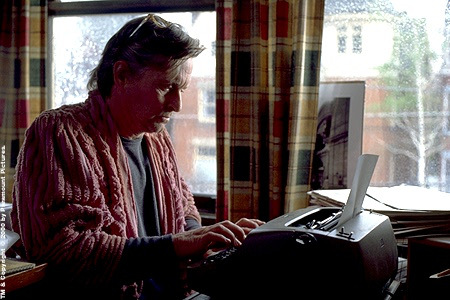 The acting in Wonder Boys coupled with Steven Kloves' fantastic script is what makes this film shine brightly. Michael Douglas is in fine form as the downtrodden writer who inadvertently takes Tobey Maguire's character under his wing. Both talented writers who learn much from one another, Tripp and Leer go on a weekend adventure, evading killer dogs, cops, bullets and elements that might ruin their writing careers. The chemistry between Douglas and Maguire is electric and their recitation of Kloves' dialogue is top notch. The mentor and his protégé endure hardships throughout the film and eventually learn and become better for it. It is a true dramedy and the film works on many levels.
On top of Douglas and Maguire's excellent chemistry is the film's equally excellent supporting cast. A pre-Iron Man Robert Downey, Jr. provides some of the film's biggest laughs as Terry Crabtree, a bloodsucking bisexual book editor with a taste for transvestites. (I believe this was one of the first movies he appeared in after his highly publicized stints in rehab.) The always reliable Frances McDormand plays Chancellor Sara Gaskell, love interest to Tripp, who is cheating on her husband, the head of the English department and Tripp's boss. Rip Torn is painfully underused as Tripp's rival and a young Katie Holmes plays one of Tripp's students who has developed a crush on the aging writer. With all of these colorful and sometimes zany characters, Wonder Boys is actually one of the best dramedies to ever come to fruition.
Fans of Michael Chabon's book and fans of smart comedies in general should find Wonder Boys to be a charming exploration into the writer's mind. Not only is it a film about writers but it is a film about friendship, love and dedication to one's craft. Each character in the film is flawed in some way and it takes the course of the picture for each character to realize exactly what they're made of and how to overcome the obstacles that stand in their way. Tripp's struggles are clearly documented and it is through the relationships he has with others and the problems he faces that he truly changes and becomes the protagonist we are all rooting for.
Director Curtis Hanson had just finished L.A. Confidential when he came across Chabon's book. He then linked up with Steven Kloves and soon cinematic history was made. Wonder Boys was assembled like a carefully made work of art, with every piece falling right into place. Even the soundtrack was crafted expertly with Bob Dylan writing and performing the film's main title song "Things Have Changed," which would go on to win an Academy Award. This soundtrack certainly set the mood with its laidback and twangy vibe. The sets and Pittsburgh locations also contributed to this vibe with plenty of natural light and strong grit. Tripp's house, itself, basically serves as a character in the film since it has plenty of personality and is where much of the action and humor takes place. Tripp's wardrobe and behavior are in sync with the house and it quite fascinating to watch.
With poor box office performance due to the marketing people behind Wonder Boys not establishing a firm demographic, the film suffered due to a lack of knowing who might enjoy the film. There was a re-release a number of months after the film's initial release and this saw a slight improvement in ticket sales. The film would go on to gain a slight cult following and some rebirth as a staple in late night cable programming. As said before, the film's greatest aspects are its cast and script. With both of these elements in concert, the film is a juggernaut in balancing both the comic with the dreary. Some might call Tripp an antihero and with Leer in tow, the two men go on a spiritual journey that neither of them expected to actually go on. With DVD and purposes of this article, the film should have some life left. Wonder Boys is a dramedy in every sense of the word and with its fantastic performances and genuine script; it is a film that should have a much better reputation than it currently has.
[wpchatai]