The Set-Up
Written by Art Cohn
Directed by Robert Wise
U.S.A., 1949
A boxer's career is a strange beast. Keeping in mind that all professional athletes eventually feel the strain caused by years of exertion on their body, boxing is a different matter altogether. The objective is, literally, to beat the other fellow up before he or she strikes one too many hits on one's noggin first. Small wonder, then, that boxers in their early to mid 30s are considered old, past their prime. One good punch however, one great right or left hook can shoot a career into the stratosphere. The problem is that for so many unfortunate fighters, they either lack the skill or the luck to land said potent strike. Of all the sports analogies that can relate to the proverbial boulevard of broken dreams, few can compare to that of the boxer, a lone man or woman that puts it all on the line under the spotlights, actually risking their physical well being in rather drastic ways for a shot at glory yet never coming close.
Such is the plight of Bill 'Stoker' Thompson (Robert Ryan) and that of his loving, faithful yet increasingly depressed wife Julie (Audrey Totter). They are currently renting out a hotel in one of the many forgettable mid-size American cities because Stoker has a fight on this night. He feels really good about himself, firmly believing that he can take the other guy out with one solid punch to the head. Few would question Stoker's power, only that, at 35 years of age, the speed and agility have passed him by, and as such, so too have his realistic opportunities at making it big in the sport. Just as he continues to believe, so too does Julie hope more and more for him to finally call it quits and retire with his mind relatively intact. Speaking of calling it quits, Stoker's manager, Tiny (George Tobias) has made a deal with the opposition that will make everyone a lot of money. The catch is that Stoker has to throw away the fight, but if Tiny lets his boxer in on the deal, that implies sharing the dividends with him, so he doesn't, fully confident that Stoker stands no chance against upstart 'Tiger' Nelson (Hal Fieberling). So begins a night with a lot running on the line.
Director Wise was, in many ways, the Steven Soderbergh of his day. He could navigate virtually any film genre and produce a terrific final movie, one that understands the nooks and crannies of said genre's tropes whilst clearly putting incredibly artistic stamps on them. Drama, crime thriller, sport (as in the case of the present film), science fiction, action, he could do it all, and do it with panache, deft and sensitivity. The Set-Up is among the earlier films that grace his extended filmography as full-on director, a career that spanned no less than five decades. While some might assume that, due to his relative youth as a filmmaker, The Set-Up might lack some of the qualities an established, confident director could sport, nothing could be further from the truth. In fact, the film is nothing short of a masterclass of storytelling.
Supported by the extraordinary director of photography Milton R. Krasner and editor Roland Gross, Wise delivers a bold tale that is as heart wrenching as it is oozing with cynicism. Take, for instance, the first ten minutes. Stoker's story is one of a man clinging to the faintest of hopes despite that reality is evidently pointing towards a different conclusion. He has somehow convinced himself into believing he can make something happen with his career, starting tonight against Tiger Nelson. It's the story of an underdog trying to capitulate the odds clearly stacked against him, only that Stoker is no youthful upstart. Nay, he is an athlete in the twilight of his career. His wife, Julie, loves him dearly, but is losing faith in his ability to see the light and refuses to attend the contest, much to Stoker's dismay. Saddened, Stoker walks across the street from their hotel to the arena and into the locker room, from where he can see the hotel room by looking out the street side window. Every minute or so he takes a peak, hoping the lights will turn off, indicating that Julie has changed her mind and decided to witness the fight. So long as those lights remain on, Stoker visibly lacks confidence and remains mostly aloof to what others have to say. It is only once he takes one last glance at the hotel room and finally sees it go dark that a subtle smile grows on his face and a little jump can be noticed in his step. None of this is communicated orally, only visually, meaning that the viewer must pay attention and understand the dynamic storytelling going on through cinematography and editing. The sequence lasts only a few minutes, but the entire movie is replete with such examples.
Juxtaposed against this simple but emotionally gripping tale of dedication and believing in one's self is an aura of disgusting cynicism. Stoker's manager, Tiny, is so confident that his man will lose the fight that he does not even bother to bring him in on the deal. Why would he? Stoker doesn't stand a chance! It would be depressing enough if Tiny actually explained the situation to Stoker, asking this 35 year old fighter to go down meekly in the third round of a tilt he has no business winning away. It is worse than that, for everyone's confidence is so low in Stoker's ability to put up a good fight that Tiny believes he'll make more money by operating the whole deal behind Stoker's back. Almost as bad are the hounds failing at coming off as human beings that populate the bleachers. They heckle, they insult, and most importantly, they let their undeniable bloodlust bring out real passion from them. Civility, apparently, has no place in the boxing arena. One is a monster both inside and outside the ring. Like a vicious cycle, the longer the fight goes on, the patrons themselves scream for more.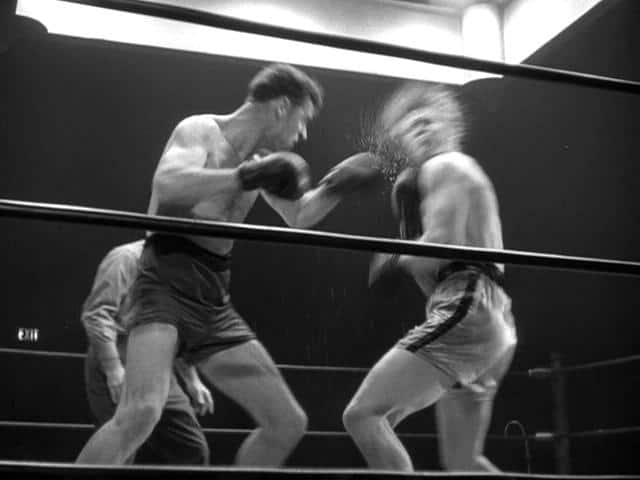 Everything culminates in the most brutally emotional and disastrous finale one can imagine. Stoker, despite all odds, defeats Tiger Nelson. What's more, upon finally understanding that he was a pawn in Tiny's gamble, he finds it in himself to muster a last gasp of energy and really lay some solid punches on his opponent, making the final round quite the emphatic victory. Stoker has defied his critics and won himself a bit more respect than he had at the start of the match. But of course, with gangsters involved in the gamble, most notably Little Boy (Alan Baxter), his victory soon rings hollow, as the gangster's goons corner him outside the stadium and beat him to a pulp, destroying his right hand in the process with a brick. Even in victory, Stoker loses, this time for reasons completely outside of his control, especially considering that he only found out about the fix in the latter stages of the fight! He was taken for a patsy, and when he defied that ignominious role, he lost a whole lot more than he could have bargained for.
The Set-Up is absolutely marvellous to behold, for its visual style, the script and the acting. While Audrey Totter, an inimitable noir staple, is not given as much to do as one would hope (her presence is mostly felt in the first few scenes and the final one), Robert Ryan exudes the sad charisma of a man practically down on his luck, weathered but still kicking with everything he has left, boasting his confidence while most don't believe it and others even want him to lose. He's happy about his odds yet oblivious of the evil forces working against him, not to mention that crowds that mock him. There is nary a false performance amongst the supporting players as well, and while few earn the screen time that Ryan does, they all make the most of their opportunities.
It would seem only fair to mention that, in the translation of the story from Joseph Mancure March's original poem to the silver screen, one incredibly important detail was altered. In the source material, the protagonist is a black man, which, certainly in 1949, would have made for a radically different sort of film (although, sadly, race relations in the United States appear to have only somewhat improved in this early 21st century). Some reasons have been divulged by the producing studio at the time, RKO, as to why Robert Ryan was hired for the job as opposed to a black actor, the merits and validity of which can be debated until the cows come home. Is it interesting to ponder what another version of The Set-Up would have been like with a black man leading it in 1949? There's no question about it. Does Robert Ryan, already an extraordinary thespian in his own right, give one of the best performances of his illustrious career? Absolutely. As such, the 'what if' scenario of this situation is tantalizing to be sure, but the film that was delivered is nonetheless aces. A knockout, if you will
-Edgar Chaput