The Sweeney
Written by Nick Love and John Hodge
Directed by Nick Love
UK, 2012
Consisting of four series and two feature film spin-offs during the 1970s, police drama The Sweeney was significantly influential in British media, popularising elements of gritty realism and morally dubious protagonists that television hadn't been quite so prone to including before. Since then, its place in pop culture has most notably been deconstructed in the BBC series Life on Mars, particularly with its caricature Gene Hunt character, a cocky, outspoken, hard-drinking, politically incorrect hurricane of a law enforcer.
Nick Love's 2012 film opts out of Life on Mars' period setting, transplanting The Sweeney's lead characters to contemporary London; it also avoids any of that show's knowing commentary. The film certainly maintains tough enforcement methods inherent in its source material and the various works it inspired, but there's not so much moral dubiousness to these characters now as there are unintentionally comedic levels of single-minded brutality, presented in an almost fetished fashion. Abrasiveness is replaced by outright mean-spiritedness and hooliganism. The grittiness of its forbearers is also missing, the film being over keen to stick to glossy, steely London cityscapes despite the nature of the Flying Squad/"Sweeney"'s line of work.
Thanks to one-note characterisation, Ray Winstone's lead is not so much an intriguing if now archetypal cop of questionable methods, but rather a posturing bully; his squad also come across less like a police unit wanting to stop crime and more like a gang eager for a fight. Still, thanks to Winstone's reliability in these sorts of enforcer roles, his performance at least provides some occasional sparks of engagement. The same cannot really be said for Ben Drew as his sidekick, nor even the usually reliable Hayley Atwell as his colleague and lover. The only performers who come off particularly well are Steven Mackintosh as just about the only character that seems based in any sort of reality, and Damian Lewis, but he barely has anything to do.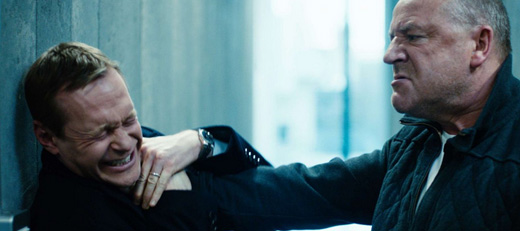 The film's favoured locales in its city scenes, combined with the draping of London in a blue palette, scream Michael Mann, as does an admittedly well-executed shootout in Trafalgar Square. Despite abandoning many of the more interesting elements of the show, the 2012 Sweeney is detrimentally in debt to so many other films to even make its generic elements have a personality of their own. A brief prison-based subplot seems to exist solely to visually reference Ray Winstone's breakthrough role in 1979's Scum. A climactic car chase in the goofy location of a caravan park, meanwhile, feels like someone watched Hot Fuzz and didn't quite realise it was a parody. This update didn't have to possess a winking tone or anything of that sort, but some self-awareness regarding its execution and characterisation would not have gone amiss.
Josh Slater-Williams
[wpchatai]