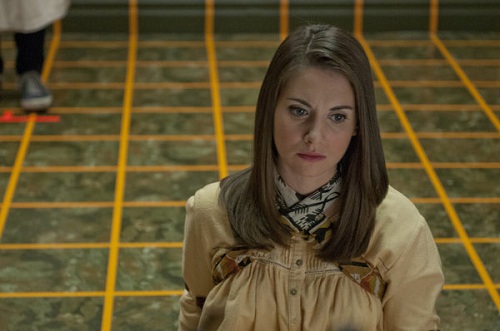 Community, Season 3, Episode 16: "Virtual Systems Analysis"
Written by Matt Murray
Directed by Tristram Shapeero
Airs Thursdays at 8pm ET on NBC
Community seems to flourish when it brings Abed's autistic tendencies to the forefront. They played a crucial factor in the recent "Pillows and Blankets" two-parter, but it's episodes like "Abed's Uncontrollable Christmas," "Critical Film Studies" and "Intermediate Chaos Theory" that "Virtual Systems Analysis" calls to mind, wherein Abed's antisocial tics inform not just the plot but the actual structure of the episodes. Whether the resulting episode is deeply introspective (as in "Film Studies" and "Systems Analysis"), appropriately cutesy ("Christmas") or merely wildly entertaining ("Chaos Theory"), it's hard to argue that these aren't singular episodes, Not just for Community, but for any recent TV show.
The cleverness with which Dan Harmon and company go about making the audience painfully aware of the conceptual tricks they are using while simultaneously pulling them off without a hitch is akin to Babe Ruth's called shot; but though Community doesn't always hit it out of the park, they're certainly on a roll at the moment. This is the fourth consecutive week in which Community has delivered an episode that manages to entertain while striving for, and attaining, something deeper.
The episode takes place almost completely in the Dreamatorium, which is to say it takes place almost completely in the mind of Abed Nadir. It's fitting that the majority of it (after Annie is found wanting as Inspector Spacetime's Constable and attempts to introduce the concept of empathy to Abed) is filtered through the guise of a primetime hospital show a la Gray's Anatomy ("Who do you think inseminated her!?"). The characters are also portrayed according to Abed's conceptions of them, which a cut to Britta and Troy at lunch reveals as eerily close to reality, while not quite ringing true. This creates some mindboggling turns where you have Donald Glover playing Troy Barnes as imagined by Abed Nadir as played by Danny Pudi. In the case of Jeff it even seems that some of Pudi's mannerisms made it through to Joel McHale's performance.
There are some moments in the second act where there is a creepy sense that perhaps Abed is trying to sleep with Annie via Jeff's avatar. It's so out of character that it's a bit jarring, but once everything comes to light in the third act and we see what Abed is really up to, it makes sense (and it also plays better on a second viewing). Abed is addressing Annie's tendency to continually flirt with Jeff despite (aside from one key exception) his continued obliviousness to her as a sexual being (and, on a meta level, the writer's tendency to fall back on this device), but the entire scene they share in Abed's locker is fantastic. From the way the show brings them together as control freaks to Abed begrudgingly letting her free him with the incorrect device, it's remarkable stuff.
Parks and Recreation, Season 4, Episode 19: "Live Ammo"
Written by Dave King & Chelsea Peretti
Directed by Tristram Shapeero
Airs Thursdays at 9:30pm ET on NBC
Parks and Recreation returns tonight with a rather unassuming episode helmed by Community regular Tristram Shapeero. Then again, in comparison to tonight's Community (also directed by Shapeero), any sitcom would appear unassuming. This is another episode which focuses on Leslie discovering that with a city council seat is going to come a lot of compromising, not necessarily something she has had to deal with at the Parks department. There, her biggest challenge has most often been making due with limited means or making something out of nothing (the Harvest Festival, for example); it's rare that she's had to figure out how to disappoint everyone in the most beneficial way.
As anyone who pays attention to the news realizes, compromise is a necessary component of the American political system. It was intentionally designed that way, and the sacrifices the founding fathers had in mind were likely more significant than adopting 32 cats and dogs. For Leslie, though, it's a start. As we've discovered this year, Leslie Knope is an idealist first and a politician second. In "Bowling for Votes," for example, she struggled to deal with someone despising her for seemingly no reason, and tonight she offers her opponent a political advantage so nobody else has to take a hit. This attempt to reconcile her ideals with the realities of running a campaign has fueled most of the drama in season four and leaves open a lot of possibilties for a season five featuring Councilwoman Knope.
Bradley Whitford turns in a strong performance as Councilman Pillner (between this episode and The Cabin in the Woods, it's been a very Bradley Whitford kind of week). Perhaps the highlight is his reaction when Andy manages to get one of his model ships out of its bottle. They continue to develop April's character in what has been a banner season for Audrey Plaza; her disappointment at the failure of her pet adoption program is evidence of just how far April has come since season one. It's nice to have Parks and Community back together again. Is there anyone out there that isn't dying to see next week's debate?
Note: I really don't have a whole lot to discuss in regards to this week's 30 Rock and I'm running late with the column so I'm just going to let it go. I plan on covering the live episode next week and after that we'll play it by ear.

Justin Wier
Chat Box - Go ahead, make my day and ask me questions about movies and TV shows...