Clouds of Sils Maria
Written and directed by Olivier Assayas
Switzerland/Germany/France, 2014
"Everything is hitting me at once," announces Maria Enders (Juliette Binoche), just minutes into director Olivier Assayas' English-language film Clouds of Sils Maria. It's a subtle line that quickly introduces us to the frazzled female headspace that Assayas and Binoche have jointly crafted in this Bergman-esque melodrama. Representing a minor change of pace for Assayas, whose prior film Something in the Air (2012) found the director working back in his comfort zone with a youthful period drama, Sils Maria plays like a disappointing relative to the director's brilliant Irma Vep (1996). Where Irma Vep boasted radical textures, doubling as a crackling satire of French cinema culture and a pulsating experiment riding high on the fumes of its own coolness, Sils Maria is at times wispy and insightful, but its familiar thematics are more taxing than absorbing. Expectations usually run high with Assayas, a critic's darling and established auteur for some time, but his latest is an inert misfire that never quite finds its proper footing.
Dealing with the collective anxieties of the acting world viewed through the clashing of different generations and the unexpected arrival of a past role creeping back into the present, Clouds of Sils Maria functions as both a playful and frustrating meta-text on celebrity, aging, and personal relationships. The film's chattiness is its main draw, and if you're easily won over by talented actresses verbally dueling it out for two hours, Sils Maria will likely win you over from the onset.
An extended opening sequence on a bumpy train through Europe is the automatic cue for the film's series of two-handed conversations between Enders, an international star at the peak of her success (much like the real life Binoche), and her hip and trustworthy personal assistant, Val (Kristen Stewart). The two share natural chemistry as their relationship slowly evolves into something more than Val serving as an advisory board for Enders. Dealing with a nasty divorce and the recent death of playwright and mentor Wilhelm Melchior, who vaulted Enders to stardom two decades ago, the bulk of the cross-generational interplay arrives when Val advises Enders to star in the revival of Melchior's play "Maloja Snake," now spearheaded by talented German theater director Klaus Diesterweg (Lars Eidinger)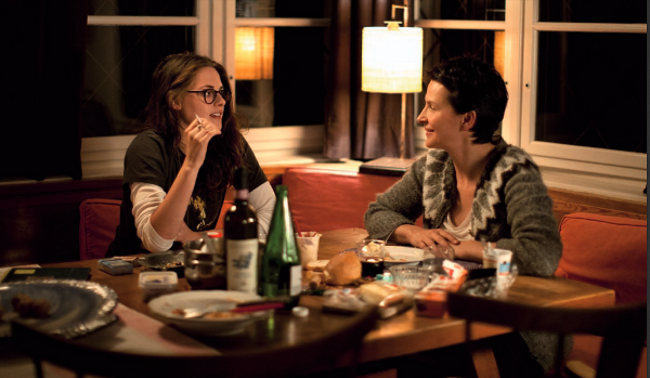 The play pits Sigrid against a woman twice her age, Helen, who has become obsessed with her. Part of the ostensible drama stems from Enders' dubious decision to accept the role of Helen, which she played opposite of twenty years ago. Now facing her own mortality and threatened by the emergence of the young American actress, Jo-Ann Ellis (Chloë Grace Moretz), who's playing Sigrid and is also a TMZ goldmine, Enders and Val retreat to Sils Maria, a remote region in the Alps. During their getaway in the beautiful mountain valley, the film morphs into a chamber drama á la Persona.
The proceedings are accompanied by the usual Assayas lightness, as this middle section features the actress and assistant hiking, smoking, and performing constant line readings. There's dreaminess to this portion that towers over the rest of the film; scenes are often punctuated by fades to black, a reoccurring motif that extenuates the theatricality of the entire project. Binoche and Stewart are wonderful at locking horns, especially since their dialogue serves as a comment on the pair's sexually charged dynamic. We're often left unsure whether their verbal sparring figures into the play within the film or if it speaks to their mutual muted desires. Stewart, who's received the groundswell of the film's praise since Cannes, naturally holds her own and isn't dwarfed by her elder co-star.
The film's visual splendor is scarce given the repetitive scene construction, but takes shape when we finally see the real Maloja Snake – a meteorological formation that sends winding clouds through the lined mountains. Just as the clouds will eventually dissipate, so does the mystery and drama surrounding these characters. Assayas never manages to challenge us past the usual fears of an actress weighing her glorious past and her unknown future. Uniformly well acted and directed, the Assayas faithful will no doubt find pleasure in unearthing the supposed layers on display here, but Clouds of Sils Maria is largely a half-realized and muddled head-scratcher.
— Ty Landis
Visit the official website of the Toronto International Film Festival.
Chat Box - Go ahead, make my day and ask me questions about movies and TV shows...