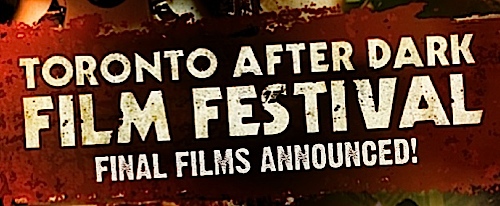 Toronto After Dark has announced the final films added to their 2012 line-up. You can see the list below. Also, check out the awesome t-shirt designed for the event (seen below), exclusively by award-winning artist Ghoulish Gary Pullin! The festival is planning to reissue the shirt for sale to fans attending this year.
****
THE FINAL 11 FEATURES ANNOUNCED!
American Mary (Canada) Canadian Premiere!
In this new festival circuit sensation from Jen and Sylva Soska aka The Twisted Twins, a disillusioned medical student (Ginger Snaps star Katherine Isabelle in a standout performance) decides to ply her trade in the shady underworld of unregulated surgeries and body modification with horrifying consequences.
Cockneys Vs Zombies (UK) Canadian Premiere!
When a bunch of East End bank robbers find themselves caught in the middle an outbreak of the undead on the streets of London, it's every gangster for himself. One part Shaun of the Dead, one part Snatch, and loaded with outrageous zombie kills, the latest hit zombie comedy from Britain is a shotgun blast of fun from start to finish!
My Amityville Horror (USA)
In this genuinely chilling and disturbing new documentary, almost 40 years after the most infamous alleged haunting in American history, Daniel Lutz who was just a young boy at the time, finally breaks his silence and tells his side of the story of the supernatural events that took place in his family's Amityville home.
Crave (USA)
With echoes of Taxi Driver and Fight Club, this award-winning directorial debut film from Blade Runner Special Edition producer Charles de Lauzirika sees a mentally unstable crime scene photographer spiraling into darkness, madness and violent vigilantism on the gritty streets of Detroit. Also features a fantastic supporting turn from Ron Perlman (Hellboy) as a grizzled cop whose seen more than one murder too many.
Inbred (UK) co-presented with Rue Morgue Cinemacabre
With nods to the Texas Chainsaw Massacre and Deliverance, this over-the-top gory British horror film finds a group of inner-city kids and their counsellors on a field trip fall prey to a rural village's inbreds and their uniquely violent form of hospitality. Warning: not for the weak of stomach!  Trailer
Grave Encounters 2 (Canada/USA) Canadian Premiere!
Chilling found footage of a TV crew being haunted to their apparent deaths by supernatural forces inside an abandoned mental institute made the original Grave Encounters a youtube sensation. In this even scarier follow-up, a young documentary filmmaker obsessed with finding out what really took place at the institute persuades a group of his friends to help him break into the building at night and record whatever they find.
Citadel (Ireland/UK)
Following an unprovoked attack by a mysterious group of hooded thugs, a young father finds himself paralyzed by fear and unable to leave his home. To compound his nightmare, the local priest warns him that the hoodies will be back one day to claim the child. A terrifying film, dripping in palpable fear, Citadel was a deserved winner of the Midnighters Audience Award at this year's SXSW Film Festival.
Game of Werewolves (Spain)
When a struggling young writer returns to his remote village home after years away in the city, he's shocked to discover it's become cursed by werewolves and also that he might just be the only one who can stop them. Fantastic old school effects, great werewolf fight scenes and kills, and an endearing misfit hero makes multiple Audience Award winner Game of Werewolves an absolute delight for fans at every festival it plays!
In Their Skin formerly known as Replicas (Canada)
In this intense, dark home invasion thriller that drew glowing reviews from the Tribeca Film Festival, a young husband and wife (Hellboy's Selma Blair in a standout performance) and their son find themselves in a fight for their lives with another similar aged family who have taken them captive at their vacation home.
Resolution (USA)
Any attempt to describe this film would in too much detail would be to spoil it: Creepy photographs, bizarre found films, mysterious caves, possibly supernatural forces at work, and too many twists and turns to mention. If you like watching unique films unlike any you've seen before, then look no further than Resolution, a one-of-a-kind horror movie that took the Tribeca Film Festival this year by storm. Just come see it and be equally blown away!
After (USA) Canadian Premiere!
In this fascinating dark fantasy with shades of Silent Hill and The Mist, two bus crash survivors awake to find themselves the only people left in a deserted small town. Even worse, they only have a limited number of days left to solve the mystery of their predicament, as a dark black cloud is advancing from all sides, and within its mist are some hostile creatures!