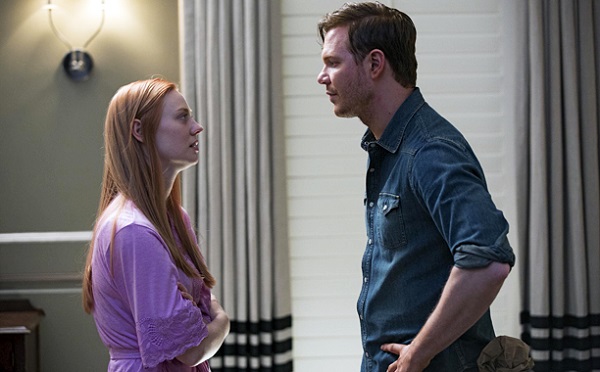 True Blood, Season 7, Episode 8, "Almost Home"
Written by Kate Barnow
Directed by Jesse Warn
Airs Sundays at 9pm EST on HBO
On this week's True Blood, Sookie seeks the newfound Hep-V cure for Bill, Hoyt reunites with Jessica, Tara makes peace with her mother, and Pam and Eric learn a few business tips.
Last week's True Blood was very slow in a dull way, but "Almost Home" rectifies last week's lack of intriguing story by simultaneously wrapping up a few loose story threads, tossing in several heavily-reflective character moments, and setting up the season's–and the series's–final two episodes.
The best moments of the episode include Hoyt whose return to Bon Temps is filled with plenty of emotion and sweetly subtle character development. Still clueless about his past, Hoyt serves mostly as the catalyst for Jessica and Jason to reevaluate where they are in their lives and what they've done in the past. After the mess that was the Hoyt-Jessica-Jason love triangle several seasons ago, it's heartening to see Jessica and Jason look back on said relationship and reflect on what they mean to each other. And props to Deborah Ann Woll for how beautifully she plays Jessica's reunion with Hoyt. There are so many layers to that relationship, but Woll mostly focuses on how happy Jessica clearly is to see her former lover, and it's a treat to watch (especially the scene where Jess and Hoyt "meet" again).
Luckily, Hoyt's return also signals the end of Violet's too-long run on the show. Her devised torture methods for Jessica, Jason, Wade, and Adilyn were truly horrific, even for a show as frequently violent and gory as True Blood. And Violet was always a bit of a weak character who easily overstayed her welcome. Unfortunately, Hoyt's girlfriend Bridgette seems poised to replace her. Her stupidity (i.e. following a cop toward danger to escape a fight with Hoyt) is incredible, and the show clearly wants to pair her with Jason. At best, Bridgette is an unnecessary inclusion, especially so close to the show's end. A better move would be to leave the womanizing Jason alone rather than forcing him with a new woman at the last minute.
Speaking of stupidity, Sookie risks her life (again) and the lives of Eric and Pam (again) seeking the cure for Bill, and her recklessness didn't even get results. It'd be funny if it weren't so frustrating and tragic. Bill's reasonings for refusing the cure are obvious, but that doesn't make them any less hard to swallow. The show may yet kill Bill off, but it'd be much more satisfying to watch him go out on top rather than meekly dying because of a curable disease.
Finally, Tara exits the show, though her final episode feels a tad disappointing. Instead of sending the character off with an emotional funeral, the show sends Lettie Mae and Lafayette on a seven-episode hallucinogenic V binge just so Tara can apologize to her mother for not killing her father? After so much confusing and ridiculous build up, the end of Tara's storyline is nothing short of disappointing and vaguely stupid. Also, it's not clear why Lafayette and the Reverend needed to be present for most of the storyline, either. The best to say about that particular storyline is that it's finally over.
"Almost Home" is a fittingly reflective episode, given how close it falls to the end of the series. There are only two episodes in the series left, and it seems like the story is nixing excess storylines and closing in on the remaining survivors–and main characters–of the series.
Bonus: The end credits song is "Almost Home" by Moby, featuring Damien Jurado.
Ashley Laggan