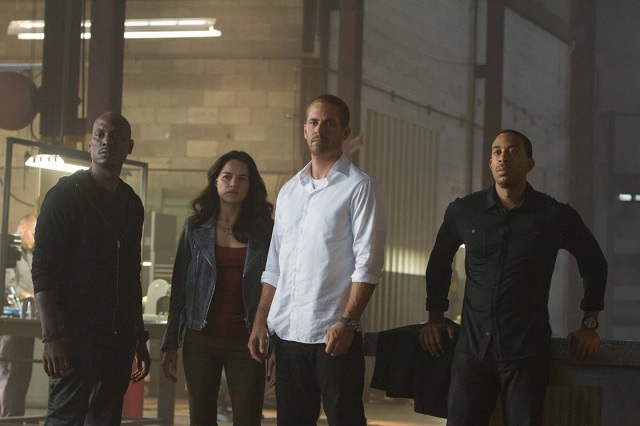 The Fast and Furious franchise continued to prove its commercial success this weekend, as the latest installment, titled Furious 7, won the weekend box office in its debut. The film, which saw James Wan take over directorial duties from Justin Lin, earned $143.6 million over the weekend, making it the first film of 2015 to have an opening weekend gross of greater than $100 million, and the biggest opening of the year so far, handily beating out previous top spot holder 50 Shades of Grey. The gross also puts Furious 7 as the fourth-highest grossing film of the year already, ahead of Matthew Vaughn's Kingsman: The Secret Service.
Furious 7's opening left the rest of the box office in its wake, as last week's winner Home earned $27.4 million this weekend, which was good enough to land it in second place. The Will Ferrell-Kevin Hart comedy Get Hard rounded out the top three with $12.9 million, which was a drop of over 60% from its opening weekend gross, the highest among the top ten. Indie horror It Follows and the aforementioned Kingsman: The Secret Service continued their strong runs, with the former continuing to place in the top ten as it landed in sixth place, while the latter ended up in eighth place, continuing its eight-week streak of placing in the top ten.
Among limited releases, the biggest opener was the Helen Mirren-starring The Woman in Gold. The film earned $2 million in its opening in 258 theatres, garnering a PSA of $7,767 and landing the film in the week's top ten at seventh place. The Anton Yelchin-Olivia Thirlby film 5 to 7 also made an impact in its opening weekend, earning $19,600 in two theatres for a PSA of $9,800. Hal Hartley's newest feature Ned Rifle earned $3,000 in four theatres alongside a release on streaming platform Vimeo, garnering it a PSA of $750, while the Emma Thompson-penned Effie Gray made $150,000 in 201 theatres, giving it a PSA of $746.
The top earners at the US box office for the weekend is as follows:
Furious 7 — $143,623,000
Home — $27,400,000
Get Hard — $12,925,000
Cinderella — $10,289,000
The Divergent Series: Insurgent — $10,000,000
It Follows — $2,465,000
Woman in Gold — $2,004,000
Kingsman: The Secret Service — $1,700,000
Do You Believe? — $1,500,000
The Second Best Exotic Marigold Hotel — $1,000,000
[wpchatai]