10. The Leftovers
There have been a number of new and returning shows that have enthralled, horrified, excited, and caused numerous other emotional reactions among the viewing public. However no show, new or old, has left an impression as deep as that of HBO's The Leftovers. While the series' 10 episode first season ended its run in early September, its impact has lasted much longer, making it a strong entry in the list of the best shows of 2014.
The key strength of The Leftovers is its seeming disinterest in what caused the event at the center of the show. The series' decision to focus on the effect rather than the cause not only sets it apart from nearly everything else on television, it also helps develop the show's wide swath of characters. In addition, putting the disastrous event as the backdrop, rather than at the forefront, allows the audience to transplant any major catastrophe in its place. The departure is a way for the show to explore how people react to a disaster, but the actual disaster could really have been anything. This focus on the aftermath makes the show compelling viewing for everyone, and its ensemble group of characters and exploration of differing reactions helps show the range of emotions that would accompany such a disaster, rather than limiting it to a single person or core group.
None of which would matter, however, if the show's cast and characters weren't unique and fascinating all on their own. From stalwart veterans such as Ann Dowd to surprising newcomers such as Carrie Coon, the performances in the series have been excellent from start to finish. Perhaps the best example of this is Christopher Eccleston's Matt Jamison, a character who could have been easily mishandled on a lesser show. In the hands of Eccleston and the writers, however, Matt becomes a nuanced, sympathetic character whose perspective is clearly understood, even if it isn't agreed on by the viewers. The strongly written characters, bolstered by great performances, and topped off with a focus on effect rather than cause, all combine together to create a fantastic show that's among the very best that television had to offer in 2014. (Deepayan Sengupta)
9. The Good Wife
After reaching their fourth or fifth season (sometimes even before that), most network shows become content to sit back, let the status quo reign, and pump out episode after episode of repetitive dreck. The Good Wife is not most network shows. In 2014, after already blowing up the show's core dynamic by having Alicia Florrick leave the firm that got her back on her feet to start her own firm, creators Robert and Michelle King brought even more dramatic changes to their show. The shocking death of Will Gardner in a courtroom and its aftermath completely altered the makeup of the show, bringing series-best (and for some, career-best) performances out of the whole cast. And that was just the fifth season; thus far in the sixth season, the show has made the normally unflappable Cary Agos an absolute wreck after his stint in prison and had Alicia choose to run for States' Attorney.
Sure, the familiar elements are still there: amazing recurring guest stars, that trademark Eli Gold sass, those now-classic Diane Lockhart eye rolls, and Alicia continues to be the most magnetic lawyer in television history. But the Kings' willingness to consistently shake up the status quo and keep the narrative dynamic, along with the quality in writing, acting, and directing it has produced, is what has made series more than just "good for CBS." In its recent episode about Cary's trial, the show followed the trial through the eyes of the judge, a jury member, and the prosecutor, before finally returning to the perspective of Cary. What other network drama would experiment with such narrative audacity? With Mad Men sidelined for half of the year, and Breaking Bad finished, The Good Wife has suddenly become Sunday night's must-see drama. With its fifth and sixth seasons reaching such incredible heights, it's easy to see why. (George Morvis)
8. Transparent
There are many things I could praise about Transparent, Jill Soloway's new Amazon series about a 70-something father who decides to finally come out to his children as transgender. I could talk about Jeffrey Tambor's beautiful and incredibly complex central performance as Maura. I could talk about the outstanding supporting cast, led by Gaby Hoffmann as Maura's youngest daughter, messily going through her own issues with sex and sexuality. I could talk about the emotional intimacy Soloway and her team expertly explore in each episode, a mostly quiet but arresting way of balancing sentimentality and intensity. What's most impressive about Amazon's first true TV success story, though, is the way is consistently transcends expectation. Not only by being narratively unpredictable, but by telling the story of one transgender woman and making it simultaneously universal and achingly specific. Though the transgender community is so under-seen in media, the show doesn't try to be a perfect representation for all trans people. This isn't a transgender story, it's a story about Maura and her family, which allows Soloway to make subtle but grand social points without preaching, for everything is contained within a sharp character study of a complicated, imperfect ensemble. Following the Pfeffermans around as they try to come to terms with Maura's revelation and deal with their own issues can make you like them and hate them within the same episode, the same scene. But the writing and the presentation are eminently thoughtful and truly humanist, by turns absolutely hilarious and devastatingly sad. It's one of the richest shows of the year, using intimacy and specificity to give us something much larger, leading us, and the characters, toward personal discovery and emotional catharsis. (Jake Pitre)
7. Broad City
Based on a web series of the same name, Broad City made its television debut on the Comedy Network in January 2014. Energetic, surrealistic, and anarchic, the show is about two 20-something slacker best friends trying to make their dreams come true in New York City. A sort of feminine twenty-first century re-invention of Neil Simon's The Odd Couple, Broad City adapts this premise of head-butting friends with drugs, tech, and boobs. In contrast to similar female shows of this ilk, Broad City portrays the varying shades of intensity and intimacy of female friendship, while simultaneously making fun of it. Abbi and Ilana are the anti- "cool-girls", and their paranoid, chaotic, but ultimately well-meaning worldview informs their fever dreams and misadventures. The show thrives on dream logic, and this subconscious energy leads to genuine suspense built on unpredictability. The film's sense of anarchy, though, contrasts beautifully with the mundane nature of Abby and Ilana's lives. It is not the situations themselves that are absurd, but how these two young, obviously passionate and creative women infuse absurdity into the ordinary. The show works in both individual moments and as a cohesive whole, the overall struggles of the characters often emerging out of social pressures. In varying stages, the show tackles questions related to race, gender, sexual orientation, and class, all packaged in an invigoratingly youthful package. The film's final episode of the season, "The Last Supper" (featuring Amy Poehler, also one of the show's executive producers) stands out as among the funniest and darkest episodes of television of the year. It's Abbi's 26th Birthday, so Ilana takes her to a fancy-ass restaurant to celebrate. What ensues is a series of increasingly hilarious and cringe-worthy scenarios (including the most disturbing presence of a condom in the history of television) that beautifully illustrate both the difficulty of integrating into the adult world and the sheer absurdity of adulthood itself. (Justine Smith)
6. Game of Thrones
Season four of Game of Thrones upped the ante by staging massive fantasy sequences, expanding on the world of George RR Martin, and continuing the story of the ever shrinking Stark brood. Arya is a wandering soul who learns the thrill of the kill, Jon learns to be a leader during a massive battle, and Sansa descends into darkness for the sake of self preservation. Meanwhile, the Lannisters experience a massive shake up within their own twisted brood as Tyrion finds himself at the mercy of his own father, and vice versa, by the end of the season. Despite bumps and stumbles along the way, season four is absolutely satisfying and filled with incredible twists and turns, many of which garnered heavy debate among fans and critics alike. With many of the characters split at opposite ends of the land, we're witness to a shocking death, a massive battle waged between two former lovers, a gut wrenching trial, a vicious assassination, and a much talked about, incredible fight that book ends the season. (Felix Vasquez Jr.)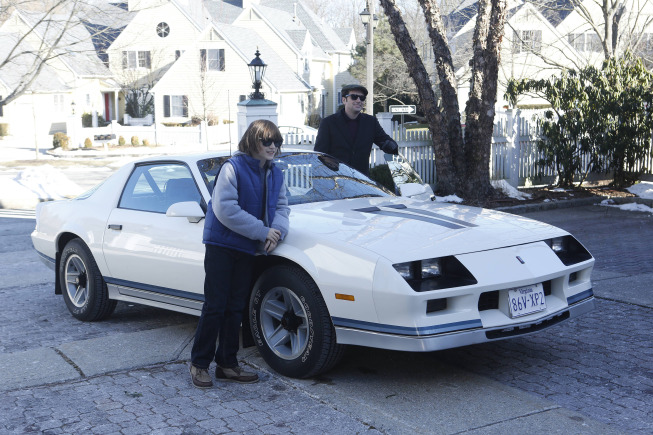 5. The Americans
After the off-the-rails bat-shittery of
Homeland's
second season, the debut of
The Americans
was a revelation. When
Homeland
went from feeling like
24
for grown-ups to being a soap opera without much appeal to anyone older than Dana Brody, first-time creator Joe Weisberg stepped in with his adult-in-the-best-sense Cold War-era drama to bring back hope for mature spy thrillers on TV.Still, it took a second outing to discover just how deeply Weisberg could extend his premise. The relationship between Elizabeth and Phillip, the physical aspect of which was memorably depicted in the season opener, turned into one of the most complex, fascinating, and believable marriages on TV. Paige's turn towards Christianity, Henry's fixation on video games, and the challenges their interests imposed upon their parents were the sort of middle-class concerns that families with and without KGB affiliations face. Elizabeth and Phillip are an exceptional couple, but many of their struggles are most notable for their mundanity.
Of course,
The Americans
is a thriller at heart, and the second season hardly skimped on the show's more nail-biting aspects. The constant cat and mouse game with Agent Beeman never failed to be riveting and Larrick made for a compelling villain. Even better, the appeal of the show's espionage-heavy scenes never felt disconnected from the domestic strife—we cared about Elizabeth and Phillip because we understood them as people, even as we witnessed their horrific and gruesome actions.
The Americans
is a show that raises your blood pressure and tugs at your heartstrings, often in the same scene. (Max Bledstein)
4. Fargo
The series based on the Coen brothers' film of the same name is not a pale imitation of the Oscar-winning dark comedy. Noah Hawley's Fargo retains much of the movie's idiosyncratic tone and Minnesota setting, though it's centered around a completely different "true crime". The series is filled with allegories and digressions and powered by tour-de-force performances from Billy Bob Thornton as the enigmatic baddie Lorne Malvo, Martin Freeman as the corruptible insurance salesman Lester Nygaard, and newcomer Allison Tolman as Deputy Molly Solverson, the determined police officer looking to solve a series of murders she believes may be linked. There's a batch of eccentric characters and a dozen or so excellent supporting roles throughout, most prominently Molly's would-be partner Officer Gus Grimley, played by Colin Hanks, but it's the gorgeous cinematography, memorable scoring, thoughtful script, and stylish direction that elevate this material from retread to exploration of the power of almost mundane decency against even the most charismatic and grandiose evil. Fargo (2014) is a dark, rich, occasionally funny parable about life and death with plenty of plot twists to keep you guessing, and the end result is a series that feels somewhat familiar, but is wholly original. (Kate Kulzick and Ricky da Conceicao)
3. True Detective
There are a few words that come to mind as one watches True Detective: tense, dark, metaphysical, melancholic, depressing, etc. Sure, all these words work, but all in all, the first season truly embodies a single word: brilliant. If you aren't a believer in the McConnaissance, this will surely convert you. Woody Harrelson and Matthew McConaughey, each harnessing a dark side that teeters on disturbed, excellently play the two leads. Though each resembles a different kind of detective, they do eventually share a deep connection to their case of a twisted serial killer, beyond merely doing their job. The show shines further through its focus on the cosmic relationship of good and evil, or specifically good versus evil.
Writer and creator Nic Pizolatto and director Cary Joji Fukunaga maintain their respective roles throughout, forming a consistent quality to the show, minimally missing the mark. The format of eight episodes contains more development of character, plot, and setting than most shows accomplish in a full season of twenty-two episodes. The strength of the show lays in the depths each episode took to feel like a procedural cop drama and an existential horror tale at the same time. True Detective embodies the atmosphere and borderline mythos of an H.P. Lovecraft story and the layered plunging of the human psyche from a Franz Kafka novel. HBO has another hit drama on their hands that will become increasingly more interesting, as it was revealed that each season would be a stand alone story, ala American Horror Story. With the success of True Detective, the standalone anthology style could become more widespread. In this case, less is definitely more. (Anthony Spataro)
2. Mad Men
In many ways, during the first half of its seventh season Mad Men remained the same (great) show it has always been. A tortured Don, with a reluctant wife in California and unwilling business partners in New York, continued to lead a mess of a personal and professional life. His Machiavellian partner Jim Cutler, with some help from a hesitant Joan and Roger, sought to maneuver around him and tried to restructure the company yet again. The show also periodically checked in Don's ex-wife Betty, still a horribly miserable person. And Peggy Olson, continually the show's MVP, had to put up with her idiotic new boss, Lou Avery, in the same way that she had to deal Don in the past. From the existential angst to the corporate power-plays, excellently played by the multitalented cast, it was Mad Men as usual, just with increasingly funky clothes. At the same time, however, the show expanded to accommodate some weird, fascinating stuff, in content if not style.It was a strange beginning to 1969 for the characters of Mad Men, who witnessed everything from Kubrickian supercomputers to nipples in boxes, hippie communes, moon landings, and even hallucinogenic dance numbers! In such an unstable world, where nothing makes sense, people are forced to turn back to the things dearest to them, and that's exactly what these characters did: This season, friends gathered together to watch the first moon landing; Sally Draper had a heartwarming, reconciliatory dinner with her father; Don, Peggy, and Pete, past troubles behind them, shared burgers together as a family; most beautifully, Don and Peggy danced together to Frank Sinatra's "My Way," in probably the most perfect scene the show has ever done. Amidst all the madness, this little collection of ideal moments elevated Mad Men, making it one year's best once again. (Antonio Jose Guzman)
1. Hannibal
Bryan Fuller's
Hannibal
wowed critics and viewers alike in its debut season by creating an almost entirely unique experience for contemporary television.
Hannibal
does not fit neatly into any one genre and its storytelling techniques elevate it in a way that is sometimes used hyperbolically when referring to art: it transcends the medium. But no description is more apt for
Hannibal
, which is a series less concerned with providing a linear narrative on a weekly basis than it is with making the viewer feel deeply in certain ways (horrified, stunned, devastated, intrigued). Few things on television are
as thought-provoking
and even fewer are as aesthetically nuanced and frankly breathtaking.
These accolades could be applied to both of
Hannibal's
seasons thus far, though. What makes the second season of the series so remarkable is how Hannibal managed to
re-invent itself
to accommodate the direction of the plot. With Will Graham behind bars and convinced that Hannibal Lecter put him there, the dynamic that defined the first season blew up. Instead of watching a budding relationship built through shared experience, viewers witnessed Will play Hannibal's game as everything around him fell apart, losing friends and loved ones in the process. The culmination of the down-the-rabbit-hole story (which featured superb additions to the cast of characters in the forms of Michael Pitt's Mason Verger and Katharine Isabelle's Margot Verger) was a season finale that will go down as one of television's finest hours ever.
"Mizumono"
not only displays
Hannibal's
greatest strengths, it shows what television can ultimately accomplish, even within the constraints of the broadcast network form.
Some of Hannibal's interests and eccentricities may turn off as many viewers as it attracts—the series is certainly far from a ratings hit—but in a period of abundant quality television programming, Hannibal pushes boundaries and sets standards where other series are content to settle for mediocrity. The second season of the series emphasizes those goals, making it not only the best season of television in 2014, but also one of the best seasons in the history of the medium. (Sean Colletti)
Here are the other nominated series and miniseries that didn't crack our top 30:
24: Live Another Day, Sherlock, The Legend of Korra, BoJack Horseman, Jane the Virgin, Nathan For You, Boardwalk Empire, Enlisted, House of Cards, The Affair, Attack on Titan, Garfukel & Oates, Masters of Sex, Penny Dreadful, Looking, Archer Vice, Orphan Black, Over the Garden Wall, Community, The Mindy Project, Olive Kitteridge, Key & Peele, Girl Meets World, The Walking Dead, Peaky Blinders, Outlander, Sons of Anarchy, Switched at Birth, The Strain, Suits, Gravity Falls, Doctor Who, Playing House, Justified, Bates Motel, Cosmos: A Space-Time Odyssey, Trophy Wife, Face/Off, Faking It, Happy Valley, Person of Interest, The Roosevelts, Jeopardy, Parenthood, Scandal, Blackish, Helix, Modern Family, The Eric Andre Show, The Originals, American Horror Story: Freak Show, Sleepy Hollow, The 100, The Comeback, The Killing, Halt and Catch Fire, Homeland, The Big Bang Theory, The Middle, Z Nation, How to Get Away with Murder, Jim Henson's Creature Shop, MasterChef, The Birthday Boys, The Newsroom
[wpchatai]