20. Girls
The third season of HBO's Girls is very much one of renewal and reinvention. Characters who find themselves at highs or in happy situations at the end of the previous season are quickly brought low, while others are finally free to soar as the season goes on. Coming off of the high of season two's over-the-top (but nonetheless touching) finale, season three has the thankless job of bringing everyone back to reality. Charlie and Marnie are broken up, Ray and Shoshanna are broken up, and Hannah and Adam are seeing that their reconcilliation may be more short-lived than they imagined. Meanwhile, Jessa has finally reached the bottom of the barrel and is no longer free to live her indulgent and presumptuous lifestyle.
Life has a way of complicating things and so do the people in our lives, and further still, so do we, ourselves. What has always made Girls such a strong show is its honest depiction of these facts. None of these characters are perfect and some of them are downright unlikable a lot of the time. Often this is cited as a weakness for the show, but like Six Feet Under, Community, The Sopranos, or Seinfeld, Girls doesn't fold on its characters' weaknesses—it soars with them. Never was this more clear than in its third season. (Mike Worby)
Veep's third season was not only its best, it was consistently hilarious enough to put it in conversation as one of the great sitcom seasons in recent memory, holding its own joke for joke against the highlights of 30 Rock and Arrested Development. Armando Ianucci and company's one-liners were as sharp as ever, but the jump in quality was mostly due to the increased stakes for Selina and her team as she prepared to run for president. Some viewers criticized Veep for its characters never taking a political stand on any issue, but as this season's episodes about abortion rights and primary debates prove, Selina's office totally precludes her from ever saying what she believes. That frustration manifests itself on Julia Louis-Dreyfus's face in a thousand amazing ways, proving that she is the greatest comic actor of her generation. The tension builds and builds, and is finally, gloriously released in a bathroom stall, as it sinks in that she is finally the most powerful person in the world and still can't stop Gary's stupid nosebleed. (Bryan Rucker)
18. Arrow
After a strong start to season two in 2013, Arrow continued to grow this year and kept the momentum going well into the remainder of its run, comfortably cementing its position as the best superhero show on TV. The action scenes – so important in a show like this – pay off most of the time with fast, well-choreographed fights and some truly excellent set-pieces. The flashbacks continued and fed nicely into the current-day story, which built into a fantastic final batch of episodes. Arrow has a fairly large cast now, but each member had a satisfying arc, most of them dovetailing nicely at the end. It's great to see Oliver's team developing from one-man-vigilante into something more, and with the debut of sister show The Flash, the pool of characters (and the world they inhabit) has expanded considerably.
Arguably the show's biggest problem – villains of the week – was addressed head on, both through Oliver's new "no killing" mantra (leaving them open to return in various ways) and by building certain baddies up slowly over time. Ra's Al Ghul and Brother Blood, for instance, were an organic part of the narrative rather than just fodder for the Arrow to beat on, whilst Wade Wilson nearly stole the show every time he was on screen. It's early days for season three, but the quality remains high, with new addition Brandon Routh being a particular highlight, and the change in location for Oliver's flashbacks is much appreciated. If the strong plotting, entertaining characters, and kinetic actions scenes continue, there's no doubt Arrow could have its best season yet. (Tariq Ashkanani)
17. Rectify
Rectify doesn't play by the same rules that most other shows on television do. It embraces stillness and patience, contemplation and meditation. It's a southern gothic told with the sensibility of an independent film — a truly independent film, not one of the fake indies that studios use to angle for awards attention. For its part, Rectify receives little awards consideration, and that's no surprise. It thrives on subtlety, and is almost never showy. And yet its slow burn over the course of this year's season led to some extraordinarily wrenching emotional peaks. The story of the suddenly-free death row inmate Daniel Holden and his family probes issues of faith, memory, perception, redemption, and the basic worth of human beings with vivid empathy. Rectify embodies grace like few other things in entertainment right now, regardless of the medium. (Daniel Schindel)
16. Rick and Morty
After Dan Harmon's firing from Community, everyone wanted to know what the show's tortured genius creator was going to do next, and he did not disappoint. Co-created with Channel 101 alum Justin Roiland (who also voices both of the title characters), Rick and Morty is an obscene and surreal take on Back to the Future, shaken with elements of Futurama and Douglas Adams. Alcoholic mad scientist Rick and his socially stunted grandson Morty travel through dimensions and alien worlds, going on adventures—virtually all of which end in profit for Rick and emotional trauma for Morty. The show's imagination is boundless and its humor is unbelievably twisted, leading to such installments as "Meeseeks and Destroy", where an infinite stream of helpful blue aliens beg for death, or "Close Rick-Counters of the Rick Kind" where Rick is put on trial by a jury of his peers, i.e. countless parallel universe versions of him. Harmon's improvisational spirit and fascination with pop culture shine through with takes on Inception and Jurassic Park and culminate in an entire episode built around television from across the cosmos ("Showtime Extreme in a world where man evolved from corn!"). Yet the black and twisted heart of the show beats with sincerity in the relationship between Rick and Morty, and through moments of bleak honestly amidst the chaos: "Nobody exists on purpose. Nobody belongs anywhere. Everybody's gonna die. Come watch TV?" Simultaneously familiar and unique, Rick and Morty is the year's breakout animated hit. (Les Chappell)
Unlike its moodier cousin Arrow, The Flash has succeeded by embracing the lighthearted tone of its comic book origins. Even when exploring darker themes, like the murder of Barry's mother, the show never fails to have fun with its source material. Such obvious glee is infectiously enjoyable, especially when the show teases tidbits about Barry's new fast-paced life, like an inability to get drunk and a tendency to inhale bugs while running. And though it may seem impossible to ground such an outlandish story, The Flash miraculously keeps one foot firmly placed in reality by fleshing out Barry's non-superhero life with an unrequited love interest, a demanding job, and a hilarious penchant for tardiness. The outlandish premise works because it's helmed by Grant Gustin's undeniable charm; Gustin brings the delightfully nerdy Barry Allen to life and makes him a relatable and sympathetic protagonist. Rounding out the cast is Barry's team of sidekicks and supporters, including Carlos Valdes's cheerful and goofy Cisco (who often functions as a mouthpiece for the show's audience), Danielle Panabaker's tightly-wound but savvy scientist Caitlin Snow, Tom Cavanagh's enigmatic Dr. Harrison Wells, Jesse L. Martin's exasperated Detective Joe West, and Candice Patton's enthusiastic blogger and Flash advocate, Iris West (who doubles as Allen's love interest). While The Flash occasionally stumbles with the villain-of-the-week format, there's no denying the show's potential for greatness, which was especially evident during the "Flash vs. Arrow" crossover special. The Flash grows stronger week after week—as does its titular character—and shows no sign of slowing the consistently stellar storytelling and engaging character development the first half of the season has so skillfully honed. (Ashley Laggan)
14. Brooklyn Nine-Nine
Fox's zany ensemble comedy Brooklyn Nine-Nine is more on-point than perhaps any network comedy besides Parks and Recreation. At first glance, the hijinks of an oddball group of detectives in a New York City precinct is nothing new. But Brooklyn Nine-Nine leaves the tropes of both workplace and cop comedies in the dust with its warmly-drawn characterization and incredibly sharp, competent writing. The cast includes both seasoned comedy veterans (Terry Crews, Andy Samberg) and relative newbies, and the series deftly navigates across its large cast to draw the best from each actor and character. Samberg's feckless, charming, talented detective and Chelsea Peretti's deadpan Gina in particular shine. The show's true strength, however, lies in its ability to play both ends at once – to play out ribald humor and physical comedy alongside whipsmart retorts and sophisticated storylines. Gaglines and character jokes are remembered and deftly delivered in new ways, never beat to death. In its second season, the show has only improved, delivering a series of consistent, and consistently extremely funny, episodes. A comic knockout. (Claire Hellar)
13. The Knick
Self-proclaimed retirement has never looked better on anyone before than it has on Steven Soderbergh. Ever since he announced his intentions to retire a few years ago, his career has seen some of his most creative, consistently great and risky moves. This all culminated in his work on The Knick. The medical drama is one of the most formulaic shows on TV, but thanks to Soderbergh and company, nothing about this show ever felt formulaic. From the dizzying, constantly experimental camera work—take the fist fight filmed with nothing but go-pro angles—to the absolutely bonkers electronic score from Cliff Martinez, this show was made as a direct antithesis to formula. The performances across the board are fantastic, with Clive Owen sweating his way through all 10 hours as irascible genius surgeon John Thackery, while Andre Holland delivered a wonderfully measured and simmering performance as Algernon Edwards, the latest (and not particularly welcomed) addition to the circus. This year saw some wonderful new shows (Fargo, True Detective, The Flash, The Leftovers), but none of them were as boldly constructed as The Knick. It was visceral in its surgery scenes, it was examinatory in the ways it presented the state of race and gender politics on this small scale, and unforgiving in how it kept pushing the formal limitations of how to film an episode of television. Even in a year with one of television's most mindblowing one-shot sequences (in True Detective), The Knick still somehow felt more exhilarating in how cinematic it felt. The season finale left things open for the next chapter, and I'm eager to see what experimental tricks Soderbergh and company have up their sleeve for season two. (Dylan Griffin)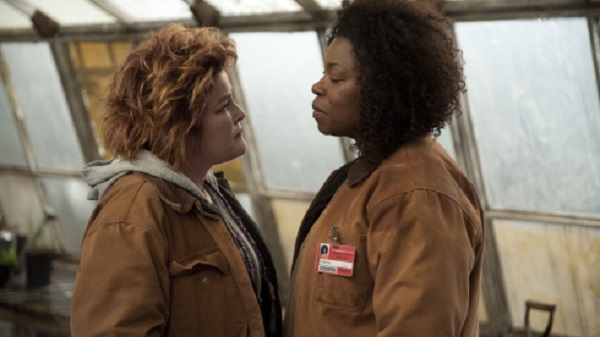 12. Orange Is the New Black