The anthology horror film is back in the wake of the success of chapter-style horror films like The Theatre Bizarre (2011) and its announced follow-up, V/H/S (2012), the soon-to-be-released sequel V/H/S 2 (2013) and The ABC's of Death (2012).
While this movement generates a good deal of conversation about the fondly remembered Amicus productions of the 1960's and 1970's like Dr. Terror's House Of Horrors (Freddie Francis, 1965), Torture Garden (Freddie Francis, 1967), The House That Dripped Blood (Peter Duffell, 1971) and Asylum (Roy Ward Baker, 1972) among others, the comparison is not exactly accurate across the board.
While the segments of V/H/S are unified by shared visual style and a wraparound story, The Theatre Bizarre and The ABC's of Death come off as collections of essentially unrelated horror short films loosely bound by a flimsy wraparound segment in the case of The Theatre Bizarre or a basic concept as in The ABC's of Death.
The approach of these two particular anthology films puts more focus on the individual filmmakers involved and the short films they created.
While a collection of disparate horror short films like Theatre and ABC's can be produced, packaged and sold as a feature film, the art form of the individual horror short film has little to no commercial value beyond standing as a film industry calling card with the ability to showcase talent and generate publicity via film festival play prior to some kind of general availability on-line or on DVD.
Outstanding work in the horror short film format comes out year after year and successful annual showcases for horror short films are featured at many high-profile international film festivals including The SXSW Midnight Shorts program and The Fantastic Fest Short Fuse program in Austin, Texas, The Fantasia Film Festival Small Gauge Trauma program in Montreal, Canada, The Frightfest London Shorts program and Sheffield's Celluloid Screams Shorts program in England and the Sitges Film Festival Official Competition Short Films program in Spain.
Following is a selection of horror short films for further exploration of the cinematic form while anticipation grows for V/H/S 2, The Theatre Bizarre 2: Grand Guignol and others.
Choosing fifteen is a difficult task. Choices were limited to stand-alone live-action short films not produced for an anthology film and were narrowed down by availability. This article features horror short films that can be found on-line or easily obtained on DVD.
Excluded from consideration were animated and horror-comedy short films-both of these categories would make good subjects for their own individual articles.
Also excluded from consideration were critically acclaimed and popular shorts like Daniel Delpurgatorio's Other, Ryan Haysom's Yellow and Richard Powell's Familiar among others that are currently continuing festival play with only trailers being readily accessible.
****

Drag
Directed by Mark Pavia
Screenplay by Mark Pavia
1993, USA
Much has been written about how Stephen King was very impressed by Pavia's zombie short film which led to Pavia co-screenwriting and directing the film adaptation of King's Kolchak: The Night Stalker-influenced short story The Night Flier (1997).
The talented Pavia has since had difficulty launching another feature film but that is not for lack of effort as the screenwriter/director has made it into various stages of development on horror projects including Slice, an adaptation of the acclaimed zombie comic book series Deadworld and a 1980's-style killer Santa Claus film Sick Nick to name a few.
Pavia has recently announced he's working on an anthology film based on four Stephen King short stories called The Reaper's Image.

Elevated de Vinecenzo Natali by laingui
Elevated
Directed by Vincenzo Natali
Screenplay by Vincenzo Natali and Karen Walton
1997, Canada
Before making his impressive feature debut with Cube (1997), screenwriter/director Natali cut his teeth on this claustrophobic short film.
Natali went on to make the feature film misfires Cypher (2002) and Nothing (2003) before making a horror genre splash with his David Cronenberg-influenced film Splice (2009). Natali's latest feature, a ghost film called Haunter, premiered recently at the 2013 SXSW Film Festival Midnighters program.
Natali has a number of very interesting projects in the works, including film adaptations of the J.G. Ballard novel High Rise and William Gibson's landmark cyberpunk novel Neuromancer.
Genesis
Directed by Nacho Cerda
Screenplay by Nacho Cerda
1998, Spain
Screenwriter/director Cerda followed his gruesome, uncompromising and controversial short film Aftermath (1994) with another striking piece of work highlighted by the performance of Aftermath lead actor Pep Tosar and the visual style of the great Spanish cinematographer Xavi Gimenez.
Genesis, influenced by the Pygmalion story in Greek mythology, was nominated for a Spanish Goya award in 1999.
Cerda went on to co-screenwrite and direct the disappointing horror feature The Abandoned in 2006 and is currently in development on a film adaptation of the World War II-set horror graphic novel I Am Legion.
Genesis is available on DVD from Unearthed Films, packaged with Aftermath.
El Ciclo from Bernat Bosch, Cinematographer on Vimeo.
El Ciclo
Directed by Victor Garcia
Screenplay by Victor Garcia
2003, Spain
Accomplished special effects technician turned screenwriter/director Garcia makes a strong debut with this award-winning, mind-bending short film.
Chilean screenwriter/director Ernesto Diaz Espinoza contributed the segment C is for Cycle to The ABC's of Death. If you want to see that concept done right, look no further than El Ciclo.
The film industry attention Garcia received for this short film led to largely thankless jobs directing Return to House on Haunted Hill (2007), Mirrors 2 (2010), the Syfy Channel movie Frost Giant (2010) and Hellraiser: Revelations (2011).
Garcia made another excellent short film T is for Tiles for the ABC's of Death competition in 2011 and is currently in post-production on his latest horror feature Gallows Hill. Hopefully this will be the feature film that finally reflects the tremendous cinematic talent shown in his two outstanding short films.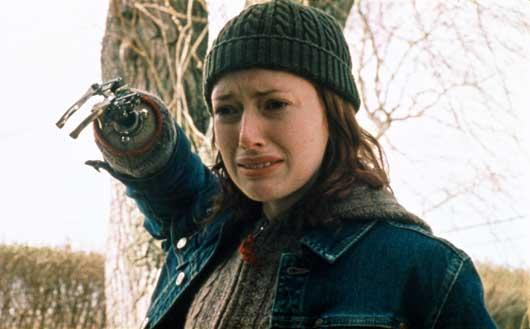 Prologue
Directed by Douglas Buck
Screenplay by Douglas Buck
2003, USA
Screenwriter/director Douglas Buck –Fantasia Film Festival favorite and creator of the meditative The Accident segment of The Theatre Bizarre-takes a long, slow-burn approach to his portrait of the aftermath of a savage, life-altering assault.
Buck went on to direct an unnecessary and underwhelming remake of Brian DePalma's Sisters and had been attached to an apocalyptic feature film called The Broken Imago.
Prologue is available on a DVD called Family Portraits: A Trilogy of America from Home Vision Entertainment that also contains his short films Cutting Moments and Home.
Happy Birthday To You
Directed by David Alcalde
Screenplay by David Alcalde
2006, Spain
Screenwriter/director Alcalde followed up his ambitious apocalyptic black-and-white short film Dr. Curry (1997) with this superb short about a meeting of individuals with very dark secrets.
Despite his obvious talent and a very successful career directing commercials in Spain, a feature film has eluded Alcalde, who in the past has been connected to the horror films 27 Times (aka The Seeing) and In the Playground-a remake of the 1976 Spanish killer kids classic Who Can Kill a Child?.
Both of these projects fell apart-Who Can Kill a Child? was remade in 2012 as Come Out and Play by another director-but it's been announced that Alcalde is set to helm an unnecessary remake of the French home invasion film Ils (2006).
Dara
Directed by Kimo Stamboel & Timo Tjahjanto
Screenplay by Kimo Stamboel & Timo Tjahjanto
2007, Indonesia
This screenwriting/directing duo known as "The Mo Brothers" delivers a demented piece of bloody goodness in their filmmaking debut.
The duo later made a feature film version of Dara called Macabre (2009), which is soon to see a proper domestic release via Bloody Disgusting Selects.
The pair has a serial murder horror/suspense thriller feature film in the works called Killers and Tjahjanto wrote and directed the incredibly twisted and highly memorable segment L is for Libido for The ABC's of Death that emerges as one of that anthology film's true highlights despite an unnecessary turn toward black comedy.
Tjahtanto returns to the short form with a segment called Safe Haven that he wrote and directed for the upcoming V/H/S 2.
Else
Directed by Thibault Emin
Screenplay by Thibault Emin & David Lucas
2007, France
Co-screenwriter/director Emin gives us a unique apocalyptic love story that combines body horror and sexuality in the vein of such Clive Barker works as his classic short story Jacqueline Ess: Her Will and Testament.
Little has been heard from Emin since Else won the Best Student Short Film Award at the 2009 Screamfest LA Film Festival but there's no denying the talent and vision on display here.
Off Season
Directed by Jonathan Van Tulleken
Screenplay by Jonathan Van Tulleken
2009, USA
Screenwriter/director Van Tulleken delivers an atmospheric, suspenseful short film highlighted by the superb cinematography of Ming Kai Leung.
If there is ever a return to screening short films before feature films outside a film festival setting, Off Season would have been the perfect accompaniment to theatrical showings of Marcus Dunstan's The Collector.
Deus Irae
Directed by Pedro Cristiani
Screenplay by Pedro Cristiani
2010, Argentina
Deus Irae is the type of short film that comes off as the opening scene of a feature film. This classification happens to fit very well as screenwriter/director Cristiani intends to make a feature-length version of this ambitious, award-winning short.
While the concept for this particular supernatural short film cries out for a larger budget, Cristiani manages to make it work with the resources at hand despite leaving the audience a bit short-changed by the lack of a real ending.
Cristiani made another horror short film El Hombre De La Bosa (The Man in a Bag) in 2010 that, despite being well-made, isn't as memorable as his short debut Deus Irae.
Ninjas
Directed by Dennison Ramalho
Screenplay by Dennison Ramalho & Marco de Castro & Marcelo Velloso
2010, Brazil
Brazilian director of the critically acclaimed short film Love From Mother Only (2003) and co-screenwriter of the Coffin Joe film Embodiment of Evil (2008), Ramalho delivers a brutal and disturbing tale of guilt and corruption. Not for the squeamish, Ninjas is easily Ramalho's most accomplished work to date.
A horror feature called The Hell Within was announced in late 2010 with Ramalho directing and John Carpenter executive producing. Little news has been available on the project since its announcement.
Burn
Directed by Jerry Pyle
Screenplay by Jerry Pyle
2011, USA
Screenwriter/director Pyle makes a very strong debut reminiscent of the brutal essence of the best short story work of Jack Ketchum.
Pyle wisely cast the criminally underrated and underutilized actor Tim Abell in the film. Mostly known for the late 1990's TV series Soldier of Fortune, Inc. and a lengthy resume of direct-to-DVD films, it's a true mystery why the talented Abell hasn't shown up in a recurring role on Sons of Anarchy, Justified or any number of other more high-profile projects.
Let's hope we hear more from Pyle in the near future.
Incubator
Directed by Jimmy Weber
Screenplay by Jimmy Weber
2011, USA
Screenwriter/director Weber delivers a huge improvement over his previous horror short The Gatekeeper (2010) in this take on the well-known "kidney donor" urban legend.
Incubator can be seen as the type of short film that plays like the first scene of a feature film as in the case of Deus Irae or a self-contained piece that would make a great double feature paired with David Alcalde's El Ciclo.
No Way Out
Directed by Kristofer Aaron Morgan
Screenplay by Kristofer Aaron Morgan & Eric Vespe
2011, USA
Morgan and Vespe previously collaborated on the action-oriented horror short film Blind (2004) and show leaps and bounds of growth with No Way Out, a nightmarish short that's much better in every way than Blind.
Morgan and Vespe are currently in production on a feature horror film called The Home.
T Is For Tiles
Directed by Victor Garcia
Screenplay by Victor Garcia
2011, Spain
After years of toiling on feature film sequels and a Syfy Channel movie in the wake of his critically acclaimed short film El Ciclo, Garcia wrote and directed this excellent short film for the ABC's of Death competition that was created to find an entry for the "T" section of the film.
Lee Hardcastle's claymation short T is for Tiolet won the competition and was included in the film but Garcia's short is vastly superior to Hardcastle's well-animated but ultimately juvenile piece.
-Terek Puckett
****
[wpchatai]