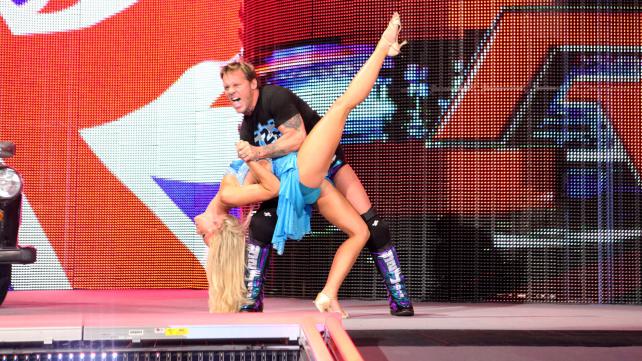 Monday Night Raw 4/22/13 – Undertaker casts long shadow over a sparse London instalment
I was quite proud of the Raw crowd last night – mainly because I was one part of it. Sure, we subsided into self-congratulatory chants such as "We are awesome", and threatened to derail a great Jericho-Ziggler match with our unending Mexican wave and a penchant for inflatable dolphins. But we made up for our unruliness with some hearty Fandangoing and recurring chants for JBL, which he clearly appreciated. Probably.
It was good to see Jericho, and even better to see him take a stab at the whole Fandango nonsense. This is the man whose resume includes Dancing with the Stars, after all. Y2J graced us with his presence due to his band Fozzy touring in the UK at exactly the same time. Likewise, Foley's comedy tour also coincided with WWE's visit, which explains why he and Ryback came to blows.
Was anyone else confused over John Cena's actions? I don't know how it came across on television, but everyone in my section – aside from booing Cena, naturally – were at a loss as to how we were supposed to react. Foley had spent ten minutes passionately lecturing Ryback on the virtues of respect and professionalism, all the while projecting these very qualities onto Cena. Ryback then, quite rightly, showed restraint, and was rewarded in kind with an AA from Cena. A heel manoeuvre?
The arena collectively marked hard for William Regal – my favourite sign of the night: "If Regal jobs we riot" – but also held out hope for Wade Barrett. Where was he? Where were Randy Orton, Sheamus, Mark Henry, Sheamus and Big Show? It seems that in the UK at least, the brand split still exists in its complete form. The missing stars were therefore attending to Smackdown elsewhere; we chanted for Barrett at the top of our lungs, blissfully unaware he was a few counties away.
This left the Raw roster looking terribly slender for a 3-hour episode. Boy, oh boy, was it ever long. Imagine my confusion when Zack Ryder came out to job, not a short while after beating Heath Slater in the pre-show. Imagine my anger – and the audible anger of everyone around me – when Rhodes Scholars and Team Funkasaurus battled for the second time in an hour. And then there was the Diva Battle Royal. The excited child next to me saw the lineup on the screen and shouted, "Oh boy, a battle royal!" Around 30 seconds into the match, he admitted it was "the worst battle royal I've ever seen." I imagine he's seen a few.
But we'd all come to see Undertaker, hadn't we? At least, that was my motivation for paying over the odds for a well-placed seat in the off-camera mid-section. The Dead Man's entrance did not disappoint. Even from where I sat, I could feel the heat from the balls of flame that shot from the stage. The hundreds of flashlights in the dark resembled a starry night sky. I know it's cliché to say this, but I'll do so anyway – television does not do justice to this entrance.
***
There was a slight lump in my throat as I watched Taker shuffle toward the ring to sounds of the Funeral March.
For me, this incarnation of Undertaker has always been associated with an event that affected someone I hold very dear. He was a journalist, a wartime correspondent and a consummate gentleman. I shall return to him in just a brief moment.
Cast your mind back to November 2003. In the main event of Survivor Series, Vince McMahon battled the Undertaker – then the American Badass biker character – in a Buried Alive match. As was expected, Taker beat Vince black, blue and bloody, and dragged his carcass over to the gravesite for burial.
But Kane had been waiting inside the digger all along, ready to pounce. The Big Red Monster threw his own brother into the grave and loaded it with soil, effectively 'killing off' the American Badass for good.
But in the months building to Wrestlemania in March 2004, Kane became plagued by ominous messages on the Titantron prophesying a simple message: He is coming. Kane was tormented week after week with promise of his brother's return.
As he grew terrified, I became excited. I was just 15 years old, and could only barely visualise the last time Undertaker had adorned his black cloak.
I recall it well: at around 4am that night, on the grandest stage of them all, the Undertaker rose from the dead.
First, there was silence. The arena was plunged into darkness. Fire raged, smoke plumed and a procession of hooded figures lined the entranceway. The Dead Man, flanked by father Paul Bearer, glided to the ring and dealt swift vengeance to his brother as the people, myself included, watched in awe.
I was planted directly in front of the television set, and with sheer disregard for my parents' sleep I had the volume cranked to the max. It looked and sounded sublime. The atmosphere was unlike anything else.
I thought it was the coolest thing I'd ever seen.
I tucked myself into bed at 5am, smiling, elated that the Dead Man had returned.
Two hours later, my granddad passed away.
Ed Doyle