Want a prediction for 2012 at the movies? It's going to look a lot like 2011. An awful lot.
It's going to be a case of, If ain't broke, don't fix it. Well, actually, the creative machinery in Hollywood is broke, but, as the numbers show, not broken enough to warrant fixing.
So. Next year, you're going to see a lot of sequels, prequels, spin-offs, ham-handed clones of hits, remakes, ginormous action fests aimed at the Comic-Con crowd… All in all, you're gonna get that Yogi Berra sense of, "It's déjà vu all over again!" And most of it will happen in the summer with some kind of big, noisy something steam rolling its way onto thousands of screens carried on a wave of wall-to-wall hype.
To wit: next May-August will bring Madagascar 3: Europe's Most Wanted, a fourth Ice Age, a fourth Step Up, reboot The Amazing Spider-Man, sequel The Dark Knight Rises, Men in Black 3, sequel The Bourne Legacy, a second The Expendables, remake Total Recall, and The Avengers, which will tie together the Iron Man, Thor, Hulk, and Captain America franchises and – so Marvel hopes — launch one or two new ones. Outside the summer big budget slug fest but following the same philosophical footsteps will be the big screen adaptation of the 1980s TV cop show 21 Jump Street, American Pie sequel American Reunion, a fifth Scary Movie, reboots of The Texas Chainsaw Massacre and Halloween, Taken 2, Knocked Up spinoff This Is 40, Lord of the Rings prequel The Hobbit: An Unexpected Journey, another James Bond installment, and The Twilight Saga: Breaking Dawn Part II.
The reviewers will wail, the "serious" cineastes will weep, but the studio execs will unanimously declare, "Screw you! You don't pay for my pool!" because, at the end of the day, decisions are made on what brings in the bucks, and what brings in the bucks seems to be exactly what drives those with discriminating tastes (or those who like to think they have discriminating tastes) up the walls. It's the cheeseburgers keeping the joint in business, gang; not the Steak Tartare.
It's right there in the numbers. Eight of the ten top domestic earners for the year were franchise flicks; 13 of the top 20. In fact, you don't find a non-sequel among the big moneymakers until you get to #8. If you roll in superhero clones like Thor and Captain America: The First Avenger, you don't even find much original stuff – or much for grown-ups – until you get down to The Help at #11, followed by The Bridesmaids, and then… Then you have a long way down the chart to go. Depending on how you define adult fare, maybe a reeeeal long way. And all but five of those top 20 titles were released May-August.
Here's 2011's Top 20 releases, their budgets (excluding marketing), domestic box office, and worldwide take:
Harry Potter and the Deathly Hallows Part 2
Budget: shared $250 million budget with Part 1
U.S./worldwide box office: $381 million/$1.3 billion
Transformers: Dark Of The Moon
$195 million
$352 million/$1.1 billion
The Twilight Saga: Breaking Dawn Part 1
$110 million
$276/657 million
The Hangover Part 2
$80 million
$254/581 million
Pirates of the Caribbean: On Stranger Tides
$250 million
$241 million/$1 billion
Fast Five
$125 million
$210/626 million
Cars 2
$200 million
$191/560 million
Thor
$150 million
$181/449 million
Rise of the Planet of the Apes
$97 million
$177/481 million
Captain America: The First Avenger
$140 million
$177/369 million
The Help
$25 million
$169/203 million
Bridesmaids
$32.5 million
$169/288
Kung Fu Panda 2
$150 million
$165/666 million
X-Men: First Class
$160 million
$146/354 million
Puss in Boots
$130 million
$146/417 million
Rio
$90 million
$144/485 million
The Smurfs
$110 million
$143/563 million
Mission: Impossible –Ghost Protocol
$145 million
$141/363 million (still in release)
Sherlock Holmes: A Game of Shadows
$125 million
$137/186 million (still in release)
Super 8
$50 million
$127/260 million
Total domestic box office for the year totaled $10.2 billion. Do some addition on the above titles and you'll see the top 10 flicks alone – eight sequels and two superhero clones – accounted for almost one-quarter of all domestic receipts. The worldwide earnings of those top ten titles amounted to $3.7 billion, which bears out the Hollywood theorem that creative poverty does not equal financial poverty. That's 3.7 billion reasons why the American motion picture industry isn't going to change course any time soon.
Earning power of originals isn't even in the same league. The top 10 franchise titles out-earned the top 10 non-franchise releases almost two to one: $2.1 billion to $1.4 billion.
Despite stiffs like Happy Feet 2 ($61 million U.S.), Arthur Christmas ($46 million), Winnie the Pooh ($27 million), Mars Needs Mom ($21 million), and Hoodwinked Too! Hood vs. Evil ($10 million), it wasn't a bad year for animation. Four of the year's top 20 were animated features, and some other toon releases also posted strong numbers: Rango ($123 million), Hop ($108 million), and Gnomeo & Juliet ($100 million).
Even better for studios, there was little or no correlation between the quality of a movie (using a consensus of reviews as a gauge) and its box office muscle. Transformers: Dark of the Moon was one of the most critically-reviled releases of 2011, but its earnings both at home and abroad were just a hair or two below those of Harry Potter/Deathly Hallows 2 which was one of the most well-reviewed major releases of the year.
Using Rotten Tomatoes' Tomato Meter rating of major critics' reviews, four of the five best earning films of the year were outright stinkers: Transformers (Tomato Meter rating of just 25% positive), Twilight Saga (27%), Hangover 2 (35%), Pirates/Caribbean (29%). Ergo, not only did major releases not have to be particularly fresh or novel to make big bucks, they didn't even have to be particularly good.
So, if the top of the b.o. charts seems a bit, oh, recycled creatively, and next year's line-up looks somewhat, oh, familiar, the honchos at the Dream Factories still have every right to go home at night feeling like they made the right calls.
Sort of.
Because in between the good numbers are the kinds of numbers one would hope would give them all pause for thought.
Like, for instance, how almost every franchise installment lost ground from its predecessor.
Transformers, The Twilight Saga, Pirates/Caribbean, Fast Five, X-Men, Kung Fu Panda, The Hangover, Cars, Shrek spin-off Puss in Boots all showed drop-offs (in most cases, steep drop-offs) from the last go-around (while it's too early to render a verdict on the latest Mission: Impossible and Sherlock Holmes offerings, M:I4 is looking like it will probably do better than M:I3 which was a bit of a stiff, but Sherlock is looking to come in below the series' 2009 debut).
Another set of numbers worth looking at show how those big dollar hits require big dollar expenditures with the average budget (excluding marketing costs) of the top 10 releases standing at a hefty $147 million (more than twice the average cost of a film). Marketing outlays for such high profile releases easily pushed costs over $200 million per. Hollywood rule-of-thumb sets breakeven at 2-3 times cost.
Do that math while you keep in mind how such "sure things" as The Green Lantern, Cowboys & Aliens, Battle: Los Angeles hit the wall early, and you realize that every one of these mega-million dollar monsters is a hold-your-breath wager until the final returns are in. Example: superhero flicks crashed and burned (Green Hornet, The Green Lantern), underperformed (X-Men: First Class), or did just-ok business (Thor, Captain America), but not one broke into the Spider-Man/Iron Man/Batman $200 million+ major leagues.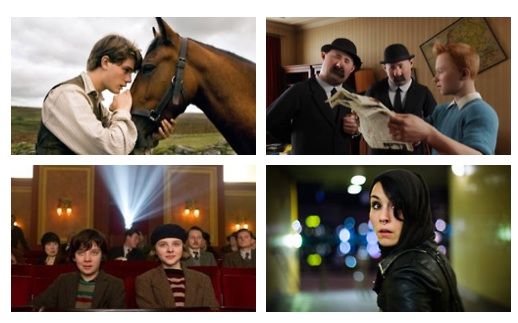 Then there's how quick so many of the big earners lost their box office momentum. All big releases have drop-offs after the first week, but in some cases they were so sharp and so deep –Transformers, Hangover 2, Pirates/Caribbean as prime examples – it was clear that after the hype-driven first weekend, a lot of unhappy ticket-buyers came out of plexes spreading the kind of negative word-of-mouth which pushed second and third week numbers off a cliff.
And then there's how impressively lackluster the post-summer season has been. A number of the expected fourth quarter hits may, eventually, make their slow way to good numbers, but they have universally opened soft — Mission Impossible, Sherlock Holmes, The Girl with the Dragon Tattoo, The Muppets, War Horse, The Adventures of Tin Tin – or flat-out stiffed — Tower Heist, Hugo.
To be fair, there were some decent mid-range performers: Stephen Soderbergh's bio-thriller Contagion ($76 million against a $60 million budget); Brad Pitt starrer Moneyball ($74 million/$50 million); two George Clooney vehicles — the political drama Ides of March ($41 million/$12.5 million), and Alexander Payne's first movie since 2004's Sideways, The Descendants ($40 million and still in theaters/$20 million); and the remake of Footloose ($51 million/$24 million).
But Footloose was the only one of a series of fall remakes to do decent business. Dead on arrival were a hyperkinetic The Three Musketeers ($20 million/$75 million), an uninspired The Thing ($38 million/$16 million), and a wrong-headed Straw Dogs ($10 million/$25 million).
Totally absent in 2011 was that late-year surge of strong performing adult-skewing releases which gave 2010 such a glittering finale i.e. True Grit, The King's Speech, Black Swan, The Fighter. The likes of J. Edgar, My Week with Marilyn, and remake Tinker, Tailor, Soldier, Spy may ultimately make their modest budgets back, but they'll do it with generating King-sized buzz.
Generally, Hollywood's earning muscle was in pretty flabby shape. Last year there was one flick –Toy Story 3 – which broke the $400 million barrier, but none in 2011; 2010 had three earners in the $300 million range v. two in 2011; and five releases in the $200 million tier v. four. Of the 592 films released in 2011, over 80% finished the year with a box office of less than $20 million; over three-quarters – 77% — finished with less than $10 million, meaning that with the exception of the lowest of the low-budget art house offerings, three out of every four U.S. releases fell off the screen and straight down the proverbial box office toilet.
So, despite some hefty earners, overall it was not a brag-worthy year, and it showed in the most critical of the year's numbers. That total box office of $10.2 billion may have a nice, weighty sound to it, but it's 3.5% smaller than last year's tally. And that's with the support of a 1% rise in standard ticket prices to $7.89, and the crutch of 3-D per-ticket surcharges of $3-5. Without those two buttresses, the falloff would've been considerably deeper.
But the real killer number is 1.28 billion. That's how many movie tickets consumers actually bought, and that's a 5.2% drop from last year, tailgating a 6% drop in 2010. So, you not only have two bad years in a row, but an extension of a general southward trend in attendance which has been going on since 2003 (1.5 billion), and the lowest attendance stats since 1995.
Attendance sliding for almost a decade? Lowest turn-out in 16 years? Ten point two billion bucks or not, the movie business has a problem it either can't see, won't see, or doesn't know how to deal with.
There's been as many reasons offered for the bad year-end sums as there's been people asked for their opinion. "Lousy movies" gets mentioned fairly often, although the box office doesn't bear that out. Some truly awful pix did great business, while some truly good flicks didn't. Hugo earned Martin Scorsese some of the most glowing reviews of his already lustrous career, but his warm-hearted love letter to cinema died in the starting gate. The Girl with the Dragon Tattoo, The Muppets, Mission: Impossible – Ghost Protocol, and Steven Spielberg's double-header of War Horse and The Adventures of Tin Tin were all year-end releases which had the reviewers' blessings, but they all opened soft and have been put-putting along to only middling box office.
The bad economy, the bad economy's affect on certain key demos, high ticket prices, but attendance was sliding even before The Great Recession.
Maybe it's all of them, all these explanations working together.
What rarely –if ever –gets mentioned is an idea I keep floating here on Sound on Sight: that Hollywood is overly-reliant on a young male demographic that is both statistically shrinking, and isn't as interested in the kind of submissive, linear, outside-the-home entertainment which movies are, and is more interested in the kind of interactive, non-linear, portable entertainment represented by videogames, the Internet, and personal electronic devices. Or, to put it more simply, they just don't like going to the movies as much as mom and dad did.
And as for that swelling older demographic? Hollywood has either dismissed them, or can't figure out how to get them into theaters.
By no means does this mean that Hollywood is ready to hang up the Going Out Of Business signs. Ten billion simolians his still a tasty enough pie to justify so many parties wanting a taste. But something is changing: some gradual, evolutionary change.
– Bill Mesce
[wpchatai]