22 Jump Street
Written by Michael Bacall, Oren Uziel and Rodney Rothman
Directed by Phil Lord and Christopher Miller
USA, 2014
In lesser hands, the overtly meta nature of 22 Jump Street could easily have become insufferably smug. Directing duo Phil Lord and Christopher Miller, though, have been proving themselves to be kings of manic, self-aware comedy, and their more consistently strong follow-up to 2012's 21 Jump Street might be the best comedy sequel since Joe Dante's Gremlins 2: The New Batch.
This time around, officers Jenko (Channing Tatum) and Schmidt (Jonah Hill) have botched another pursuit of a criminal (Peter Stormare). Deputy Hardy (Nick Offerman) dismisses Jenko's vocal desire to transfer to the Secret Service, sending the pair back to the undercover operations of Jump Street, because they unexpectedly did so well last time and the department "has invested a lot of money to make sure Jump Street keeps going."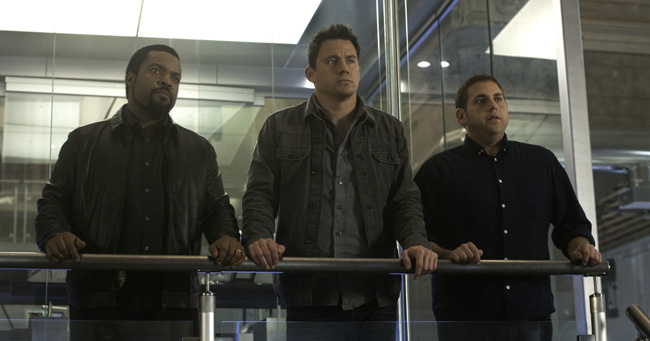 The church at #21 has been bought back by the Koreans, so the unit has moved across the street to an abandoned Vietnamese cathedral, wherein an extravagantly expensive base of operations has been built, complete with unnecessary tech and $800 sneakers for Captain Dickson (Ice Cube, the film's MVP outside of the stellar Tatum) that no one even sees. (It's rather amusing that 22 Jump Street comes from the same studio as the currently floundering The Amazing Spider-Man 2, a prime example of the bigger-for-no-reason franchise model this film mocks.) The boys are off to college to go undercover and track down a drug called WhyPhy. Dickson insists, "It's the same case, do the same thing", getting annoyed when Jenko and Schmidt try to divert from formula.
There's definitely a touch of Dante's aforementioned masterpiece in 22 Jump Street's knowing, but progressive, re-purposing and digs at its predecessor's success, but Lord and Miller's work to date also contains a streak of Dante's own biggest influence, director Frank Tashlin (of such films as Will Success Spoil Rock Hunter? and various Jerry Lewis efforts). In terms of memorable single frames, both Jump Street movies may not exactly reach the visual comedy highs of that animator who became a live-action director (see the animated Cloudy with a Chance of Meatballs and The LEGO Movie for Lord-Miller efforts that get closer), nor Dante either, but their concerns with the self-reflexive and their penchant for clever sight gags infuse the content's broader, more mainstream comedy leanings with a great energy lacking in many of the more sluggish, improv-heavy Hollywood voices of the genre right now. (To give them a little more credit on the imagery front, too, there is one drug trip reprisal sequence that is pure Looney Tunes, and it is glorious.)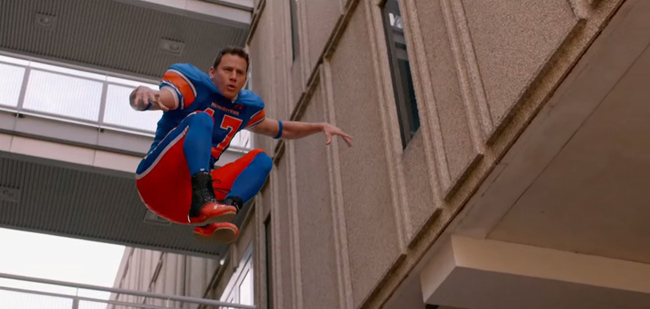 There are a few notable flaws here and there. For one thing, especially in light of the last film's comments on the differences of high school culture in the last decade, it would have been nice if 22 Jump Street's scenes primarily focused on college activities didn't feel quite so routine (slam poetry!). A few of the early scenes of Schmidt's romantic pursuits with art major Maya (Amber Stevens) also stop the film in its tracks, but a reveal with that subplot at least leads to two of the film's most hilarious sequences. Elsewhere, a one scene prison visit to see the prior film's criminal 'masterminds' (played by Rob Riggle and Dave Franco) veers uncomfortably close to potential transphobia with Riggle's discussion of his newfound lack of a penis, following it being shot off by Schmidt last time. Amid the pleasingly batshit nature of the rest of the comedy, that brief blip is just shit.
— Josh Slater-Williams
[wpchatai]