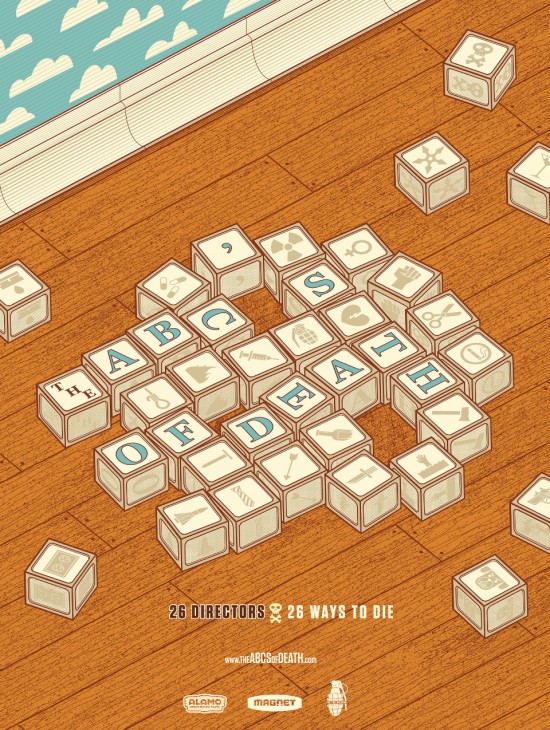 According to Variety, Drafthouse Films, Timpson Films and Magnet Releasing are teaming to produce The ABCs of Death, a 26-chapter anthology film that 25 established horror directors. The 26th director will be chosen as part of a global contest to find a new filmmaking talent.
The anthology which is inspired by kids ABC books, will have "each director assigned a letter from the alphabet that represents a word to act as a springboard for a short. It will be up to each filmmaker to interpret, from accidental deaths to murders committed in cold blood."
Here is the full list of directors participating in the project:
Banjong Pisanthanakun (Shutter), Angela Bettis (Roman), Adrian Garcia Bogliano (Cold Sweat), Jason Eisener (Hobo With A Shotgun), Ernesto Diaz Espinoza (Mirageman), Bruno Forzani and Héléne Cattet (Amer), Gadi Harel (DeadGirl), Thomas Malling (Norwegian Ninja), Yoshihiro Nishimura (Tokyo Gore Police), Simon Rumley (Red, White and Blue), Tak Sakaguchi and Yuji Shimomura (Yakuza Weapon), Marcel Sarmiento (DeadGirl), Srdjan Spasojevic (A Serbian Film), Timo Tjahjanto (Macabre), Andrew Traucki (Black Water), Nacho Vigalando (TimeCrimes), Jake West (Evil Aliens), Ti West (The House of the Devil), Ben Wheatley (Down Terrace), Adam Wingard (A Horrible Way To Die).
Producer Ant Timpson said, "This project was inspired by my young sons being introduced to the world through their ABC's books. The idea of subverting that format to reveal a study in all the dastardly and humorous ways a person can leave this world appealed on multiple levels. And it was somewhat fitting to learn that the earliest forms of the ABCs books actually did use fear of punishment to teach the young".
Of course the problem with anthologies is that there is usually one or more of the installments that aren't very good, but the addition of Jason Eisener, Bruno Forzani, Héléne Cattet and Ti West make this project incredibly promising.