With the eve when the veils between worlds is at its thinnest around the corner, it's difficult not to think of the day's most prominently featured figure: the witch. Below is an essential viewing list, ranging in genre and targeted age group, of filmic work that showcase witches (loosely defined for our purposes) and show just how badass and horrifying these heralds of the supernatural can be.
****
American Horror Story: Coven
Created by Ryan Murphy and Brad Falchuk
USA, 2013
This anthology television series, which premiered last week, promises another visually stunning horrifying boundary pushing work with its third season. Coven begins by following young Zoe (Taissa Farmiga), who discovers her supernatural roots in a rather gruesome incident and is then whisked off to a private school for 'talented' young women. Set between the present day and the 1830s, Coven promises a panoply of witch-related themes including witch hunts, voodoo, the treatment of minorities, the treatment of women, and relationships between mothers and daughters.
Hocus Pocus
Written by David Kirschner, Mick Garris, and Neil Cuthbert
Directed by Kenny Ortega
USA, 1993
Hocus Pocus, which has the makings of a cult classic, stars Bette Midler, Sarah Jessica Parker, and Kathy Najimy as the Sanderson sisters, a coven trio who are accidentally brought back to life by a teenager named Max (Omri Katz), his new crush Allison (Vinessa Shaw), and his younger sister (Thora Birch). All kinds of drama ensues as the the teenagers must save the town's children from the evil doings of these wacky witches.
The Witches of Eastwick
Written by Michael Cristofer
Directed by George Miller
USA, 1987
You're seeing that right: this is Michelle Pfeiffer, Susan Sarandon, Cher, and Jack Nicholson post-coitus on satin sheets (or maybe cashmere). The Witches of Eastwick, a humouristic kooky film with lavish (now very retro) sets, is based on the novel of the same name and tells the story of three single ladies who inadvertently summon an eccentric mystery man, who in turn seduces all three of them. When they realize it might be a bit more than they can handle, the gals must use their abilities in ways they never expected.
Rosemary's Baby
Written by Ira Levin, Roman Polanski
Directed by Roman Polanksi
USA, 1968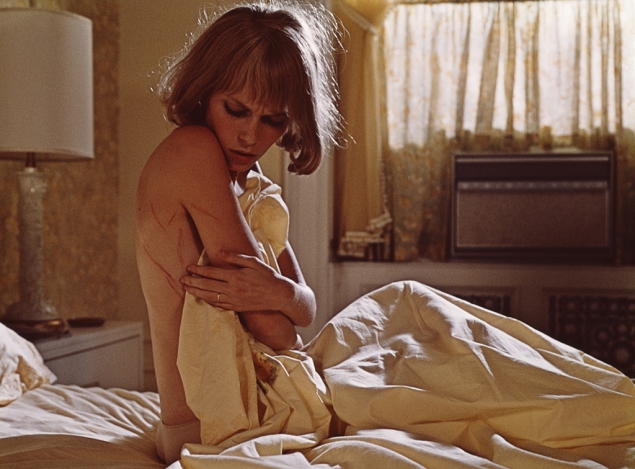 This classic stars the breathtaking Mia Farrow as Rosemary, a young woman who moves into a new apartment with her partner Guy (John Cassavetes). They befriend their extremely friendly, meddlesome neighbours Minnie (Ruth Gordon) and Roman (Sidney Blackmer). Rosemary falls pregnant and bizarre things start to happen around the apartment complex. Paranoia rises as Rosemary begins to feel unsure of what is really going on around her. She begins to suspect the unthinkable. Could this be madness? Or are Rosemary and her baby really in harm's way?
The Wicker Man
Written by Anthony Shaffer
Directed by Robin Hardy
UK, 1975
The Wicker Man is a cult classic and award-winning film that has not only spawned remakes but also a revival of pagan rituals and culture. This film tells the story of Police Sergeant Neil Howie (Edward Woodman), who goes to the island of Summerisle in search of a missing girl, whom the townspeople claim was never there. While in Summerisle, Sgt. Howie is rather displeased to see that the townspeople seem to hold on to relics of Celtic paganism. As Howie discovers the secrets of Summerisle, so does the audience, and all are in for a maze-like journey of discovery. Bonus: Christopher Lee stars as Lord Summerisle. The Wicker Man is part of a trilogy by directed Robin Hardy and the sequel, The Wicker Tree, boasts delightfully dark humour and visually engrossing scenes. The third installment, The Wrath of the Gods, is currently in development.
Sleepy Hollow
Written by Andrew Kevin Walker, Kevin Yagher
Directed by Tim Burton
USA and Germany, 1999
Based on the seminal short story "The Legend of Sleepy Hollow" by Washington Irving, Sleepy Hollow is Tim Burton's spin on the tale of Ichabod Crane, an out-of-towner who must face off with a headless horseman on a killing spree. Johnny Depp stars as Ichabod, a police investigator sent to Sleepy Hollow to solve an initial series of brutal murders rumoured to have been caused by an undead horseman. Sleepy Hollow remains one of Burton's less eccentric (more serious?) films and fans of the legend will either love or hate his take.
Practical Magic
Written by Robin Swicord
Directed by Griffin Dunne
USA, 1998
Practical Magic isn't really a horror film. Not even really a suspense film, but it's a must for lovers of all things Wiccan. Practical Magic is a film about family, love, and growth, with the occasional bella donna poisoning. It's this kind of film that led a slew of preteens to try their hand at making potions and conjuring love spells. Practical Magic stars Sandra Bullock and Nicole Kidman as Sally and Gillian Owens, two sisters who live their lives in completely opposite ways, carrying the weight of the family curse: the men that Owen's women love are doomed to die at the worst of times.
The Blair Witch Project
Written and directed by Daniel Myrick, Eduardo Sanchez
USA, 1999
The advertising campaign for The Blair Witch Project was the first ever viral campaign for a found footage film. This campaign successfully blurred lines, causing confusion over whether the film was indeed a documentary and making it even more suspenseful and eerie at the time. The tale is pretty simple: three young students go out to film a documentary about a local legend and are never seen or heard from again.
Suspiria
Written by Dario Argento, Daria Nicolodi
Directed by Dario Argento
Italy, 1977
An American ballet dancer named Suzy (Jessica Harper) arrives at a prestigious dance academy in Germany where she is oddly turned away. At the same time, a former student sneaks out to a friend's apartment and is then violently disemboweled. What has Suzy gotten herself into? The first in a trilogy, Suspiria is many things: gory, slow-burning, and an inspirational visual treat with sets that are out of this world, doused in vivid primary colours (processed in Technicolour). The score was performed by Goblin, an Italian progressive rock band who recently played in Montreal.
The Craft
Written by Andrew Fleming and Peter Filardi
Directed by Andrew Fleming
USA, 1996
Here it is, the top witches – the supremes, as they are called in certain circles. The Craft is a cult favourite – a mid-90s teen fantasy that made the idea of having a coven pretty cool (in theory). Sarah (Robin Tunney) is a troubled teen who moves to LA to live with her father. She ends up befriending a group of outcast girls: Bonnie (Neve Campbell), Nancy (Fairuza Balk), and Rochelle (Rachel True). Turns out that rumours about the three girls being witches is true, and with Sarah joining their coven, the girls find themselves wielding powers they'd only dreamt of. The kind of power that can get real dangerous. This film has everything a good angst-ridden film should have plus snakes, curses, love spells, and dark magic.
****
Honorable mentions for witches that were not included: Mary Poppins (scary for those who don't like cleaning or two-dimensional living), The Snow Queen, Eva Ernst (the High Witch), Bellatrix Lestrange, Hermione Granger, Maleficent, and The Wicked Witch of the West.
[wpchatai]