After Glee's tremendous success, many may have predicted a wave of musical TV series entering production as various networks tried to capitalize on Fox's good fortune. None came. This week, Smash premiered on NBC to strong ratings, bringing the tally of network musicals up to two. Given the tremendous potential for gain, both in terms of ratings and music sales, isn't it unusual for the networks to be so hesitant? After some investigation, it appears not- as much as Americans love a good musical, they rarely commit to those on TV. Below is a brief chronology of musical TV series from the 1960s on.
>1960: CBS and the DuMont network each take a crack at a musical series with original songs in the pop/Broadway style, but neither series, Inside U.S.A. with Chevrolet (1949-50) or Once Upon a Tune (1951), takes off.
1960s: The popularization of Saturday morning cartoons leads to any number of 30 minute animated sitcoms, usually concluding with the main characters rocking out as part of a band. Notable entries include The Alvin Show (1961) which lasts all of one season, but is rerun for years and later lead to a successful spinoff, Alvin and the Chipmunks. The Beatles (1965-67) capitalizes on Beatlemania and features animated versions of the Fab Four getting in and out of trouble, with popular Beatles tunes featured each episode. CBS's attempt to counterprogram, The Beagles, only lasts one season.
1966-68: The Monkees becomes the first successful live-action musical. With original pop songs each episode and a fun and charismatic cast, The Monkees is a huge hit both on TV and the Billboard charts.
1968: That's Life only lasts one season on ABC, but is notable for its hour-long format, use of both original music and covers, and cast, including Broadway alum Robert Morse.
1970s: The trend of Saturday morning cartoons featuring a group of kids who have a band continues. Josie and the Pussycats only lasts one season (1970-71), but, like Alvin, lives on quite a while in reruns. The Jackson 5ive follows in The Beatles footsteps, but only lasts one season as well (1971-72). Other one season wonders include Butch Cassidy and the Sundance Kids (the name of the band-within-the-show) and Jabberjaw, a show about an air-breathing semi-anthropomorphized shark who's the drummer in a band. The '70s also see further experimentation with live action half-hour musicals, to limited success, including The Kids from C.A.P.E.R. and A Year at the Top.
1970-74: The Partridge Family vies with the Bradys to be America's favorite TV family. After four successful seasons, and 8 albums, the series bows out.
1972-77: New Zoo Revue is a hit in syndication, lasting 5 seasons and featuring original educational music.
1973-85, 1993-99: Schoolhouse Rock! continues the trend of original educational music, with its musical shorts still well known to this day and popular in schools across the country. Covering topics from grammar to history to math and science, the series makes learning fun for kids while insuring a generation of children will forever associate conjunctions with trains.
1980s: Live action musicals are more prominent by this point, with CBS taking a few stabs at the genre. Seven Brides for Seven Brothers, an hour-long based on the Broadway musical starring, among others, Richard Dean Anderson, lasts one season on CBS, as does Dreams, a half-hour teen sitcom. NBC fares little better with their animated attempt, Kidd Video, though their hour-long, Rags to Riches makes it for two seasons.
1982-87: Fame, based on the popular film, runs on NBC for one season before finding a home in syndication. With its hour-long format and original music, it's the first series of its kind to break through.
1983-90: Alvin and the Chipmunks runs on NBC for 7 seasons, bringing the Chipmunks to a new generation.
1984-93: Disney gets in on the game with Kids Incorporated, a half-hour sitcom featuring pop and rock covers that lasts 9 seasons.
1985-88: Jem, the animated hair-band precursor of Hannah Montana, runs three seasons in syndication.
1990s: The major networks mostly stay out of musicals, after the less than stellar one-season runs of Cop Rock and New Kids on the Block on ABC, Hull High on NBC, and The Heights on FOX.
1992-96: California Dreams, a half-hour sitcom about teens who, you guessed it, have their own band, gets a healthy five seasons on NBC as part of their Saturday morning block.
2000s-2010s: Disney and Nickelodeon dive head first into kid/teen pop music with multi-season series ranging from Little Einsteins, Phineas and Ferb, Jonas L.A., I'm in the Band, Big Time Rush, The Fresh Beat Band, Victorious, and How to Rock. Meanwhile, the networks are less successful, with Viva Laughlin for CBS and Eli Stone for ABC.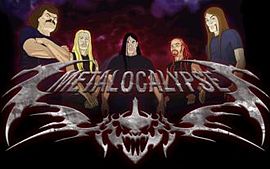 2006-2011: Hannah Montana becomes a teen sensation for Disney, garnering Emmy nominations for Outstanding Children's Program for three of its four seasons.
2006-08, 2012-present: Metalocalypse takes the group-of-characters-in-a-band premise, subtracts the teen angst, adds in humor, and a heaping helping of death metal. Varying in length from 15 to 30 minutes, the series finds its home as part of Cartoon Network's Adult Swim.
2007-09: HBO finds success with Flight of the Conchords, based on the indie music/comedy duo of the same name.
2007-present: Kids go crazy for Yo Gabba Gabba!, an educational half-hour show on Nick Jr. and, later, Nickelodeon.
2009-present: FOX hits ratings and iTunes gold with Glee, a high-school based hour-long which quickly becomes one of the most watched and downloaded series on TV.
2010-present: Treme premieres, bringing the New Orleans music scene to HBO in one of the few series to explore the lives of working musicians, along with other professions as well.
2012: NBC takes a gamble on Smash, it's much-hyped and advertised hour-long musical about the creation of a Broadway show.
A few conclusions:
Kids like to watch shows about other kids in a band, be it animated (1960s-80s) or live action (1990s-present).
Hour-long musical dramas are hard to pull off, but financially and culturally significant when they work (Fame, Glee).
Syndication is far less viable now than it was in the '70s-'80s (New Zoo Revue, Fame, Jem).
Musicals appear fairly regularly on the major networks, but it's rare for more than a couple to be on the air during primetime in any particular season.
What's your favorite musical series? Which did I miss? Will Schoolhouse Rock! ever not be awesome? Why did anyone think Cop Rock was a good idea? Post your thoughts below in the comments below!
Kate Kulzick