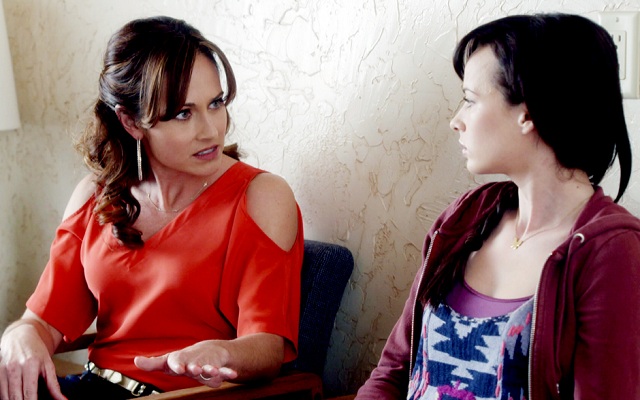 Awkward., Season 3, Episode 1: "Cha-Cha-Cha-Changes"
Written by Lauren Iungerich
Directed by Lauren Iungerich
Airs Tuesdays at 10 PM on MTV
Awkward., Season 3, Episode 2: "Responsibly Irresponsible"
Written by Lauren Iungerich
Directed by Lauren Iungerich
Airs Tuesdays at 10 PM on MTV
Teen dramas are very tricky to effectively pull off, as are teen comedies. The film and television landscape is littered with projects that were unable to tell the story of high schoolers in either a serious or hilarious fashion, which makes a project attempting to do both quite ambitious, even if it fails. Awkward., one of MTV's few scripted shows, however, has managed to effectively pull this feat off, telling the story of Jenna Hamilton and the people who surround her in a manner that is at once heartfelt and comedic, succeeding in an arena from which very few have emerged victorious. At the end of the second season, Jenna was just emerging from numerous tangles in her life, finally seeing her relationship with her mother on the path to reconciliation, and her relationship with her old flame Matty now rekindled and out in the open. Despite this seeming contentment, however, the third season manages to open with a clear indication that some things don't last, with two episodes that serve to re-introduce us to the world of Awkward. While managing to bring forth new stakes that promise to have long term ramifications.
Having Jenna get a pregnancy scare is a very interesting way for the show to shine a light on how her relationship with her mother and Matty are progressing. Lacey's reaction to discovering the pregnancy kit speaks volumes about how close the two have gotten, and how Lacey herself has matured from the woman who would write a mean-spirited letter to her own daughter. The unwavering support she displays, both for Jenna's pregnancy scare and her relationship with Matty, displays a side to Lacey that was only beginning to emerge last season, and finally puts her in a position of "responsible adult" in Jenna's life, something she has been sorely missing. It will be interesting to see how Lacey's changed role in Jenna's life affects the latter's decisions going forward, as Jenna has a lot of key decisions ahead of her, both with regards to school and her personal life going forward, and having Lacey to talk to and seek advice from could change the entire dynamic of how Jenna lives her life.
Ricky Schwartz's suicide was also a bold route for the show to go down. While Ricky himself was not a significant character, removing him from the show has the potential to affect both Sadie and Tamara in the long term, despite both their confessions at his wake. It was good to see the writers keep Ricky's character intact even after his death, painting the character in the same strokes in death as he was in life. With Ricky now gone, and Sadie's financial troubles looming over her head, how the latter adjusts to her third year in high school is something to keep an eye on, as her character could go in any direction at this point.
Overall, this was a great start to the third season of the show. Lacey's range of emotions at the possibility of Jenna's pregnancy was fun to watch, and it's good to see that Sadie has yet to lose her edge. Valerie's self-demotion was also an interesting step, and potentially opens up the slot for a new character, or an old character to take a bigger role. Anthony Michael Hall's presence was a welcome one, as he slipped into the role with ease and didn't distract from the rest of the episode, and hopefully he makes a return appearance, as it'll be fascinating to see how he interacts with Jenna, and how her writing and viewpoint is affected as a result. How these plot threads progress, as well as how Jake and Jenna interact in light of their relationship last season and Jake's current affair with Tamara, is worth tuning in for next week.
– Deepayan Sengupta