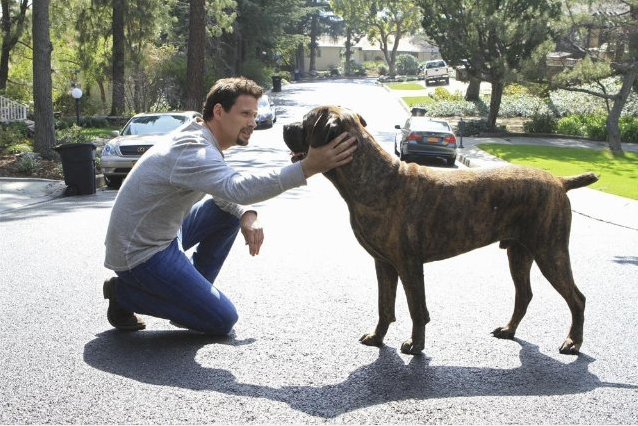 Suburgatory, Ep 2.21 "Apocalypse Meow"
Written By Annie Weisman
Directed By: Ken Whittingham
Suburgatory, Ep 2.22 "Stray Dogs"
Written By Emily Kapnek
Directed By: Emily Kapnek
As far as season finale's go, tonight's special one hour episode of Suburgatory was pretty top notch, as the show didn't pull any punches on its way out. By reshuffling many of the core relationships and continuing its more mature comedic path, the show had a great send off for its sophomore season.
The long simmering feud between Tessa and Dalia came to a head in the first half hour, resulting in a beatdown that was both emotionally satisfying and dramatically relevant, especially given how the episode ended. Reeling from her fight with Dalia, Tessa arrives home to George telling her that he sold the house and Dallas and Dalia will be moving in together. It was a bit disappointing to see the conversation between the two end so quickly, but it set up a really great second half hour.
The major theme of the 2nd half hour was change. Tessa decides that she's had enough and decides to leave home, taking up residency in the girls bathroom. Lisa Shay comes to visit her, and the two bond over their overbearing parents, which gave Lisa the strength to admit to her mom that Malik has been buttering her biscuit since President's Day. Ryan Shay becomes her second visitor when he stops by, and the two share a sexy goodbye before he heads off to college. Tessa decides after that she needs a change of scenery, and goes to the train station, but after calling every family member she has, it seemed that she would have to return. Which is why is was such a surprise to see her mom in the station and having her agree to stick around.
After the debacle, George is struggling to decide what to do, but is thrust into the search for his new home with Dallas, who has her eyes set on a house with a leather living room. But something seemed off with the two of them this episode, and it was made readily apparent at the end of the episode. George takes Dallas to the house he bought, and the two have a heart to heart about how difficult their relationship has been, and Dallas breaks up with George. Devastated and abandoned by most of the people in his life, George tries to spend the night alone, but finds Dalia in one of the bedrooms. After having a brief conversation with her, he agrees to let her spend the night and sings the episode theme song to her as a montage of Tessa and her mother plays over his voice.
It was a pretty jam-packed episode but a great way to change the dynamic of the show and set it up for next season.