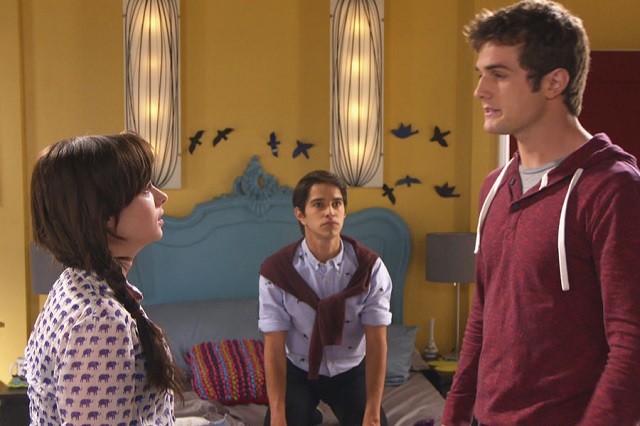 Awkward., Season 3, Episode 12: "And Then What Happened"
Written by Lauren Iungerich
Directed by Lauren Iungerich
Airs Tuesdays at 10:30 PM on MTV
While the audience has been aware of Jenna and Collin's bubbling romance since nearly the beginning of the third season, the two have managed to keep it largely hidden from the rest of the school, even avoiding acting on the impulses themselves. All of this abruptly came to a head last week, as Lacey's ability to keep a secret party secret from Jenna worked a little too well, and the two were caught red-handed by several people, including Matty. This week's episode examines the aftermath of the reveal, managing to effectively balance the show's comedic and dramatic elements in a solid episode.
Getting different perspectives on what happened at the party after Collin and Jenna got caught is a great way for the show to bring together the various members of the school under one storyline. The biggest beneficiary of this is Fred, who has never interacted with anyone in the group other than Ming, but whose return last week brings with it the possibility of a bigger role. To see how he gels with everyone else is an important step, and this story provides the perfect excuse to do so. It's also good to see Lissa and Clark make return appearances, as both are entertaining characters who have been missed through much of the season. Hopefully the focus on supporting characters continues as the season progresses.
Overall, this episode manages to be light without being bereft of emotional heft. It's nice to see Lacey continue to slip into the role of supportive mother with ease, continuing her transition away from the type of person who would write a scathing letter anonymously to her own daughter. Jake's inability to understand that Lacey's food is store-bought and not homemade, despite numerous clues that have made others aware, is also amusing. Jenna's reasoning behind breaking up with Matty is another strong step forward in her maturity, and both Ashley Rickards and Beau Mirchoff play that scene wonderfully. How their breakup reverberates through the school, particularly in the case of Tamara and Jake, and how Sadie's attitude towards Jenna changes following the events of this week, promise to be fascinating storylines to keep an eye on going forward.
– Deepayan Sengupta